So long, and thanks for the fish



by Lindsay Nelson
Dear Durango: This is really hard for me to write, but I think we both know it's time: I am leaving you. This is a tired cliché, but I really mean it when I say "it's not you, it's me." I need to explore new horizons, stretch my wings and get another degree. So, really, it kind of is you, too, because you don't offer the kind of educational options that I need right now. Let's just say, we aren't right for each other right now. But, you know, we can be friends and see how that goes, and maybe someday when I find myself and have my career going (and you lose weight, get a job, stop drinking too much and offending my mother), we could try getting back together. I will always care for you.
And that is why, before we do part ways, I want to leave you with some friendly advice.
1. Don't lose sight of what makes you special – the qualities that draw so many of your former residents back again and keep natives around, not the things that appeal to the MSNBC-watching, real-estate investing high rollers and entitlement boomers. It's the people – the average folks who work hard and know how to party, the ones who care when something goes wrong and never forget their friends, even when they've left The Bubble.
2. Beware the insidious rise of an elitist attitude that has come to pervade many once-authentic towns across the West. Hang onto the ways of life and the heritage that makes Durango a place for real people – watch out for too many luxury stores, high-dollar dwellings and expensive restaurants. While there is a place for all that, if the rich and famous take over, I guarantee that you won't like it much anymore (unless you love being a downtrodden fringe dweller, sweeping up the discarded Starbucks cups of the ruling class). If you don't believe me, visit Telluride.
3. Watch out for anyone who gets a little power and quickly appoints herself Queen of Durango. No one person knows what's best for all of us, and never should any small group get so emboldened by their high self-regard that they attempt to highjack the town against majority will. It's
like Hugo Chavez' Venezuela, but without the free health care and street violence.
4. Be cautious of people who tell you what to think, how to vote, where to buy underpants or what kind of beer to drink. Especially me.
5. And last of all – you stay classy, Durango!
~Your friend, Lindsay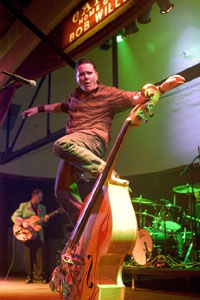 The Rev. Horton Heat

Even though this is my last column before the illustrious Chris Aaland takes over, I do have to fulfill my obligations to the fun-seeking public and point out a few entertainment options this week. Due to last-minute schedule changes post-deadline, the Abbey's actually opening the film "Before the Devil Knows You're Dead" on Friday. Last week, I mentioned it was slated to open Nov. 30, which it was, until they changed their minds.
And for your future plans, unless something changes, the Abbey has tickets on sale now for a really big show, The Rev. Horton Heat with Nashville Pussy on Jan 2, 2008. Stay tuned for more details to come.
Friday night at the Summit it's Prism, a self-described "funktronica" band from Fort Collins. "Multi-layered, atmospheric keyboards and soaring guitar combine with a rhythm section that balances various electronic styles with heavy funk rock elements. The result is a genre-bending amalgamation that is both transcendentally fulfilling and logically captivating to its listeners." Go get your groove-trance on and practice those trippy hippie dance moves.
Many a little girl has begun the Christmas season by being stuffed into a velvet party dress, hair curled and in ribbons, and taken to the ballet. Specifically, it's that pinnacle of high-brow holiday culture, Tchaikovsky's "The Nutcracker." This year, the Concert Hall presents "Hollywood Nutcracker," performed by the acclaimed State Street Ballet of Santa Barbara, on Friday through Sunday for two matinee (2 p.m.) and two evening (7 p.m.) performances. "Artistic Director Rodney Gustafson holds true to tradition and classical ballet in this masterpiece, while drawing inspiration from the glamour and sophistication of 1930s Hollywood to create a sophisticated "Nutcracker" suited for all ages. Lavish Hollywood-inspired art deco sets created a fitting backdrop for an evening of inspiring dance." In addition to the traveling company, 10 local dancers, ages 8-12, will perform as Shirley Temple Dolls in the second act. Tickets are available now.
Last but not least, don't miss a Durango tradition of the season, the Durango Barbershoppers holiday concert, Tuesday evening at the Durango Mall. The event is free and includes plenty of opportunities to mortify your teen-age children and delight the grandparents. And all is right with the world.
And now it's time to say goodbye to all our company…
Lindsay is moving to Omaha and doesn't want to hear any crap about it. Nebraska is a very nice place to live and they have good beef. She's going to Creighton University, where she will spend one year earning her second bachelors degree, this time in nursing. She plans to specialize in wart removal and gangrenous limb care, and hopes to set up shop on Main Avenue. E-mail now to reserve your spot on the patient list – sorry, no Medicare patients or losers. She will miss you and hopes you stay in touch. lindsay_damico@yahoo.com.
In this week's issue...
May 11, 2023

New hostel offers hikers, skiers and other frugal fun hogs place to hang their hats
May 4, 2023

Proposed apartments spur efforts to preserve historical burial grounds
May 4, 2023

Small mountain hamlet to remain resort-free, for now