Ski resorts get their green grades
Ski Area Environmental Scorecard highlights comebacks

SideStory: The scorecard at a glance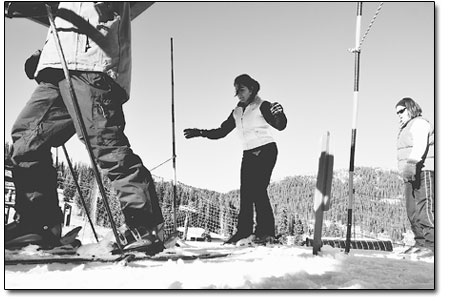 A pair of skiers line up at the Wolf Creek Ski Area shortly after opening day. Each year, the Ski Area Citizens Coalition rates ski resorts throughout the country. With no resort real estate and its mom and pop approach, Wolf Creek always manages to score an 'A.'/Photo David Halterman
by Will Sands
Green remained the color of the 2007-08 ski season this week despite the recent big hit of white. Ski areas throughout the West received their environmental grades on Monday, and for Southwest Colorado the annual Ski Area Environmental Scorecard was a story of one major turnaround and two cases of status quo.
The Ski Area Citizens' Coalition published the Ski Area Environmental Scorecard for the eighth consecutive year this week. The coalition touts the scorecard as the only independent review giving skiers and snowboarders a way to assess the environmental performance of ski resorts. On the card, resorts are scored on a series of criteria ranging from protection of natural resources to proactive steps like recycling and using green energy.
The data is obtained from an annual survey, public records and from the resorts themselves. In addition, the coalition files Freedom of Information Act and Public Records Act requests to identify ski area development projects and management plans each spring. The ski areas are also asked to fill out surveys regarding their on-mountain environmental programs. The result is an annual environmental snapshot that is becoming increasingly important to the ski tourist, according to Ryan Demmy Bidwell, executive director of Colorado Wild and a member of the coalition.
"Judging by the amount of energy the ski industry is putting into its green marketing, ski areas are realizing they really have to focus on their emerging green programs," he said. "The fact is that the ski industry is more threatened by global warming than virtually any other. In polling, skiers are demonstrating an increasing interest in this issue and choosing ski areas with good track records."
One regional area with a greatly improved track record is the Telluride Ski Resort. During the scorecard's 2000 debut, Telluride received an "F" and was cited for impacts on old growth forest and miles of new roads associated with its 733-acre Prospect Basin expansion.
"But times have changed," said Ben Doon, research director for the Ski Area Citizens Coalition. This year, Telluride enjoys an "A" rating on the scorecard, receiving marks for limited terrain expansion, use of renewables and energy retrofits.
"Telluride is a great comeback story from our perspective," said Bidwell. "Since 2002, they've only added 'hike-to' terrain at the resort. They've also started to show a real commitment to sustainability with a strong biodiesel program, the addition of large amounts of solar and a program to retrofit their older facilities."
Bidwell added that the progress is mirrored at Mammoth Mountain, Park City and Squaw Valley. Like Telluride, the three other resorts have replaced terrain expansions and development projects with a greener bent and resource-conservation programs. As a result, all three of the areas have moved up into the "A" and "B" ranks on the scorecard.
Closer to home, Purgatory at Durango Mountain Resort repeated with a low-"C" grade this year. "They're holding steady with a C, and in some ways they're drifting toward the back of the pack," Bidwell said.
The local ski area does get credit for its biodiesel program and a major effort at mass transit, but those steps are overshadowed by development, a proposed terrain expansion and lack of significant alternative-energy measures.
"Purgatory is not quite sure if they're willing to make a serious commitment to green policies," said Bidwell. "The area is not willing to take a stand on global warming, lacks more than a token recycling program and hasn't made any steps toward generating power on site. The real estate component and terrain expansion are also areas where they lost significant points."
On the other side of the San Juans, the Wolf Creek Ski Area turned in its perennial "A" on the scorecard. The mom-and-pop ski area once again received marks for its complete lack of a real estate element and the fight against developer Red McCombs' Village at Wolf Creek.
"I think Wolf Creek gets an 'A' mostly for what they don't do rather than what they do," Bidwell said.
In all, the scorecard evaluated 77 ski resorts throughout the western United States. Fourteen ski areas in Western Canada were also added this year as that region gears up for the 2010 Winter Olympics. With eight years of history under its belt, the scorecard's message is becoming obvious, according to Bidwell.
"The story here is pretty clear to me," he said. "Cleaning up your act, and improving your score, is very possible. But it does require more than lip service and marketing rhetoric. Being a green ski area requires a shift in ideology and an honest commitment of resources."