One: Across America
Unique art installation to make local stop on cross-country journey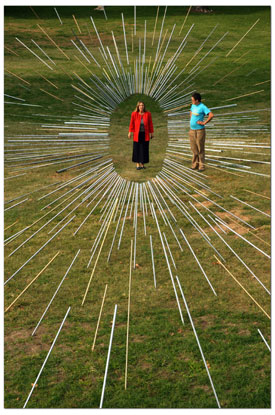 A woman stands in the middle of Kansas artist Tex Jernigan's interactive, nomadic piece, "One: Across America." The installment will be coming to Durango on Sept. 7-9 in Schneider Park. Interested participants can stop by to have their picture taken for Jernigan's "collective portrait" of America./Courtesy photo
by Jules Masterjohn
Colorado Art Ranch is coming to town. Along with the organization's two-day Artposium, "Mapping in the Arts: Ways of Seeing," to be based at the Durango Arts Center from Sept. 7-9, it is bringing a very unusual public art installation to Durango. "," by Kansas-based artist Tex Jernigan, is an interactive sculpture that utilizes hundreds of steel pipes to create an optical illusion of "rays" surrounding its participants. This visual trick, recorded with photography, is accomplished by a feat of perspective using a camera from a vantage point atop a tall ladder. People are the focus of his work – literally and figuratively.
Over the last year, Jernigan has photographed hundreds of people standing in the center of his sculptural installation. The resulting photographs are placed on his website – www.texjernigan.com – as part of his American portrait. Jernigan will be setting up the temporary sculpture in Schneider Park for the participation and enjoyment of our community next weekend.
As the sculpture's title suggests, Jernigan is touring across America, installing his outdoor artwork for a week at a time, in a number of cities in the Southwest. He began in June in Kansas City and since then has set up in two locations in Nebraska and, following his Durango showing, has bookings in the Texas cities of Sherman and Amarillo.
A recent graduate of the Kansas City Art Institute, Jernigan has a lofty purpose in mind with his nomadic public art piece. "By traveling across the nation, we are creating a collective portrait. Each location that we stop at, we will photograph a couple hundred portraits of individuals. Each group of photographs becomes its own identity with its own landscape, and I believe that slowly, we will amass a very large community composed of individual communities composed of individuals. And they will be 'One.'"
With his sights set on California, Jernigan writes on his website, "We want to find the best locations to install the piece. Booking a site is a little trickier than booking a venue; we need a medium-sized field, we need earth that is not too rocky, and we want a location that is accessible to participants."
Durango's riverside Schneider Park fits all his criteria. Located at the busy crossroads of two public streets and the Animas River Trail, "One" is sure to attract attention. Finding this choice location was the work of Carol Martin, chairperson of Durango's Public Art Commission (PAC).
As the spokesperson for the commission, Martin is excited that this temporary, site-specific, interactive art piece is coming to Durango. "We want to expose people to other kinds of public art," she offered.
Personally, Martin likes the temporary nature of "One," how it can change in each environment, and that people can interact with it. Martin is especially excited that the placement is along the Animas River Trail and hopes it will bring attention to the PAC's newly proposed Animas River Trail Public Art Master Plan.
"The river corridor is an excellent area for public art," Martin said, noting the existing permanent works along the trail. These include Mick Reber's 30-foot long sculpture, "Parade Formation" and the "Double-Jack" hard rockers monument by Clyde Doney, both located in Santa Rita Park. "Celebrate!" by Gunnar Anderson permanently sits in Schneider Park and will keep "One" company, though for only a few days. The PAC's most recent acquisition to Durango's public art collection, "Trout Mural," is located on the river trail just upstream of Schneider Park, near the Main Avenue bridge underpass.
The proposed Animas River Trail Public Art Master Plan is set up in phases and, when fully realized many years from now, may add as many as 15 more pieces of permanently installed and rotating public art works along the river corridor. Martin added, "The Public Art Master Plan is one of the tools that the PAC has set up to help us line out our future goals. We are planning on other public art within city limits and La Plata County."
Martin believes that the goal of public art is to enhance the vitality of an area, to make Durango more of a cultural destination and to educate people about what public art is. "Public art is accessible to everyone," she said.
Martin will be lending her knowledge of Durango's public art collection to the Colorado Art Ranch Artposium by leading a tour of downtown artworks from Sept. 7-9. Jernigan's "One" is sure to be along her route especially because the work invites everyone not just to look and see but to become one with the art. "One: Across America" is perhaps the most public of all art forms. •
"One: Across America" will be set up Sept. 6-9. Community members are invited to be photographed by Jernigan in Schneider Park, located at 9th St. and Roosa Ave. during daylight hours. For information on the Colorado Art Ranch Artposium held Sept. 7-9, visit www.coloradoartranch.org.