Jorts, bikes & Big Brother



by Lindsay Nelson
We humans need signposts to mark the passage of time and the phases of our lives. We use chronological age, educational progress, marital and parental status, career trajectory and the style of our pants as markers, guides against which to check ourselves for the correct progress and adherence to custom. If, for example, you're sporting pleated-front, relaxed fit khaki trousers with black socks and brown loafers at the age of 23, you may be somewhat deranged and definitely not acting your age. The same holds true for a lady in her 60s wearing ballet flats and the ultra-tight skinny jeans from Gap. And no one, I mean no one, has any business wearing jorts – ever. (For the uninformed, jorts are a common derogatory term for jean shorts, which are perhaps the most hideous garment option available to the modern adult male, now that leisure suits are out. Don't be that guy.)
We have these self-check bases on the calendar, too. Coming up it's Labor Day Weekend, seen by many of us as the last hurrah of summer (even though kids are back to school and most vacations are sad memories already) and a three-day weekend well suited to beer drinking, barbecuing and mourning the passing of another summer. For many people who live in less attractive environs, Labor Day is also a popular occasion for driving all manner of large and/or noisy vehicles into the mountains of Southwest Colorado. This is the best time to witness pickups headed for your favorite camping spot, patio grills and lawn chairs crammed into the truck bed. Ditto rickety, slow, old motorhomes and million-dollar tour bus RVs.
And then, of course, there are the motorcycles. The history and politics of the regional motorcycle rally are too complex and weird to get into here, but suffice it to say that for many years, hordes of motorcyclists have descended on the area for one or another rally held on this weekend. There have been fights, deadly accidents, lewd behavior and lots of leathery skin and segmented ponytails. There are also big, strange concerts and just a whole lot of noise. This year, there are two dueling rallies on opposite sides of Durango. Ignacio Bike Week has replaced the old Iron Horse Motorcycle Rally, which became Rally in the Rockies and then really bit the dust after being cancelled last year. (There's even a conspiracy-theory DVD out that explains what really happened.) The new other rally is near Mancos, and is called the Sugar Pine Ranch Rally. Both rallies have live music in their respective beer tents all weekend. Among the performers are Ralph Dinosaur (both locations), Formula 151 (Ignacio), Beautiful Losers (Sugar Pine), Midnight Backhand (Ignacio) and many more.
For the big stage acts, Ignacio has booked an unlikely double bill featuring '80s power ballad pioneers REO Speedwagon and '90s ska/punks-cum-popstars Smashmouth, Saturday night at the Sky Ute Casino pavilion. The Sugar Pine Rally's really big show is Big Brother and the Holding Company (sans Janis Joplin, of course) on Sunday night. And of course there are the requisite wet T-shirt contests and pole dancing contests and what I have heard is a pretty lewd and exploitative attitude toward women. But hey, nobody's forcing you to go, right? I'm waiting for them to start a cold wet underpants contest in which men will compete.
Bring your earplugs downtown on Sunday morning for the big bike parade, but if you're hungover, I recommend you stay as far away from downtown Durango as possible. Your head might actually explode.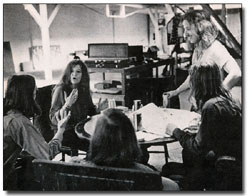 Janis and Big Brother back in the day
As we try to cram one last long weekend into summer, there are simply too many things to do this weekend. The Four Corners Folk Festival starts tomorrow in Pagosa Springs, offering three days of American roots music and related activities at the lovely Reservoir Hill above town. Featured performers include Darrell Scott Band, Ollabelle, Hot Strings, Anne & Pete Sibley, Casey Dreissen, Jerry Douglas Band, the Infamous Stringdusters and Sweet Sunny South. Go for a day or camp out all weekend; it's a great mid-sized, low key festival with an excellent lineup.
Also this weekend is the Telluride Film Festival and the Thirsty Ear Music Festival in Santa Fe. They've got The Flatlanders featuring Jimmie Dale Gilmore, Joe Ely and Butch Hancock; Beausoleil, the Be Good Tanyas, Robert Earl Keen, Todd Snider, Michael Doucet and many others. It's an AAA-listener's dream. And it's only $60 for the weekend in beautiful Santa Fe.
For the nonmobile, downtown Durango's entertainment venues have a few things planned as well. Tonight, Aug. 30, at Moe's Starlight Lounge there's a Peruvian Earthquake Relief fundraiser from 5-10 p.m., from which 100 percent of profits and all donations will be sent to victims of the recent earthquake in Peru. No word yet on whether the wonder twins will be in attendance. The Summit has reggae tonight with roots artists Taj & Adowa, and on Friday night, it's hip-hop with DJ Picture1, 2Mex and Existereo. Friday and Saturday nights at Steamworks is the traditional Labor Day Weekend visit from Denver's hillbilly funk band Brethren Fast. Think pomaded hair, retro bikes and really loud, rocking, brassy music.
No matter where you go this weekend, you'll have plenty of company. Look out for motorcycles and bar fights; keep your shirt on and your driving sober, and you just might survive 'til Tuesday.