Music for a new world
Durango Youth Symphony presents spring concert

SideStory: Piano man: FLC's Brown relaxed under pressure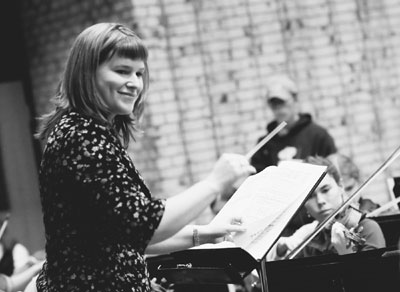 Mikylah Myers McTeer directs the Durango Youth Symphony during a rehearsal Monday at Fort Lewis College. The symphony's spring concert takes place Monday./Photo by David Halterman
by Judith Reynolds

A toddler by most measures, the Durango Youth Symphony is not even 2 years old. Yet, the orchestra continues to perform big works by old masters: Brahms, Boccherini, Bizet, Borodin. And that's just the top of the alphabet. Add Puccini and Verdi for the opera concert a year ago. Add Beethoven and Dvorak in next Monday's annual spring concert, and you begin to get the picture.
From the opening rehearsal in September 2005, the symphony has grown in number and maturity. Artistic Director and Conductor Mikylah Myers McTeer started out with 33 young players, mostly strings with a few woodwinds. Now she has a full orchestra – 48 musicians (32 strings plus woodwind, brass and percussion sections.)
"The orchestra has improved so much," McTeer said in an interview last week. "We've done an opera and a dance concert, now it seemed time to present a true symphonic program. We'll open with an overture, play one movement from a Beethoven piano concerto and close with Dvorak's Symphony No. 9 in E minor. Everybody knows it as the 'New World Symphony.'"
Two of the pieces came to her more or less as "gifts," McTeer said.
"Our overture will be a piece Michael Mauldin has written for us: 'The Valley of Annacarla.' He's a New Mexico composer, and this will be the world premiere."
When Mauldin visited Fort Lewis College last spring for a performance of another work for symphonic band, he heard about McTeer's youth orchestra. "I was so impressed that someone had started an orchestra in what I consider to be 'band country,'" Mauldin said in a telephone interview earlier this spring. "On my way home from the Durango concert, I started to get some ideas for a new work for youth orchestra."
McTeer said she soon learned he had completed "The Valley at Annacarla" and offered the world premiere to her.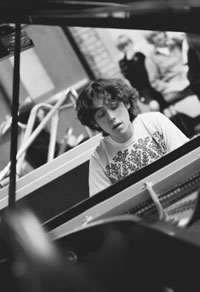 FLC piano major Levi Brown, 20, practices Monday for his solo performance next week./Photo By David Halterman
"The music has a lot of different moods," McTeer said. "One moment it is dark and brooding, and then suddenly there is light – beautiful, shimmering light. It's a wonderful adventure for the students to play and experience so many colors."
The second work on the program came as a different kind of gift, McTeer said. "Dr. Campi (pianist Lisa Campi, assistant professor of music at Fort Lewis) told me about one of her students, Levi Brown. He's a sophomore from Farmington and had been
working on the third movement from Beethoven's Piano Concerto No.1 for a competition.
As it turned out, Levi took second place at the Music Teacher's National Association of Colorado. The first place winner got to play with a youth symphony in Northern Colorado. So I thought it would be appropriate for Levi to play the Beethoven with our youth orchestra."
Once those two pieces were in place, McTeer had to decide on a final selection. "I chose the Dvorak symphony because I enjoyed playing it in a youth orchestra when I was in high school."
McTeer, assistant professor of music at Fort Lewis and concertmaster of the San Juan Symphony, has a long history playing solo, chamber and orchestral music. She earned her doctoral and master's degrees from the University of Houston's Moores School of Music, an undergraduate degree from Oberlin Conservatory of Music, and had years of prior orchestral experience playing with the Portland Youth Philharmonic.
"The Dvorak has stayed in my memory from a time when I was a very young musician," she said. "It has beautiful melodies and some bombastic sections. I knew the students would love it, if they could play it."
She said her strategy was to test the kids by having them play the first 16 bars of the two movements. "They sight read beautifully, and I knew we could do it."
Looking back on only four semesters of rehearsals and now the fourth concert, McTeer is impressed with the progress. "We've come a long way," she said. "We didn't even have three dozen players when we began – strings and a few winds. It's been wonderful to see the growth and the commitment."