Melting it all down



by Lindsay Nelson
Remember when Grandma used to say, "You can't please everyone?" Well, she was right, but that doesn't stop people from expecting their particular pleasure to be the number one priority of everyone else. Take, for example, the apparently vast cultural divide that yawns between the feet of people who love hip-hop and rap, and those who fall asleep nights listening to banjo-mandolin duets. They both seem to think the other has taken over the music scene, and some think your local newspaper is endeared to one, or the other, or neither. Well, guess what? We hate everything. We're journalists and jaded weekly columnists; it's our job to be cynical and dismissive of everything you hold dear. We're like the kids who edited your high school yearbook: sitting in our little club room after hours, sniggering over your dorky sophomore class pictures, sneaking little jabs into the captions of the debate team activity photos. But we secretly crave approval, and we nurture a deep insecurity that causes us to lash out when we're criticized. Secretly, we're afraid we suck and everyone laughs at us like we laugh at all of you. Or at least, that's what it used to be like, back on the "daily" show.
If there is a war on between MCs and pickers, the stringsters have won out this weekend. Starting tomorrow, it's the 13th annual Durango Bluegrass Meltdown, which you might notice actually starts on Friday the 13th. Everyone has their opinion about bluegrass, but it's undeniable that a lot of people like this style of music and there's lots of it to hear this weekend. Some of the highlights:
The Stairwell Sisters: Achieving the ephemeral status of counter-cultural hipsters with old-timey stringed instruments and funky hairdos, these San Francisco women have mastered the art of co-opting an old, traditional, generally "uncool" piece of American culture and making it hip and alternative for the urban creature seeking a defining mantle of cool. I'm not sure what "red-hot buckdancing" is, but if you've ever felt that a dark-haired, nose-pierced girl in a lacy cotton farm dress was hot, this is the act you'll want to see.
Lou Reid and Carolina: Sadly, not the Lou Reed we know and love, but a pretty famous and well-liked band nonetheless. This Lou is a multi-instrumentalist and traditional bluegrass vocalist who's played with Ricky Scaggs, Seldom Scene and Longview. With his own group, Carolina, Lou continues to further his reputation with his brand of driving North Carolina style music and stirring vocals.
John Reischman and the Jaybirds: Considered one of the top-flight bands in bluegrass music, these guys have a unique but traditional sound. "John the mandolin master and his band are known for powerful original songs and instrumentals, soaring vocals and refreshing interpretations of songs from the old-time repertoire presented with their own bluegrass twist. John Reischman and the Jaybirds offer a blend of vintage gems, original vocal songs and trademark original instrumentals – variously bluesy, hard-edge and haunting – that make them one of the most interesting bands on the circuit today." (Here and there I use the words of bands' PR material when I don't know about them myself, so I guess that means I shouldn't write about them at all, right DJ Mydas? I'm just sayin'.)
One of the extra special things about the Meltdown are all the local acts that are highlighted during the weekend. Familiar groups such as The Badly Bent (celebrating their new CD with a party tomorrow night at the Abbey Theatre), Rock & Rye, The Blue Moon Ramblers and Outta Hand String Band all have a chance to show their stuff to a broader audience and learn new tricks from traveling musicians of all stripes. There are some you haven't heard of but should, like the Cronin Valley Crooks, a quartet of 20-somethings who do some pretty interesting, innovative things with traditional instruments. Check out the full schedule at www.durangomeltdown.com and make peace with the grass.
For a change of pace, check out SeePeoples tonight at the Summit. SeePeoples' sound is "an infectious blend of pop, reggae, trance, prog-rock and ambient styles, simultaneously eclectic, tightly crafted and pioneering," they say. This Boston-based band names among its influences the Beta Band, Burning Spear, The Orb, Pink Floyd, Radiohead and Kula Shaker. The next night, for non-Meltdown, late-night bluegrass/Americana, you can see the Wayword Sons at the Summit on Friday night. Then on Saturday, the Beautiful Losers play in Mancos. If you can't find something to entertain you, you're just not trying hard enough. Or you hate everything but hip-hop.
In this week's top 10-selling records from Southwest Sound, I'd like to note that I was right about Alison Krauss' new collection making it to the list; however I was caught off guard by Poison the Well and Paul Wall. This week, everybody's favorite tweemo-rock-alt-country Nebraska band, Bright Eyes, is back with its sixth recording, "Cassadaga." Gillian Welch plays on this record, which means I will automatically love it. Critics are saying "Cassadaga" is their best yet – sophisticated, accessible, even sort of upbeat and sing-along-able at times. Also among the players are Ben Kweller, David Rawlings, Janet Weiss (formerly of Sleater Kinney), Jason Boesel (of Rilo Kiley), and M.Ward. With all this good music out, we might even stave off the worst of the Billboard Top 10.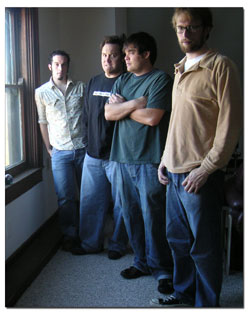 Seepeoples