Furniture as Art
KDUR readies for its annual fund-raiser auction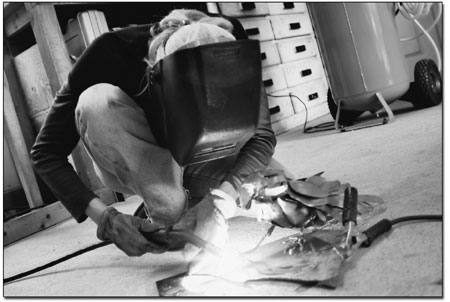 Artist Miki Harder welds in her studio earlier this week. A newcomner to the KDUR Furniture as Art auction, Harder will be offering one of her signature ravens for the annual fund-raiser./Photo by David Halterman.
by Jules Masterjohn
Clear you calendars! Durango's all-time fun and creative artistic event is just around the corner. The fund-raiser for KDUR radio, disguised as a completely artsy romp with dozens of area creative-types and art patrons in attendance, the annual "" auction will be held Thurs., April 19, at the Durango Arts Center.
On display will be the furniture-oriented creations made by 24 volunteer makers, myself included, created specifically for and donated to KDUR in support of the Fort Lewis College community radio station. The brainchild of Station Manager Nancy Stoffer, the annual fund-raiser is anxiously awaited each year not only by patrons of the arts but by the artists themselves.
Partially due to its reputation as one of the most enjoyable charity events of the year, "Furniture as Art" has artists sitting by their phones waiting to be invited to participate. One newcomer to the event this year, artist Miki Harder, said, "I felt like a rock star when I was asked to make a piece. It's so exciting to publicly do something like this. It is one of those big steps in putting yourself out there."
She said creating her piece has fostered a connection to community as well as her alma mater while inspiring her to push her limits. This has meant welding a raven, her signature beast, using "five tiny million pieces of sheet metal." Her sculptural work, a side table with the raven and a trout attached, is titled "Who is Fishing for Who" or "Push-Me-Pull-You." Though she would like the highest bidder to really love the piece, she thinks it's more important to "throw it down" for KDUR.
One loyal-supporter-turned-contributor of the event is Kara Walaki, owner of the knitting shop Yarn. "I used to go as a bidder and always had such a great time. I was sort of envious that I didn't have a piece to offer," she said. Eventually, Walaki worked up enough gumption a few years ago to call Stoffer and solicit a coveted invitation. Last year, the knitted lamp that she and a few others created was auctioned off twice on the same evening, fetching double dollars for KDUR. And the final purchaser gifted the lamp back to Walaki. This year, Walaki and three other knitters have collaborated on a felted and knitted ottoman made of bright-colored wool. The footrest doubles as a storage box for, of course, knitting supplies, the group intends.
Walaki believes that the auction brings out the artist in everyone and encourages generosity. Plus, she added, "It's one of the best times around." She might be referring to the lighthearted competition that fills the air at the event.
Deb Grewel, one of the many veteran KDUR auction artists, has painted a door with the image of the Virgin of Guadalupe. This is the second full-sized door that Grewel has created during her five years of participation. A bookkeeper by day and inspired maker by night, Grewel acknowledges that the event stimulates her competitive spirit. "It has sort of become a challenge between the longtime participants, thinking that we each might beat everyone else out and bring in the most money for KDUR."
Or as another longtime participant, jeweler Jeff Wise, put it, "Each year we go and see something really cool and creative that someone else has made and that motivates us to come back the next year with something even cooler." This, of course, is the best kind of rivalry, for it is obvious that the challenge to excel is in support of a worthy cause, not individual egos. He added, "We don't do this for anyone else but KDUR. Here are the artists busting their rear ends, spending countless hours to make something really inventive. The event has become this kind of gathering in support of the media underdog." Wise and wife, Susan, crafted a silver radio pillbox for the upcoming auction.
Artist Maureen May just might steal the show again this year. Her political commentary furniture fetched the highest price at one year's auction. May, who is a consummate craftsperson, painter and printmaker, has created a "politically correct" chess set, with a red side and a blue side. All of the major pieces have bobble heads – little springs that cause the heads to bob around. The pieces are made from wooden thread spools, the red side pieces display the faces of Republican administration leaders. Their king and queen depict – who else? – George Bush and Condoleeza Rice. May explained, "There are no political figures on the blue side … the faces depicted represent the common man. Even though they are well known figures, they are who we look to for guidance – the bishops, for example, wear the faces of the Dalai Lama and Cindy Sheehan." To find out who the other players are in May's political game, attend next week's auction. You will have a really good time – I promise!
The April 19 event also features the talents of auctioneers Calvin and Pat Story and the musicians Tom and Chad MacCluskey. Beer, wine and hors d'oeuvres will be served. Doors open at 5:30 p.m., auction starts at 6:30 p.m. or as soon as Calvin tips his cowboy hat. Tickets can be purchased in advance ($10) at KDUR or the Durango Arts Center, and at the door ($13). For more information call KDUR at 247-7261. •
The artists' works are on display in area businesses and galleries around town until the event. For a complete list of participating artists and a sneak peak at their work, visit www.kdur.org.