Sounds of Spring
FLC Concert Band and Wind Ensemble gives annual concert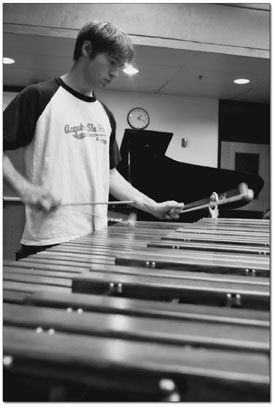 Michael Pratt, marimba player for the Fort Lewis College Concert Band, warms up his mallets last Monday in preparation for the FLC Concert Bands' spring performance, April 6 at 7 p.m./Photo by David Halterman
by Judith Reynolds
People may be surprised to hear a very romantic symphony played by a concert band," Mark Walters said in an interview last week. Walters is associate professor of music at Fort Lewis College and director of the symphonic band and wind ensemble.
"We'll be playing Vittorio Giannini's Symphony No. 3," he said. "He was commissioned to write the piece for a band, and I've wanted to introduce the students to the symphonic form. It's very similar to an orchestral symphony."
If you haven't been to a concert given by the Fort Lewis College Concert Band, what better time than now? At 7 p.m. Fri., April 6, in the Community Concert Hall, the band and the Wind Ensemble will present their annual spring ritual. And Giannini's work is at the heart.
If you like the music of Samuel Barber or Howard Hanson, two other American neoromantic composers of the 20th century, Giannini (1903 – 1966) is one of the club. Inspired by the chromaticism of Richard Wagner, Giannini wrote a large number of operas, numerous orchestral pieces and this work for symphonic band. It's tonal, it has moments that are sweepingly organic and darkly mysterious, and it has an intense beauty. In short, it lacks the angry angularity so many people think constitutes so-called modern music. The neoromantics have persisted, and their music is having something of a revival.
"It isn't programmatic at all," Walters said. "Each of the four movements can stand alone as extraordinary music."
The Giannini work is one of two centerpieces of the concert. Also running 30 minutes in length, David
Long's "Concerto for Marimba," is the other major work on the program. Graduating senior Michael Pratt will be soloist. He's a card-carrying member of John Pennington's remarkable army of percussionists that wowed an audience in the annual Percussion Ensemble concert March 29. In his senior recital, Pratt dazzled his own audience earlier in March.
"The marimba concerto is another commission," Walters said. "It was written in a much different style compared to neoromanticism. It's a new type of composition where motives are plugged into a computer and later themes are built around them. It's a little more formulaic. You'll hear some clichés, some tricks the composer has up his sleeve."
Walters admitted that writing for the band is only somewhat challenging, "but the marimba writing is very challenging. Michael is a phenomenal player."
Another senior, Kathryn Vedder, will take center stage when she performs Carl Maria Von Weber's "Concertino."
"It's a very classical work," Walters said. "The format is based on theme and variations, and it has audience appeal, great melodies with an oom-pah-pah accompaniment at times from the band. Fun."
Opening the concert will be an intriguing work by Alfred Reed titled "Hounds of Spring." That will be followed by one of Walters' favorite composers for symphonic band: the Brit, Percy Grainger.
"Grainger based all his tunes on pre-existing folk tunes," Walters said. "He would listen to these essentially happy tunes and put a dark twist on them."
Musically, Walters said, Grainger was capable of composing extremely complex harmonic and rhythmic structures. "These works are great for the students to learn. Grainger had an intense imagination for color, combinations you wouldn't expect – like alto sax paired with a muted trumpet. Alto sax is usually doubled with a French horn. A trumpet is often paired with an oboe, but Grainger explored new combinations, new colors. And underneath all that complexity is Grainger's darkness. I love it." •
Musically, Walters said, Grainger was capable of composing extremely complex harmonic and rhythmic structures. "These works are great for the students to learn. Grainger had an intense imagination for color, combinations you wouldn't expect – like alto sax paired with a muted trumpet. Alto sax is usually doubled with a French horn. A trumpet is often paired with an oboe, but Grainger explored new combinations, new colors. And underneath all that complexity is Grainger's darkness. I love it." •