Ski season survives
Silverton Mountain heads into April with 80-inch base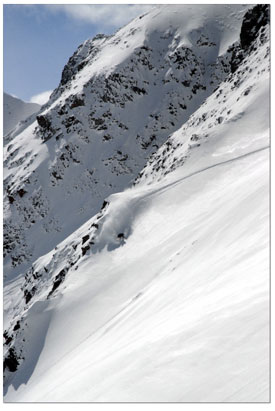 A rider makes his way down a run at Silverton Mountain recently during a bluebird powder day. The ski area will be open for unguided skiing for the rest of the season, which is planned to run at least through April. /Photo by Aaron Brill
by Missy Votel
Don't pack those skis and boards away just yet.
Although Durango Mountain Resort shut down its lifts last Sunday and Telluride and Wolf Creek are planning to follow suit this weekend, Silverton Mountain will be firing up the bullwheel at least through the end of April.
"Even though it's spring in Durango, the skiing is excellent up here," said Silverton mountain co-owner Jen Brill. "The mountain is twice as high in elevation as Durango, and the snow is still good."
Silverton Mountain was reporting 80 inches at the base this week and received a foot of snow during last week's storms. "We were powder skiing last weekend. It was some of the best skiing of the year," she said.
Brill and her husband, Aaron, are trying to get the word out that spring skiing is alive and well as Silverton Mountain begins its spring unguided season, which starts today. From now until the lifts close, likely at the end of April, unless more snow merits a later closing date, lift tickets will be $49. DMR season passholders are also reminded to come up to cash in their free lift tickets if they haven't already done so.
"Just bring in your season pass and we'll get you a ticket," she said.
For those locals with more than a few days to spare, Silverton Mountain is offering a locals card for $29, which will entitle the holder to $39 lift tickets. Brill said the mountain will be open Thursday to Sunday this weekend, but that may change based on how busy they are – or aren't. She said in past years, the ski area would typically taper down as the year winded down, going to just three and then two days a week. "If it gets slow toward the end of the month, we might switch to just Saturday and Sunday," she said. "It's worth calling ahead to see what our hours are."
She also said that powder weekends during the early-winter unguided season were immensely popular, and if people are worried about obtaining rental avi gear, they should plan on arriving early. "We open at 8:15 a.m. and the lift starts at 9 for people who want to get an early start," she said.
Brill said during the early-season unguided season, which ran from Thanksgiving to Jan. 15, Silverton Mountain has its biggest day ever, with more than 250 people. "It was the last weekend and there was a big storm," she said. "It was a little hectic, we're not used to those kinds of crowds."
Typically, Brill said the ski area saw around 30 skiers a day, with 80 on the busier days and fewer on slower days. "There were days when we had 11 skiers and 20 employees," she said. "Basically, the skiers got to go wherever they wanted to go and feel like they were in the backcountry."
Brill also noted that although 250 is a busy day for the ski area, it is still a far cry from Silverton Mountain's capacity of 475 or even a slow day at DMR. However, she said if people are still concerned about getting tickets, they can buy them beforehand online, unless they are planning to use their Purg passes, in which case they need to get their tickets in person. Brill added that plans are in the works to offer some sort of deal to DMR passholders next year, as well. "I assume we'll have some relationship with Purg," she said.
Guided skiing will still be available for those wanting the full tour this spring. Brill said this year marked the sixth season for guided skiing at Silverton Mountain and it is promising to be the best year yet. "We definitely did better this year, but it's too early to say exact numbers," she said. She said recent national press has helped bolster awareness of the ski area. "Every year, more people know. When you get on the cover of the New York Times travel section, it definitely helps business."
As far as the rest of the season goes, Brill said the ski area has events planned every weekend through April 29, including a writer's workshop, an uphill/downhill race, the annual steak cook-off, a women's weekend and the season-ending Brewski brew fest. And, of course, they're always planning for help from the powder gods. "The Farmer's Almanac is saying we're going to have the biggest April ever in terms of snow. So, if there's a lot of powder, we'll stay open even later." •