Dreaming on Deer Hill
Mancos-based Deer Hill Expeditions blends wilderness & service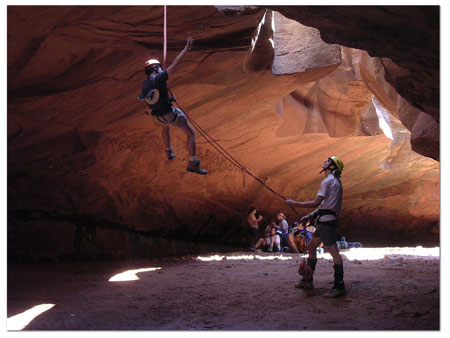 Deer Hill students visit southeast Utah's canyon country during a canyoneering expedition. In addition to adventure trips, Deer Hill students take part in charity work largely on the Navajo Nation./Courtesy photo
by Jeff Mannix
Doug and Bev Capelin followed a dream, made it come true and have turned dreams into reality for hundreds of adolescents. Dedicated school teachers, the Capelins found something lacking as curricula became formulaic in pursuit of test scores and arbitrary standards. So in 1983, they threw in the towel and the next year began their dream machine on 120 acres in Mancos. Their goal was to fill in the ever-widening gaps in the education of youth – the gaps, the Capelins feared, that were sifting out character development, self-sufficiency and public service. Deer Hill Expeditions is that vehicle, and for 23 years the Capelin family and a staff of 52 dream makers, have used the Rocky Mountains as a classroom for 160 young adults every summer. The framework is provided by 14 different expeditions ranging from 15 to 34 days in places including the Weminuche Wilderness, the Dolores, San Juan and Green rivers, and with host families on the Navajo, Hopi and Zuni Indian reservations.
"'Find yourself in the middle of nowhere,' is what we hung our hat on at first," explains Bev Capelin, "but after a while, it rang hollow to Doug and me. We are educators, after all, and our mission was to teach and instill leadership and respect; and while hiking, climbing and rafting in the pristine wilderness calls forth good citizenship, it just didn't seem enough."
Capelin then adds with experienced empathy and a rush of pride, "It all came together, though, when we discovered the service component, and over the years, we have forged amazing relationships with our Native American neighbors. All but four of our programs include a number of days living with a Native American family, assisting in the building of hogans, bread ovens, corrals, rehabilitating water wells or herding sheep, gathering wood for the elderly, rebuilding irrigation ditches, weeding vegetable gardens. The rewards are lifelong experiences for both our hosts and our kids; it may be the most impactful thing we do, and that's saying a lot if you've ever been on top of Centennial Peak at 13,000 feet."
Deer Hill has as many as 10 expeditions out at any one time during the summer. They include: River & Mountain, Colorado River Plateau, Rocky Mountain Canoeing, Colorado Mountain Country, Alpine Mountaineering, Southwest Adventure, Canyon Country, Mountain Biking & Backpacking, Wilderness Leadership, Technical Canyoneering and Rock Climbing. They are split into groups of grades 7-8, 8-9, 9-11, 10-12, and the sprawling base camp in Mancos is idyllic, hosting prestigious corporate retreats in addition to the expeditions. But participants of Deer Hill Expeditions only use the facilities as a base camp to acclimate to high elevation, discuss safety and expedition behavior, get outfitted and learn wilderness etiquette for two days before they embark on their challenges.
"We staff every expedition with three instructors to work with 12 participants," Capelin says, "and Deer Hill owns all our own rafts and mountain equipment and forest and river permits, so we don't contract out any activity and are able to maintain the integrity of our mission, which is," Capelin scrawls on the back of an envelope, "'To inspire the individual through experiences that affirm the essential balance between humanity and the natural world.'"
Deer Hill is one of a small, select group of expedition programs accredited by the Association for Experiential Education, an international leader in risk management for outdoor recreational programs that also accredits Outward Bound and the National Outdoor Leadership School. The average age of their field leaders is 26, all experienced backcountry adventurers and educators trained by Deer Hill and all with at least Wilderness First Responder certification. More than 85 percent have returned each season for the past two and a half decades. "With 52 on staff, last year we hired only one new person," Capelin says with pride tempered by humility.
Students come from throughout the United States and a number of foreign countries – Spain, France and the Netherlands heading the list of foreigners. "Our weakest link is advertising and promotion," confesses Capelin with nonchalance. "We're not very focused on promoting Deer Hill, and we're very careful about screening applicants to ensure commitment to the program and diversity of participants." Referrals from former participants play large in future applications, many kids return, the internet becomes more important each year, their brochure is seductive, and a number of loyal agents open doors. Mostly, Deer Hill relies on its reputation for enrollment, and to drop a name, Chelsea Clinton is an alumnus.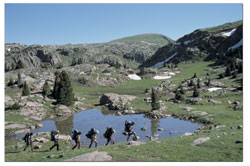 Deer Hill Expeditions students head for treeline high in the San Juan Mountains. Deer Hill, based in Mancos since 1983, combines wilderness-based approach with a service learning element during its summer expeditions./Courtesy photo
Diversity of enrollment became a concern to the Capelins, so in 1998 Doug Capelin formed the Deer Hill Foundation, a nonprofit fund to award scholarships to youngsters in families that can't afford to provide such life-changing experiences for their children. A number of parents of past participants at Deer Hill encouraged Capelin to establish this scholarship and seeded an endowment that has since been expanded by grants from a number of other nonprofits dedicated to empowering young people of all backgrounds. A major player in both funding and applicant referral is the Summer Search Foundation in San Francisco, Boston and New York.
Deer Hill Expeditions is also expanding its programs to Costa Rica with two 21-day expeditions for kids in grades nine through 11. The itinerary approaches magical, with a day-long hike into El Copal and a night at a nature reserve in the tropical rain forest before continuing down to the Rio Pejivalle to raft class II-III rapids through the cloud forest and into the Rio Pacuare for two days of whitewater rafting through canyons spilling waterfalls and primeval vegetation. These trips, too, include service to natives in the small village of Tres Equis, then wind down to the Caribbean coast at Punta Uva for days of sea kayaking, snorkeling and surfing. For 21 days only Spanish is spoken.
Deer Hill's 34-page catalog is almost an expedition in itself. Field leaders and participants are pictured and quoted, bringing life and vigor to the wonderfully written descriptions of the expeditions (if it hasn't been cited for an award of some kind, I hereby bestow upon it a Gold Medal of Excellence).
"You come away from a Deer Hill trip enriched by the unbelievable experiences you've had that you are a new person. You won't know how or why, but such closeness with the Earth, the amazing people and wonderful staff changes you for the better," says Max Kabat, of Pelham N.Y.
"It was the greatest experience I've ever done," says Franklin Lartaud of Chevry, France.
Each day on expedition, at sunset, participants gather seated on the ground in a circle to discuss their experiences of the day and learn from each other. They pass around something of value, sharing their found treasures and the warmth of their hands. And on their final full day, back at base camp in Mancos, a sweat lodge ceremony concludes their magical mystery tour.
And as Durango resident and Deer Hill Field Leader Cindy Jo Allen says, "The combination of wilderness and service makes for a very powerful experience. I see crosscultural experiences impacting the lives of these young people, and because students are immersed in the wilderness, they feel a greater connection to the natural world."
More information can be found online at www.deerhillexpeditions.com. •