O' Zapft Is!



by Ted Holteen
Although it may look like the above title is a product of a few random strokes on the keyboard, there are actually people in the world who talk like that. Those people are German, and that hodgepodge of letters translates roughly to "it's been tapped," and I'm guessing that Burgermeister (or to modernize, Burgomaster – we call them mayors) Sid Zink is spending these days leading into the weekend getting the pronunciation just right. It may be the last words a lot of people remember by the time this year's two-day long Oktoberfest ends on Sunday afternoon. Three years ago, Carol Clark and her peeps at the San Juan Citizens Alliance decided that the seemingly interminable gap between Labor Day and Halloween had to be filled, preferably with something that encouraged people to drink in public. And who better to turn to for inappropriate alcohol-fueled behavior than the Germans, who already had such a holiday in place? This Oktoberfest will be chock full of authentic Teutonic events to give it an Old World feel – bull riding, hip-hop, lots of non-Germans milling about the village square – it'll be like a stroll down Main Street in Düsseldorf. Actually, my anti-German sentiment aside, it promises to be a hell of a party. Lots of food, lots of beer, two blocks of Main closed for two days, and we hope to see lots of funds raised for the SJCA. They do good stuff like lobby for open space preservation, air and water quality, and even civil rights. Just like the Germans, eh? And if you think that 6 p.m. is too early to cease revelry, there's a pub crawl that fills that gap between Saturday afternoon and Sunday morning. For 10 bucks, you get: The Staboola McPet Quintet at Carvers; Liquid Cheese at Steamworks; Mama's Cookin' at the Summit and Yo Flaco! at the Abbey Theatre. Tickets for the pub crawl portion of the festivities are available all day Saturday at Southwest Sound.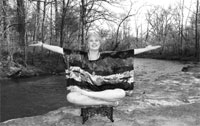 Earth Mama
Also Saturday night, one of the biggest names in modern blues makes a stop at our Community Concert Hall at Fort Lewis College. Kelley Hunt, who can absolutely tear it up on the piano, is touring on the tails of last year's excellent release, "New Shade of Blue," her second CD. A great musician in the classical sense, she also puts on a tremendous live show with a return to tight, high-energy concert presentation. The Concert Hall is an ideal venue to see Kelley, as that building brings out a unique sound from that greatest of instruments, the piano. The show ain't cheap, but you've got to pay for quality, you know. And there's a pre-concert reception thing with food and wine and a silent auction to benefit the La Plata Family Centers Coalition. For people that have a family, I imagine that's a good thing. Then on Sunday night at the Concert Hall, a woman named Earth Mama takes the stage. From what I can tell, we should expect sort of a musical Rachel Carson, as Earth Mama sings and speaks about environmentalism and the love of nature. Now it's well known that I like to have a bit of fun at the expense of today's neo-hippie, but this is a woman who is truly dedicated to the cause of preserving our world and spreads that word through her stage performance that includes both music and motivational speaking. So I won't make fun of her. But at the same time, it would probably be best for all involved if I were to say, stay home.
There may be a large number of Poles, Swedes, Norwegians, French, Belgians, Danes, Dutch, Russians, Brits, Fins and even a few Jews who still aren't ready to embrace a German festival, even a Durangoized one, and to them I say, "go to Mancos." Beginning Friday morning at 8 a.m. and lasting until Sunday night at 8 p.m., the three-day Mancos Valley Balloon Festival will take place in Boyle Park, which I'm guessing is in Mancos. Hot air balloons speak for themselves when it comes to family entertainment, but what's a balloon festival without a Cattle Drive down Main Street? I don't know the answer to that, having attended neither a cattle drive nor a balloon festival, but it sounds like the kind of incongruous fun that I live for. There's also a chili cook-off, of which I have attended many. And lest we forget, it is Mancos, a town that until Labor Day weekend I had always assumed was more or less lawless. But I guess hot air balloons are a lot quieter than a few thousand Harleys. This rally should also spare us the sight of peroxide blonde 50-something women stuffing their 185 pounds into a leather vest and hopping on the back of a balloon basket.
Two final things: On Wednesday night, Eddie From Ohio will sneak into town for a show at the Diamond Circle Theater. Favorites at the Four Corners Folk Festival every year, they're starting a Western tour swing right here in Durango, and I almost missed it. You shouldn't. Also, KDUR's next Cover Night pays tribute to the Man in Black on Nov. 4. I mention this now so that bands can start working on some Johnny Cash material, but more importantly, so that each act can tell Liggett ahead of time what songs they're playing. That way, maybe we can avoid hearing seven versions of "Folsom Prison Blues" that night. If you look hard enough, you'll find that there are a few thousand other songs to choose from. Be creative. Call 247-7628.
Get your Halloween info to me ASAP – the column's already almost full. egholteen@hotmail.com. Sorry, Germany - Ich bin ein jerk. •