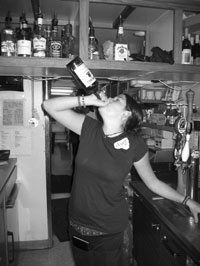 Diver: Maggie from Skinny's
Facts: Maggie knows way more than you think.
Got a dirty little secret?
Looking for guidance to remedy a sticky situation?
Seek help from the master of the kitchen! The Dish Diver has solutions to life's little messes. Send your problems to "Ask the Diver." - By mail to Durango Telegraph - Attn Diver -534 Main Ave., Durango, CO 81301; by email at telegraph@durangotelegraph.com, or by fax at 259-0448.
Diver,
Are women insane while they are pregnant? My wife sure is, and I suspect that pregnancy induces some form of temporary insanity. My wife, of course, will say I'm wrong, then throw something at me. What do you think?
– Dad To Be
Dear Dad To Be,
It is entirely insensitive of you to claim that pregnant women are insane. From my personal experiences, I have known women, pregnant or not, to be completely rational, calm and understanding ALL OF THE TIME. It seems as though the only time your wife has suffered from temporary insanity is when she agreed to procreate with your dumb ass. She should be throwing divorce papers. See what I mean?
– Totally understanding, Diver
Dear Diver,
My husband and I were recently given a Crate and Barrel gift card … it was in my husband's possession while he was in New York, and he used it to purchase one of those whip cream canisters so he and his buddy could do whippits. I wanted a meat thermometer! Damn him. What can I do to retaliate?
– Jenny
Dear Jenny,
No need to retaliate. I think you need to re-examine what your husband has done and appreciate that he has been very thoughtful in finding a gift for the whole family to enjoy. He is doing his very best. As for the meat thermometer? What you and your husband decide to do behind closed doors is no business of mine.
– Good luck with that, Diver
Diver,
My 17-year-old son has suddenly turned into an "activist." I'm very proud of him for getting involved in local politics and current events, however, he doesn't realize that while he tries to save the world, he inconveniences everyone around him. He loses things he borrows or returns them broken. He's a slob. He borrows money and never pays it back. Never puts gas in the car or anything. I tell him, "Before you can help the world you need to help yourself and your family," which means nothing to him. What can I do?
– Marie
Oh Marie,
You say that by trying to save the world he inconveniences everyone around him? This sounds awful familiar to me, but I can't quite put my finger on it. Has your son started to wear a red tie? Is it an H2 that he keeps forgetting to put gas in? Are you wearing pearls? Yeah, like I said I can't quite put my finger on it.
– Good luck to you, Diver