Bellying up at the Billy Goat
Roadhouse keeps happy hour alive in Gem Village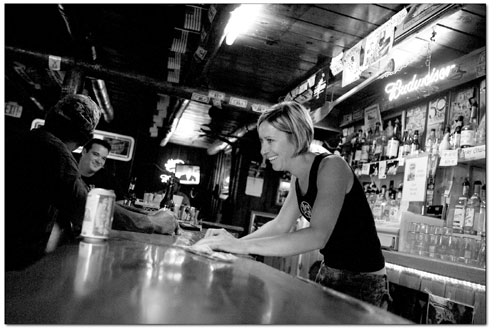 Ashleigh Tarkington, owner/bartender of the Billy Goat Saloon, jokes with patrons at the bar. Tarkington, a Fort Lewis College graduate, made her way through college by waitressing at the bar and bought it from the former owners Bob and Ellen Asher, who passed away. The local landmark was named as one of America's "top roadhouses" by Men's Journal. /Photo by Jared Boyd
by Jeff Mannix
It's a roadhouse – a name and a place from a time before freeways bypassed familiar way-station stops, a respite dispensing attitude adjustments, a place to shoot the bull with the regular bunch, smoke-filled, jukeboxed, pool tabled, mementos on the walls, dice cups with which to wager drinks, and the certainty of a baseball bat within reach of the bartender to settle occasional overheated, furniture-damaging disagreements. A working man's bar, they're called pubs in Great Britain, cantinas in the Latin world, bistros in France, hofbraus, bierstubes, blind tigers, dramshops, pulquerías, shebeens – destinations only in as much as they're on the way to destinations. And the Billy Goat Saloon, in Gem Village, on the way to Bayfield, is the genuine article. In fact, the Billy Goat Saloon was named one of the top 50 roadhouses in America by Men's Journal in 2000.
Ashleigh Tarkington owns the joint. She's 29 years old, blonde, slim, attractive, a few credits shy of a master's degree, and absolutely reigns over the premises with genuine love for the 54-year-old shrine's parishioners. "I worked my way through college right here; I left grad school to come back to help a dying owner; I bought the place because we both didn't want to see it change and displace all these people – I love all these people, and until the highway bulldozes this old place, I'm keeping it open," recites Tarkington with the palpable determination of a benevolent dictator in a resource-poor, third-world country.
The loafing shed that houses the Billy Goat Saloon was constructed of logs in 1952 as a café and service station. It was sold and resold, morphing into bars known as The Westerner, The Coloradan and Last Chance Saloon, and purchased in foreclosure in 1979 by Bob and Ellen Asher, of Chicago. The couple renamed it the Billy Goat Saloon in tribute to "The Curse of the Billy Goat" that besotted the Chicago Cubs baseball team from 1946 to 2003 and earned them the nickname "Lovable Losers."
Gem Village's Billy Goat Saloon has endured for the past 24 years, serving libations and pretty good feed to a crowd that Tarkington claims includes mostly fourth-generation locals who stop by for lunch, then a pick-me-up in the afternoon, followed by a cool one at day's end. "We have a day crowd, guys who work with tools, with their hands, and are home in bed by 9 or 10 o'clock." It's an authentic crowd, Tarkington says. "Snooty attitudes get fixed."
The Billy Goat has live music every Friday night, just to wake things up around this sleepy little hollow of highway and give these tradesmen an opportunity to clean up and show off new boots, girlfriends and wives. "We have all kinds of bands play here, whoever wants to play is welcome," Tarkington says with a shrug, "and we get a lot of college kids in on Friday night, mostly later, after our regulars are worn out from being up since 5 a.m. and working hard all day."
The Billy Goat closes down "when there's nobody left," Tarkington says, as if that's a law of nature. There have even been times, at the end of an early evening, when the phone rings with the announcement that a pack of eight or 10 friends want to come down for a drink or two. "Of course we stay open for them," Tarkington says with pride, "it's their place, and if they want us to stay open, we stay open."
The only peculiar thing about the Billy Goat Saloon is the golf. "This is a gene pool of golf," Tarkington exclaims in disbelief. "First it was me; I've always played golf. The guys used to tease me about playing golf. I finally convinced a few of them to give it a try, and now we have, oh, maybe 45 regular golfers in here, and we hold our annual Billy Goat Open tournament at Hunter's Run on Highway 172 – a nine-hole course we go around twice – against the Lone Wolf Bar in Arboles." There's a waiting list at the Billy Goat for who can play in the tournament for the big, gaudy trophy that makes its home behind the winner's bar until the next year. "Some of these guys give up hunting season to play in the Open," says Tarkington. "They used to talk about what they shot and ate, now they talk about what they shot on the golf course," she boasts with smugness, an obvious win for finesse over brawn.
The Billy Goat closes its doors only on Thanksgiving and Christmas. It's custom. Most of the regulars with no families gather at someone's home to carry on and relieve Tarkington from having to always serve them. "This is family here," Tarkington chokes out with almost perceptibly moist eyes, "we take care of one another." She points out a few places around the sagging building where her customers have fixed leaks, repaired the floor, replaced plumbing, even built an artful patio out of welded steel for the 90 percent of patrons who smoke, now that the state has added smoking to the list of activities we must protect ourselves from.
The Billy Goat Saloon is part of Americana, a place humming with camaraderie and like-mindedness, a respite from the sun, the snow, the daily grind, loneliness – a forbearer of the church, only with baseball supplanting sermons, the Broncos riveting the attention of congregants, and golf substituting for confession. •