Autumn at Shy Rabbit
Gallery exhibits "Mind's Material: Sensation, Cognition, & Knowledge"


by Jules Masterjohn
It's an inspiring time of the year to take a drive to Pagosa Springs, not only to soak up the blazing fall colors but also to catch the last week of the exhibit by Colorado artists Doug Pedersen, Kelsey Hauck and Karl Isberg at Shy Rabbit Contemporary Arts.
Consider along the way, the title of the exhibit: "Mind's Material: Sensation, Cognition & Knowledge." It is taken from the writings of the 19th century German philosopher Frederic Hegel, whose concept describes the psychological process initiated by a stimulus leading to thought and resulting in understanding. The title was well chosen for the exhibit and is useful in directing the viewer because the show is unsettling and provocative.
As I walked into the gallery, a warehouse-turned-contemporary-art-space, the first sensation that came over me was one of self-consciousness. Of the 26 paintings and collages hanging on the walls, every piece includes at least one pair of eyes, staring out at the viewer. It was a strange feeling as I realized that the art was looking at me as I was looking at it. There seemed no relief from being watched, and this was fascinating for me.
Uneasy among the peering images, I was certainly not alone. My gallery mate confirmed this anxiousness by commenting that we had just entered the "Discomfort Zone." As we walked around the gallery, from Doug Pedersen's vibrantly colored larger-than-life oil on canvas portraits to Kelsey Hauck's intimate portrayals in paper, and finally to Isberg's abstracted beings painted in acrylic on canvas, we slowly began to make sense of our experience.
Getting beyond the focused stares of the artwork, we explored the formal and technical elements of each artist's work. Most obvious is Pedersen's coloration: bright, contrasting and complimentary. His flamboyant palette vibrates loudly with deep turquoise, hot pink, lime green, caution yellow and burnt orange, all taking their place on the human face to express raw and intense emotion.
The confrontational paintings by Pedersen appear heroic, similar to the bold painted statements made in the 1960s by the Abstract Expressionists. The piercing eyes of Willem de Kooning's frenzied female figures and Philip Guston's simplified, naive drawing style are the first two references that come to mind. Pedersen's use of thick paint, sometimes applied with a palette knife, further reinforces his allegiance to the Expressionist movements.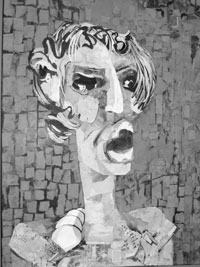 Kelsey Hauck's 1988 collage, "Woman with Pearls."/Photo by Jules Masterjohn
It makes sense that Pedersen's work reflects this history. In the mid-60s, he was chosen to head the Education Department for the Whitney Museum of American Art in New York City. During this period, the museum was purchasing work by emerging American artists, many who strongly impacted the future of aesthetics around the world.
This experience places Pedersen in proximity to some of the most influential and formative artists and collectors in modern American art. His career has been immersed in high-energy, high-rolling art making for 40 years, and his paintings exemplify this familiarity. Pedersen's portraits show a developed and distinct style, one that commands the viewer's attention through his sure hand and steady artistic voice. It is an honor to stand in the presence of his work – there is much history and mastery tucked in between his vibrating colors and direct approach to painting.
The acrylic paintings by Karl Isberg look as if they were created through a spontaneous painting style, the amorphous shapes emerging on the canvas through their own volition. A bit of Jackson Pollack's attitude can be sensed in this work. Also displaying a kinship to surrealist Joan Miró, the shapes in Isberg's paintings move back and forth between recognizable and undecipherable imagery. Large, round, black, eye-like shapes make reference to faces, yet the overlapping and complex organic shapes and earthy colors defy this reading.
Pedersen's paintings, and to a lesser degree Isberg's, seem focused on presenting symbolic portraits – images expressing universal human emotions. Kelsey Hauck's intricate paper collages, on the other hand, describe individual personalities.
Hauck's "Woman with Pearls" portrays an intense-looking female, mouth agape as if shouting an obscenity. Her brow is furrowed and her cheeks are chiseled. This subtlety is achieved through ripping and cutting. Differing-sized pieces of paper depict the facial features, Medusa-like hair and yellow dress adorned with pearls. Hauck's artistic sensibility is detail-oriented, textural, multi-layered and delicate. There is a nod to Picasso and Cubism here that is especially satisfying.
Unlike with Pedersen's work, where I feel pushed away by the forceful archetypal emotion bursting from each face, I am drawn into Hauck's portraits as the nuances of each individual's facial expressions whisper to me, "Come closer."
It is strange and wonderfully dislocating to be in the presence of mature and well-developed art, work that is rooted in defined aesthetic values and references artistic movements. The oddness comes from viewing this museum-quality art in a converted warehouse among the tall pines in a geographically isolated region of Colorado and not, as it would more likely be found, in an established gallery in Manhattan's SoHo district.
"Mind's Material: Sensation, Cognition and Knowledge" is on display through Oct. 7 at Shy Rabbit Contemporary Arts, located at 333 Bastille Drive in Pagosa Springs. Gallery hours are Tuesday, Thursday and Saturday from 1 to 4 p.m. or by appointment. Call (970) 731.2766 for information. •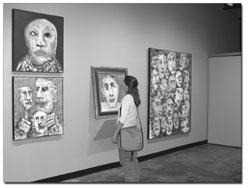 A gallerygoer at the Shy Rabbit views a display of Doug Pederson's paintings./Photo by Jules Masterjohn