Recreation sites go on the block
Deferred maintenance leads to closure of campgrounds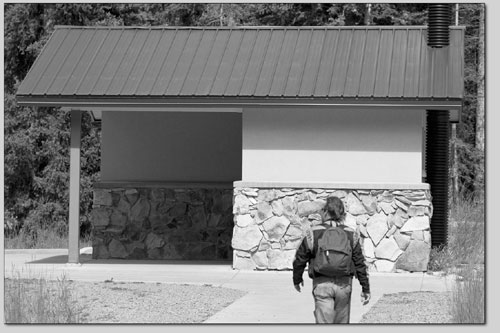 A visitor heads toward the San Juan National Forest restrooms on Coal Bank Pass. A recent plan calls for inventorying and decommissioning of less-used recreation facilities on national forest lands. The effort hopes to offset deferred maintenance costs, which are pegged around $346 million./Photo by Jared Boyd
by Missy Votel
A Forest Service plan to address the backlog of hundreds of millions of dollars in maintenance on recreational sites could result in the closure of thousands of campgrounds and recreation sites.
According to the Western Slope No Fee Coalition, the Forest Service's "Recreation Site Facility Master Plan" could close down, or decommission, thousands of recreation sites while turning thousands of others over to private concessionaires.
"We're talking campgrounds, day-use sites, boat launches – anywhere they have developed facilities," said Kitty Benzar, co-founder of the Western Slope No-Fee Coalition. The coalition charges that the plan, among other things, was made without any public process, as is due under the National Environmental Policy Act, or any congressional oversight. The group calls it an attempt to implement a "for-profit" model on national forest management and charges the Forest Service with squandering appropriated funds, calling for a Forest Service audit.
"We want to know where the money is going, there are millions and millions of dollars unaccounted for," said Benzar.
However, Forest Service officials say money is not being squandered, it simply isn't there to begin with, and the latest plan is just another symptom of budgetary cutbacks.
The idea for the plan was put forth in 2003 in response to a $346-million backlog in national forest site maintenance, according to San Juan National Forest Recreational Wilderness Program Leader Dave Baker. He said in addition to becoming a financial nightmare, the backlog of repairs was beginning to create concerns for public safety and health. In response, each forest was asked to come up with a five-year action plan, which included inventorying and ranking sites and putting forth a work plan. The objective calls for reducing the maintenance backlog by 90 percent by the year 2020. Under the plan, sites that are deemed not profitable or do not meet "National Required Standards" could face closure.
However, Benzar said the public was not consented on what these "national standards" would be and that closures would create a hardship not only for public lands users but the economies of nearby towns that depend on forest visitors.
Furthermore, the plan would manage forest recreation sites much in the same way that national parks are managed. Such a change could endanger primitive, "pull-off-the-side-of-the road" camping as we now know it, she said. "What's happening, first with fee demo and now with this, is that people are being forced into these developed areas, which are being developed until they're like Disneyland, or they're being closed," she said. "The idea of keeping these sites rural, simple and primitive is not on the table."
According to the coalition, 22 of the country's 155 forests have completed their five-year master plans, and projections show that as many as 5,000 recreation sites could be decommissioned and as many as 4,000 turned over to fee-based or for-profit operations.
Benzar said decommissioning is already taking place in the nearby Grand Mesa-Uncompahgre-Gunnison National Forest, or GMUG, where as many as 100 sites have been identified for decommission and implementation has already begun.
"The GMUG has already begun dozing sites and capping water," said Benzar. "There has been a huge public outcry."
As for the sites that are being turned over to private hands, she said this could price many people out of the forest experience as campgrounds are upgraded.
"The national forest shouldn't be competing with national parks, but be an alternative to them," she said. "When I was growing up, all we could afford was a national forest campground. If you wanted something fancy, you'd go to a national park or KOA."
As far as the San Juan National Forest goes, Baker said a Recreation Site Facility Master Plan has not been completed nor acted upon. "We've done preliminary work, but haven't completed an action plan," he said.
In the San Juan National Forest, there is about $4 million in deferred maintenance, ranging from regraveling of sites to fixing broken picnic tables, updating water systems and replacing 50-year-old toilets. "The primary issue is to keep the public safe," said Baker. "If the toilet is running the risk of blowing up, we need to close the campground down until we get it fixed."
Although Baker's plan has not been formally submitted, he said that out of the San Juan National Forest's 125 sites, six run the risk of being decommissioned, or shut down.
"If there is a problem with a site, but it's getting use, we'll fix the problem," he said. "But, if there's a problem and the site's not getting use, we need to decide whether it makes sense to keep it open. Maybe the best option is to close it and start over."
However, Baker noted that the plan does not apply to the thousands of "dispersed" camp sites throughout the forest.
"There are thousands of sites where you can just pull off the side of the road and camp, and none of those are on the block," he said. "We've found that people really like dispersed camping. This plan just deals with sites that have facilities."
He also noted that the plan is exactly that, and nothing is set in stone and things may change between the time the plan is released and full implementation in 2020.
"My personal preference is that, with more people moving to the area and more use, we won't have to close any of them, or maybe they can be turned into dispersed sites," he said.
He did note that the surge in recreational vehicle use has complicated the issue. "We get a lot more requests for upgrades, like electricity hook-ups," he said. However, such upgrades have come at the price of maintenance. "That's what got us in trouble in the first place. This plan is reining us back in a bit."
He agreed that the Forest Service should fill a camping niche, and perhaps upscale RV amenities do not fit into that niche. "If you want a full (parking) pad and a wi-fi connection, there are plenty of private campgrounds for that," he said. "There's a balance there that we've got to try and strike."
Regardless of what happens, Baker said it would not be done without public input. Although the subject of deferred maintenance has not been addressed specifically, he said the Forest Service has been involved in the open process of the forest plan revision for the past few years. In addition, several recreational users and campground hosts have been consulted for the draft plan. He said he expects the draft of the five-year action plan to be released by the end of the month, which will be followed by a 60-day public comment period.
"Obviously there's public interest, and the public is going to have to help us come up with solutions, and that's always good," he said. •
For more on the Forest Service's Recreation Site Facility Master plan, go to:http://www.fs. fed.us/r3/measures/Prioritize/ RS-FMP.htm or visit www.westernslopenofee.org.