Riding with small gears
Durango DEVO gets young wheels rolling

SideStory: ?PureSweetHell? ? Durango DEVO hosts Nov. 6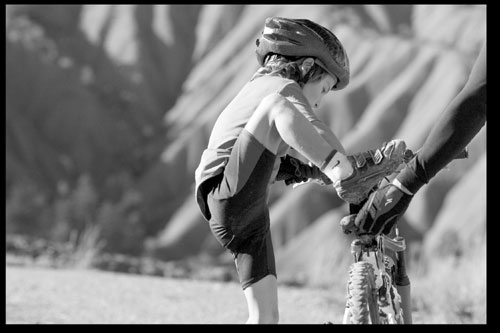 George McQuinn, 8, stretches to get his leg over his mountain bike during last Monday's Durango DEVOJunior ride in the Test Track. The Durango Development (DEVO) mountain bike team is dedicated to spreading a passion for the sport and includes riders ranging in age from 5 to 18-year-old Tad Elliot, who recently won four separate NORBA cross-country and short-track titles./Photo by Jared Boyd
by Will Sands
hase Pearson and George McQuinn can rip. The two smoothly roll along Durango's Spirit Trail on their mountain bikes, calmly leaning through tight switchbacks, casually dropping over rock ledges and easily cleaning long sections riddled with wet roots. After cruising the bottom segment of the trail, the pair skids to a stop, Chase smiles at George, and says, "You know what I really like about mountain biking?" George shrugs his shoulders. "Getting dirty," Chase answers through a muddy grin.
Like all the members of the Durango DEVO Juniors, Chase and George are not your typical mountain bikers. Each of them stands around 4 feet tall, weighs in the neighborhood of 60 pounds and reports to elementary school on weekdays. But like all of their fellow riders, the 10-year-old and 8-year-old are already solid riders. And thanks to the Durango DEVO Team, they're getting strong early educations in the laws of dirt.
Professional cyclists Sarah Tescher and Chad Cheeny got the Durango Development (DEVO) Team rolling in the spring of 2005. The team began thanks in part to a grant from Durangoan and professional cyclist Tom Danielson. DEVO's basic goal is to spread a love for the sport and help local youth develop as mountain bike riders and racers.
"It makes perfect sense for where we live," says Tescher, Durango DEVO's director. "There are so many people around here who mountain bike and so many good trails. As a kid, you can be on the
swim team or the football team, but mountain biking also needs to be a part of that. It's a great sport, and it's a sport for life, whether you wind up racing or not."
Young riders of all ages and ability levels are getting on board with DEVO. Coached by Cheeney, the Durango DEVO Team is made up of high school level racers with serious podium aspirations. Just wrapping up its first season, the team already has several huge feathers in its cap. This summer
Ben Kraushaar took home the national championship cross-country title for racers 16 and under. In addition, team member Tad Elliot won the last four cross-country and short-track NORBA races he entered – and by wide margins.
"This team makes sense for Durango," Cheeney notes. "This town is a huge cycling factory. Having a cycling development team is crucial."
But Durango DEVO is as much about passion for sport as it is about podium places, and that passion has to begin somewhere. Joining the high school team, there is Durango DEVO JV, made up of middle schoolers, and then there is the 20-inch wheel club, the Durango DEVO Juniors.
In addition to DEVO Juniors Chase Pearson and George McQuinn, 7-year-old Camryn Sippy, 9-year-old Bryn Joyner and 5-year-old Carter McQuinn, George's little brother, all turned out to ride last Monday.
"My first ride with the juniors was on Sale Barn and it just blew my mind," said Gage Sippy, Camryn's dad. "They don't have much gearing. Their bikes weigh more than mine does, and they're just horsing it up the hills. The fact that this team even exists is amazing. Only in Durango."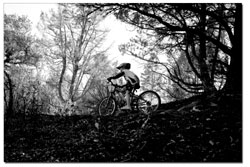 Camryn Sippy, 7, gets into some singletrack on Monday along the Spirit Trail. In addition to riding area trails, Durango DEVO members take part in service projects, including trail work./Photo by Jared Boyd
"My first ride with the juniors was on Sale Barn and it just blew my mind," said Gage Sippy, Camryn's dad. "They don't have much gearing. Their bikes weigh more than mine does, and they're just horsing it up the hills. The fact that this team even exists is amazing. Only in Durango."
Also on hand Monday were Rocky Mountain Chocolate Factory pro riders Grant Berry and Ryan Barthel and pro cyclist Kristin Danielson, there to give a mini-clinic on cyclocross skills. After a handful of pointers on smooth transitions on-and-off the bike, all 10 sets of wheels started rolling up the Spirit Trail. After all, DEVO Junior rides are mostly4
about "chasing elephant tracks," dodging hot lava on the trail, looking out for spirits at the cemetery, eating gummy "fun bugs" before the descent and of course, getting dirty.
Catching air is also a crucial part of the Durango DEVO Junior experience, and after topping out on one of the trail's climbs, the group spies a pair of plywood jumps high on a hump of Mancos Shale. Five-year-old Carter McQuinn is among the first to fly the plywood, catching decent air, but landing a little far forward and pogo-ing twice before making a recovery.
"That's what happens when you put too much weight on your front tire," Carter says confidently. "But you can also just do a front-flip and keep going."
Camryn, on of two girls on the ride, sails the plywood next. "This has been a big help for my daughter," says Gage Sippy. "Before this year, she was really timid in everything. But after four rides out here, she was completely comfortable and confident."
The greater Durango community has also seen the wisdom and benefit in the Durango DEVO program. In addition to Danielson's seed grant, the Durango Cyclery donated the proceeds of this year's Cruiser Crit to DEVO, Fort Lewis College donated a quarter of its recent Squawker Classic take to the program, and a grant for bikes came to DEVO from the El Puente Foundation.
"It's nice to live in a small community that supports mountain biking and makes these kinds of things possible," Tescher says.
DEVO is also doing its part to give something back. All of the riders, whether its 5-year-old Carter McQuinn or 18-year-old Tad Elliot, take part in trail work and service projects throughout the region. The team has built water bars in Horse Gulch and trimmed brush along the Animas River Trail, among other things. "A big part of the program is for the riders to give back to the community," Tescher says.
And based on the number of smiles cruising along the Spirit Trail on Monday, Durango DEVO is only going to cover more and more miles in coming years.
"I want to think of it as a program that's here to stay," Cheeney says. "It's a perfect match for this town, and we're doing everything we can to make it last." •