Long life in La Plata County
Colorado boasts top counties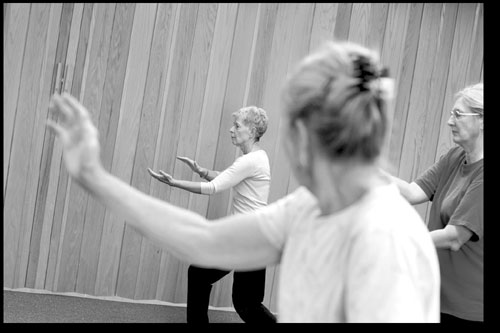 Ginny Brown, Margie Padgett and Sheila Sfendilias (from left) practice tai chi at the La Plata County Senior Center. A recent Harvard study on longevity found a life expectancy of 79.7 years in La Plata County, ranking the length of local life close to the best in the nation./Photo by Jared Boyd
by Allen Best
s it somehow healthier to live in the mountains? That's what a new study from Harvard University seems to say. The report finds that more than half of the top 40 counties for longevity in the nation are located in mountainous areas of Colorado, Utah and Idaho, and the Four Corners area is a mixed slate.
The study reported a life expectancy of 79.7 years in La Plata County. That compares with 80.8 years for Archuleta County, whose county seat is Pagosa Springs, one of the nation's leaders. However, three other Southwest Colorado counties – San Juan, Montezuma and Dolores – ranked last in Colorado at 74.8 years.
Colorado dominated the top tier of the study, accounting for seven of the 10 counties and the nation's longest average life expectancy, 81.3 years. Of these seven counties, four – Clear Creek, Grand, Eagle and Summit – have ski areas (Loveland, Winter Park, Vail and Breckenridge, respectively).
So, skiing would seem to be the explanation, right? Or is it the wealth that is often found in ski resort areas? After all, can't wealthier people afford better
medical care?
Maybe so, but healthy living and regular check-ups alone don't explain the high rankings. Consider Colorado's three other counties among the top 10: Gilpin, which is where the smoke-filled gambling casinos of Blackhawk and Central City are located; Jackson, better known as North Park, a ranching area that is among Colorado's poorer places; and Park, partially the setting for the famous television series "South Park" and also home to the blue-collar suburbs of Breckenridge – Fairplay and Alma.
The only thing these places have in common, other than people long in the tooth, is thin air. The lowest point of any of them is in Eagle County, at the edge of Glenwood Canyon, where the elevation is about 6,000. Some principal towns among them range up to 10,000 feet. However, also having the same longevity are three counties – two in Iowa, and one in Maryland – located at decidedly low elevations, barely above sea level.
Rounding out the nation's top-40 places for life expectancies are five counties from Southwest Colorado – San Miguel, Ouray, Mineral, Hinsdale, Gunnison and Archuleta –all at 80.8 years. The Denver
area is closer to the bottom, at 75.9.
If skiing and money aren't necessarily the cause of longevity, then why do the mountain counties seem to be the fountain of youth? Is pretty scenery good for the body, as well as the eyes? Is sucking extra hard for a lung full of air actually good for what ails you?
The short answer is that the Harvard researchers, after analyzing national data from 1980 to 2001, don't know why mountain counties lead the nation in longevity. That was but a footnote to the broader study, which looked more generally at longevity trends across the nation.
In that macro study, the researchers found that wealth is not necessarily a predictor of longevity. Asian-Americans females in New Jersey live longest. The shortest lived are Native American men in South Dakota and black men in urban areas and rural counties in the South.
Risk factors may explain the successes and failures. Dr. Christopher Murray, the lead researcher, linked shorter life expectancies to tobacco use, alcohol, blood pressure, obesity, diet and physical inactivity. By reverse logic, the mountain counties may have more4
physically active people who don't smoke and who eat well, he said.
And indeed, Colorado – which as a state ranked in the second tier of states, behind Hawaii, for life expectancy – has the nation's lowest obesity rate, a relatively low smoking rate and a relatively active lifestyle, observed Dr. Ned Calonge, Colorado's chief medical officer. These same attributes would seem to be exaggerated even more in mountain communities.
Still, none of this adequately explains why the mountain counties in the Rocky Mountains top the nation in longevity. One possible answer could be called the theory of self-selection.
When people get sick, particularly with chronic lung and air diseases, they tend to leave the high country for lower elevations, such as Grand Junction, Denver, Tucson or Phoenix, where medical facilities are generally better and the air has more oxygen. This is mostly anecdotal, although one study conducted in the early 1980s documented such migration from mountain counties in Colorado.
On the flip side, migrants who are healthier may be drawn to mountain counties. The ski towns have increasingly become places of gray hair. The above-60 age contingent, while still relatively small, was the fastest growing population segment in the 1990s.
One of the researchers, Majid Ezzati, said that the research team had studied broadly demographic migrations but not from individual counties. As such, those migrations in and out of mountain counties could explain their high rankings.
A second theory is advanced by Dr. Benjamin Honigman, director of the Colorado Center for Study of Altitude Medicine and Physiology. That theory holds that people who have lived here at higher elevations for a long time develop some kind of protective effect that yields stronger lungs and hearts. That has been proven in populations who have lived hundreds or thousands of years in high elevations. Tibetans, for example, live at 12,000 feet and even higher. But that theory lacks supporting evidence, concedes Honigman. "There isn't much known about longevity and altitude," he says.
Honigman hopes to find funding for a study of this connection between thin air and health. For example, Colorado also has a lower rate of heart attacks and stroke than most places, but it's not known why. It's a classic chicken-and-egg question: Do people in Colorado have behaviors that make them healthier, or does living in Colorado make them healthier?
The answer to that question does have a concrete consequence, notes Honigman, given that many parts of Colorado are billing themselves as ideal places for retirement. •