A bout with bubonic plague
Survivor shares tale of brush with black death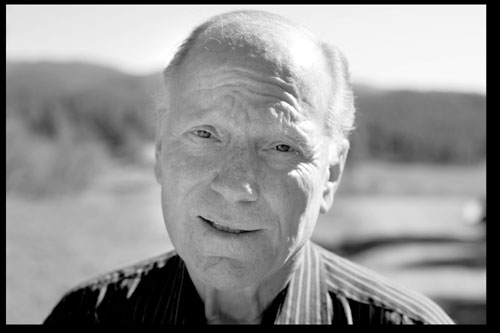 Al Wadleigh talks outside his La Plata County home about his battle with bubonic plague last summer. Within three days of coming down with flu-like symptoms, Wadleigh was unable to walk and found himself in the Mercy emergency room. /Photo by Jared Boyd
by Linda Lovendahl
ccording to the old adage, "There's a silver lining to every black cloud." La Plata County resident Al Wadleigh's passage through a lethal storm called bubonic plague has already saved a 12-year-old girl's life.
He says it was worth it.
"I welcome any occasion to share my experience in the hope it will save lives. Bubonic is a fast-moving disease. If you don't know the symptoms, it's deadly," Wadleigh said.
Wadleigh was the third of four victims reported in La Plata County this summer, Colorado's only site for human incidences this year. The national average varies between 10 and 15 total cases per year.
The best prevention for plague is to keep the immune system strong. Wadleigh's symptoms started
in early July after he sprayed noxious weeds on his rural property outside Bayfield. He didn't wear a mask and figures he probably inhaled more fumes than his immune system could handle. Approximately two weeks later, he woke up on a Monday, late in July, with a "fluish" feeling. He had a mild fever and nausea. He took his usual handful of vitamins and homeopathic herbs and felt so good the next day that he attended a men's breakfast at a local restaurant. But by noon, he had thrown up his breakfast, and his fever rose sharply. Two days later, Wadleigh couldn't walk, his eyes couldn't track properly, and he had a temperature of 103.7 degrees. His wife, Marion, took him to the emergency room at Mercy Regional Medical Center. Though Wadleigh still had not been diagnosed with plague, Mercy doctors announced he was in full renal failure – his organs were shutting down. They pumped more than a half dozen different antibiotics into his 4
body. Wadleigh clearly remembers how he felt on Thursday, the day after the treatment.
"Words can't describe the emptiness inside me," he said. "It was as though I was in a void. I had no sensation of anything. Life was a blank. I said to myself, 'You're a dead man.'"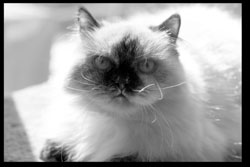 One of the Wadleigh's six cats, shown here, also contracted the plague. It was through the family vet that Al discovered he, too, had contracted the potentially fatal disease./Photo by Jared Boyd
"Words can't describe the emptiness inside me," he said. "It was as though I was in a void. I had no sensation of anything. Life was a blank. I said to myself, 'You're a dead man.'"
Hours later, the doctors informed him he was suffering from pseudomonas, a bacteria unrelated to plague, and gave him another boost of antibiotics. Wadleigh said he felt only a little better.
On Saturday, his wife, Marion, noted one of their six house cats was ill and took it to the veterinarian. There it was discovered that Wadleigh and the cat had the same physical symptoms: swollen left leg and genitalia, and renal failure. Three days later, the prognosis came back to the vet: plague.
The vet called the physicians and they redirected treatment to target plague. Wadleigh's condition rapidly improved, and on the ninth day, he was released. To this day, Wadleigh and the cat are still recovering from their bouts with bubonic plague.
"My symptoms were atypical," said Wadleigh who hopes his story will help others identify the disease. "Normally, plague is identified by swollen lymph nodes but mine and the cat's were fine. Make sure if you have fluctuating temperatures, you ask the doctor to test for plague."
San Juan Basin Health Department epidemiologist, Joe Fowler, sent an investigator out to inspect the Wadleigh property. All the flea carriers, namely rabbits, prairie dogs and rodents, were gone. One flea was found near the house, but it was clear of disease. The plague had already killed the host animals.
To date, Fowler reports four humans, six cats and one dog have contracted the disease in La Plata County. In addition, three cats in Montezuma County and two more in Archuleta County have tested positive for the disease. "Early identification is key," Fowler said. "Two victims died in New Mexico because they either were misdiagnosed or didn't get treatment in time."
Statistically, the disease is fatal in one of every seven humans who contract it, and Wadleigh's plight remains a valuable lesson for La Plata County residents. Plague season typically lasts as long as fleas are present, which can be up until the snow flies. •