Retreating into art
Local artists reflect on their time at the Aspen Guard Station


by Jules Masterjohn
Being an artist isn't easy. It takes effort, discipline and commitment to wear the title.
Maybe that's why the "starving artist" stereotype was born – as a metaphor to remind us all that many artists make sacrifices to devote themselves to their yearnings.
Creative people give their avocation high status, often dedicating their personal resources fully to its pursuit. Time, money and physical space (a studio) are generally the basic requirements for an artist to develop his or her unique artistic voice.
Most artists also live with the reality that art is not seen as a necessity in our culture. Consumers like it to adorn their walls, but few citizens have a category earmarked for art on their monthly budget. This means that many artists have "day jobs" to support their lives. It seems, at times, that choosing to develop one's artistic gift requires heroic effort, as an artist maintains a full-time job, participates as a citizen and a family member, and schedules time to create.
One way artists keep themselves refreshed from all the busy-ness of their chosen lifestyle is to seek out an art retreat, otherwise known as an artist-in-residency.
There are growing numbers of opportunities for writers, musicians, thespians, dancers and visual artists to recharge their artistic fuel cells through a residency program. One such opportunity, the Aspen Guard Station Artist-in-Residency Program, is offered by the San Juan Public Lands Center each summer. The residency takes place at a decommissioned fire crew cabin high in the aspens of the San Juan National Forest, 12 miles north of Mancos.
Securing a coveted one- to two-week residency requires artists to submit examples of their creative work along with reasons for seeking out the residency and a proposal for how they will use their time at the cabin. The applications are reviewed, and the successful applicants are selected by a panel of judges from the region's art community.
The artists who are chosen for a residency are asked to "give back" to the community in two ways. First, artists must offer an open house during their stay and each must donate a piece of art to the program's art collection.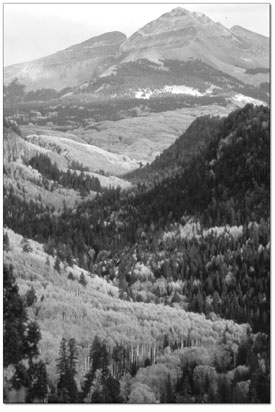 "Hesperus" /Photo by Paul Pennington
Local artists Chyako Hashimoto, Paul Pennington and Maureen May are among those who have taken advantage of the residency program. All agreed that one of the biggest benefits to the program, and any art retreat, is being able to totally dedicate themselves to the creative process. Pennington explained, "The residency offered the gift of time to create in a new environment without the familiarity that can distract you. The biggest benefit for me was getting out of my routine."
May concurred, saying, "The time to create and focus without interruptions was fabulous. No phone, no day job, no distractions of daily routines."
For these artists, another benefit of the residency was the cabin's remote location and its rustic amenities, which includes no electricity. Hashimoto, who was accompanied by her husband, Colin Smith, offered, "The primitiveness of the cabin was wonderful. It got us connected to the simplicity of our needs. We don't have to have excessive stuff to be happy."
Pennington and May, a couple who live near downtown, often start their day with coffee at a local Main Avenue coffee shop and end it with evening events. Pennington remembers appreciating the cabin's location because it was "far enough away so you couldn't sneak off into the city to get sidetracked."
For both artists, their stays were productive and memorable. Pennington reminisced about the blackness of the sky at night and May recalled the "absolute darkness" inside the cabin. Slightly challenged by the lack of electricity, each found ways to adjust to a workspace and work time that was not aided by electric lights. Pennington remembered, "I had to work with nature's clock and her rhythms. I couldn't get much done under the gas lights." May agreed. "The propane lights weren't the best to do visual work under, so at night I did a lot of reading and writing."
One dark evening brought bone-chilling shrieks to their cabin. The next day, as the artists were interacting with some campers on the road near the cabin, the folks shared their belief that Bigfoot lived in the aspen forest. "They were convinced that the shrieks we heard were from Bigfoot, and they even had some video footage of its footprint," May said.
Currently on display and up for auction at the Main Book Co. and Gallery in Cortez are more than 40 original works by 37 artists from the Aspen Guard Station program's collection. Among the works are two ceramic vessels by Hashimoto, a color photograph by Pennington and a caran d' arch painting by May. The exhibit and silent auction, "Art for the Cabin," will culminate on Friday evening, Oct. 13, with a gala event from 6-8 p.m. including alumni artists in attendance. The silent auction proceeds will benefit the Aspen Guard Station Artist-In-Residence Program to help fund the maintenance of the cabin and the administration of the residency program.
The Main Book Company and Gallery is located at 34 Main in Cortez. For more information, contact Ann Bond at 385-1219 or Susan Bryson at 385-1312.