The road to recovery
Local cancer survivor shares tale of beating the odds – twice


by Linda Lovendahl
Finding the causes of problems and formulating ways to solve them are at the core of Durangoan Shari Johnson's being. A degree in business management catapulted her young life into using these skills to solve challenges faced by major corporations in the international market. The biggest surprise of her life, however, was when she applied the problem-solving approach to her own body. Johnson has successfully overcome breast cancer – twice.
"Information is power," Johnson said of the challenges. "I kept asking questions until I felt confident I understood what was at stake. I did the same thing until I knew exactly what the alternatives for treatment were, too. Then, and only then, could I make an accurate and comfortable decision."
That decision took her through a labyrinth of local facilities and physicians, online information, major metropolitan medical treatment centers and knowledge of her own body. "When I am equipped with knowledge, I can deal with most anything," she said. "I think there are women who don't know what symptoms look like, and that's when they get into trouble."
Johnson analyzed the cause of her first occurrence and was convinced it was produced by stress. She had been working 70 hours a week, flying all over the world on business and was in the midst of a $25-million sales project for General Motors at the time of her diagnosis. But when she was hit with cancer a second time, 15 years later, she was brought to her knees. "I thought I had it figured out! After I had asked all the standard questions all of us have to go through, like 'Why me?' and 'Why again?' it boiled down to assessing my mindset," she said. "To put my head in the sand and deny it had happened was not an option. I had to deal with it."
So Johnson said she did what she knew to be right: eating right, exercising, researching, asking questions and taking action. "And then, most importantly, I moved on," she said.
Johnson's moving on has benefited Durango. Her projects have included volunteer consulting with the San Juan Mountain Association, Adaptive Sports Association and one of the departments at Fort Lewis College. Johnson presently serves as a board member on the Mercy Health Foundation, continues to mentor cancer victims one on one and participates yearly in Denver's Susan B. Cohen Relay for Life.
"I value my position on the hospital board because I can support the already established priority for potentially securing digital mammography," Johnson said. "We need to keep technically advanced to provide the best knowledge possible about this disease."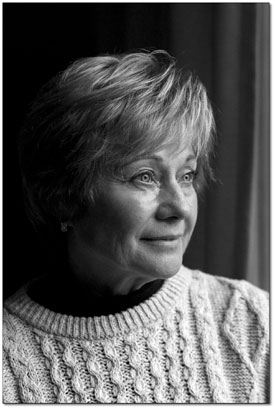 Shari Johnson at her house in Durango
Johnson's first job out of college was two-pronged when Kepner Tregoe, an international consulting firm for Fortune 500 companies, hired her. She taught management-level critical thinking skills. Johnson's approach to her cancer cure took on the same profile. "I really felt more comfortable talking with my 14-year-old daughter in terms of medical protocol and statistics rather then about how we were afraid," Johnson said. "Early diagnosis automatically puts a woman in a favorable statistical situation."
Whether a woman has strong family support or not, the first step Johnson suggests is getting as accurate and relevant information as possible. Seeking sound second opinions on that information is the next step. The third one is to assimilate all the information and apply it to the personal situation. This step is critical because it leads to action.
Johnson knows women who have turned down treatment for fear it was overkill for their condition. "As far as I'm concerned, I'd rather over-correct a condition then choose to give up my life," said Johnson. "Society is hung up on what we look like. A person's value is in their being, not in their body's appearance. No one wants to mutilate their body for a cure. Someday we will have better cures, but for now, it is a reality: this is what we've got.
Johnson also said that a woman's spouse or mate can also play a strong support role. "Men play a key role here to help women overcome the changes they need to accept for a cure."
Johnson concluded by saying that cancer is not a death sentence. Coming to this realization is the first step on the path to healing. We all try and do the right thing, but medicine is not a science, and we come at cancer with different mindsets," she said. "I just know that for me, dissolving the stigma that cancer automatically equals death, had to be blown apart for me in order to heal. I'm convinced that any cancer found early enough can be beaten." •
In this week's issue...
May 11, 2023

New hostel offers hikers, skiers and other frugal fun hogs place to hang their hats
May 4, 2023

Proposed apartments spur efforts to preserve historical burial grounds
May 4, 2023

Small mountain hamlet to remain resort-free, for now