A tall tale from the American South
Durango Lively Arts stages "Wiley and the Hairy Man"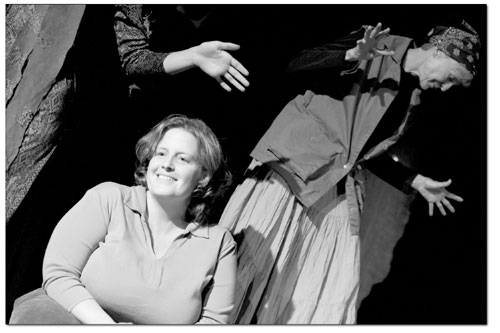 Director Lisa Kramer brings a wealth of experience to the Durango Lively Arts Company's "Wiley and the Hairy Man."Along with a doctorate in theatre, she has international stage credits and has written several plays./Photo by Jared Boyd.
by Judith Reynolds
Growing up in a violent time, children (not to mention adults) have many fears. What to do? Run away? Act out? Pretend they don't exist? Or use your smarts?
Thinking through fear and coming up with a plan is what "Wiley and the Hairy Man," an American folktale, is all about.
With an intergenerational cast and an experienced director, the Durango Lively Arts Company will open "Wiley" this weekend. It's a creative leap for the company and a long-awaited dream for the director.
"I've wanted to do this show a long time," said Lisa Kramer in an interview last week. Kramer is fairly new to Durango. With a doctorate in youth theater from Arizona State University, experience teaching and directing in the States and Japan, several published plays, and a long list of awards and publications in professional journals, Kramer said "Wiley" is on her short list of favorites.
"I read it first when I finished my master's program (University of Hawaii) in 1997," Kramer said. "Any show that has magic in it appeals to me – magic in the larger sense of the word. Not Disney magic fairy dust, but something we create for ourselves on Earth. 'Wiley' presents an imaginative way of looking at things, and that's important, especially for kids."
After Kramer directed last winter's production of "Parallel Lives," the first adult show mounted by the Durango Acting Studio, she got a call from DLAC.
"They asked if I was interested in directing for community theater," Kramer said. "I said I'd consider doing a play with kids and adults, and I immediately thought about 'Wiley.'"
Like Aesop's Fables, "Wiley" has universal resonance. Set in the American South, the story has come down through an oral tradition that has existed for generations. Originally it may have been an African-American tale. Wiley is a fearful child whose father has disappeared into the swamp and may have died suspiciously at the hands of the Hairy Man, the Boogey Man of myth. After decades of oral transmission, Wiley's tale was officially recorded in 1940 as a result of the Federal Writers Project. Since then, the story of Wiley finding the courage to confront his fears has morphed into short stories, at least one book, and several adaptations for theater. Kramer has chosen Suzan Zeder's adaptation partly for its clarity and its use of verse and a chorus.
"The cast is fabulous," Kramer said, "but the chorus is the glue that holds the show together." They (Freddie McDaniel, Maddie Meigs, Clara Gray-Stallings and Zoey Ross) create the atmosphere of the swamp, strange trees, rocks and other elements in the play.
Zeder's script calls for a chorus, but how the players are used is up to the director. At early rehearsals Kramer invited the cast to invent movement and sounds to create atmosphere and telling images.
"I like to work collaboratively," Kramer said. "Even if I have a concept for a show, the cast will discover things, and we'll make changes accordingly."
An example of Kramer's rehearsal philosophy is Wade Stallings, a professional musician (guitar) and arranger. His daughter, Clara, is in the chorus and at one rehearsal, he offered to improvise a score. Stallings is from Los Angeles, scored for Disney and other film organizations, and has strong credentials.
Kramer considered the proposal: "As we ran a scene," she said, "I listened to his improvisations, and that clinched it."
Stallings will sit on stage and provide a quiet guitar backdrop to the action. At rehearsal it sounded as integral to this Alabama swamp story as a violin in a Ken Burns film.
The story opens as Wiley (Ilana Stern) has yet another nightmare about the Hairy Man. Mammy (Julia Dodd), a concerned mother and expert conjurer, comforts Wiley. She soothes his fears and offers what we might call the equivalent of a National Intelligence Estimate. Mammy analyzes the enemy's strengths and weaknesses, plots a course of action, and prescribes intelligent action. She even has an exit strategy: "Outwit the Hairy Man three times," she says to Wiley, "and he won't scare you ever again."
The delight, of course, is in the details as Wiley and his faithful hound dog (Jack Meigs) go into the swamp to confront the Hairy Man. As played by Bart Plumbley, the old guy is truly scary. Director Kramer has Plumbley enter through the audience. Plumbley's considerable theater experience shows as he develops this deliciously nasty character. His heavy gate, snarling voice, and threatening manner will scare children and adults alike.
Selecting a good script and a strong cast are two parts of the director's responsibilities. Creative staging is another. And Kramer has one more trick in her conjurer's bag – her daughter, a sure-fire audience meter.
Sarah is a few months shy of her fourth birthday, the child of theatrical parents. Kramer and her husband, Nathan Lee, assistant professor of theater at Fort Lewis College, sometimes bring their daughter to rehearsals. Watching the cast is one thing. Watching Sarah is another. She's captivated by the action. She rolls her eyes and scrunches up her shoulders when the villain makes his spooky entrances. And she laughs – a lot.
"If I can see my 3-year-old being engaged but not scared," Kramer said, "I know we're getting it right." •