Drawn to the coffeehouses
A sketchy look at the rituals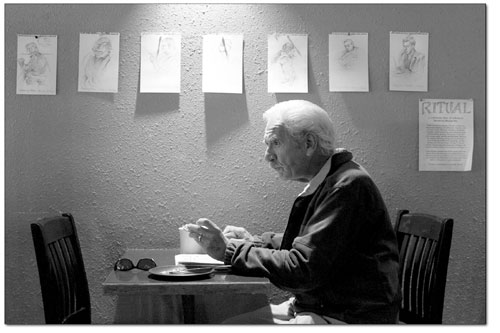 Frank Dicicco enjoys a late breakfast Monday at Steaming Bean Coffee, where local artist Maureen May's exhibit of informal sketches, "Rituals: A Coffeehouse Show of Coffeehouse Sketches" is on display. The exhibit includes more than 60 informal sketches done at coffee shops throughout Durango./Photo by Jared Boyd
by Jules Masterjohn
It would appear that artist Maureen May has, once again, stepped outside the boundaries of what is usual behavior for a visual artist in our fair burg. She has, for years, been trespassing into the performing arts territory through her enchanting skills as a fiddle player as well as embodying an accomplished thespian now and again. Today through this Sunday, May's recent transgression can be witnessed on the walls at Steaming Bean Coffee on Main Avenue.
"Rituals: A Coffeehouse Show of Coffeehouse Sketches" is a display of more than 60 small sketches drawn of customers at our local java joints: Durango Coffee Co., Durango Joe's, Magpies, Pure Soul, Starbuck's and Steaming Bean. She has included portraits of a few patrons from as far away as the Comb Ridge Coffeehouse in Bluff.
May is not presenting fully developed "masterpiece" works as most artists are compelled to do when they have the opportunity to share their art. Her portraits are not even, in most cases, convincing likenesses of her sitters. Though she is skilled enough to create realistic renderings, instead she has chosen to line the coffeehouse walls with quick sketches – some that took a mere 10 seconds and others that held the artist's attention for 10 minutes. This display gives an inside look into an artist's creative process.
Her use of line is fluid, easy and animated, offering enough information to grasp the essence of her subject. In a few short seconds with a scribbling line, May has described a restful or an alert figure. In other sketches, where she has taken more time to develop the drawing, the identity of the sitter may be recognizable.
A sketch is, as defined in one art resource book, "a preliminary drawing, painting or model, often rough and sometimes rapidly executed, that presents the characteristic lines and feeling of the thing drawn, while it necessarily neglects some of the details." A portrait sketch is spontaneous, a "rapid note" that captures an "ephemeral effect," like the posture and movement of a figure or the expression of a face.
One of May's subjects, whose image hangs on the Bean's wall, is Walter Venable. He frequents Steaming Bean Coffee with his laptop computer in hand, spending his time engaged in computer programming work. "It's the social aspect of the coffee shop that I enjoy," he told me as he hovered over his glowing screen and a hot cup of coffee.
May's portrait, created in less than 10 minutes, portrays Venable's total concentration toward his work. The sketch hangs above the table that he most often occupies as a Steaming Bean "regular."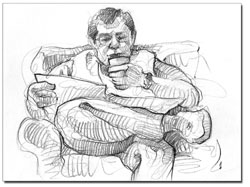 Maureen May's sketch of an unnamed local coffee patron


Venable's image shows what is of interest to May about sketching in a coffeehouse: our cultural rituals. May states, "Certainly, more goes on than coffee and tea drinking – reading the newspaper, conducting meetings, cybercommuting, doing crosswords puzzles, gossiping, playing chess, writing, people watching, greeting friends, talking on the cell phone, sketching, socializing, reading books, paying bills, relaxing, playing music, watching TV, playing cards, working on the computer, sleeping, discussing politics, flirting, etc." Examples of many of these activities can be identified in May's quick sketches.
Few human nuances sneak past the artist's observant eye. One sketch shows, with the slightest touch of the pencil, the ringed shadow of a sitter's eyeglasses on her cheek.
In another, the intense concentration of the sitter's eyes is described by a few minute dots and dashes, skillfully placed.
Drawn using pencil or pen on a piece of 5-by-8-inch sketchbook paper with the ragged paper edge still intact, each portrait is named for the location, the time and the date it was made. Push pinned to the wall, this is an appropriately informal presentation for these spontaneous images of daily behavior. This display arrangement is a satisfying way to view images that are part of an artist's process … page after page can be seen of the"work" in progress of keeping one's artistry honed and fresh.
"Years ago, I used to carry a sketchbook around with me all the time …on the train, at concerts. Now, maybe twice a year, I'll pull out my sketchbook and draw," May said. "I wanted to get back into loose drawing, and when the opportunity came up for the show at the Bean, I knew that I wanted to do a show of just sketches. At first, the drawings were rough but by the fifth drawing, it started feeling good. By the 10th, the drawing process felt really good and the drawings were good."
For May, "good" means capturing the essence of the subject, using expressive lines that vary in thickness and darkness, and being able to capture the person quickly and efficiently. "It is a good drawing when I am feeling really confident in my line and the drawing can stand alone."
So, if you think May has captured you involved in your coffeehouse ritual, head to Steaming Bean Coffee before Sun., Dec. 3 to find yourself. If your likeness is hanging on the wall, May will give you the sketch. •
Steaming Bean Coffee is located at 915 Main Ave. in Durango.
In this week's issue...
July 21, 2022

Land swap approved in Southwest Colorado, but not without detractors
July 21, 2022

The latest strategy to save the San Luis Valley's shrinking aquifer: paying farmers not to farm
July 14, 2022

Despite SCOTUS ruling, San Juan Generating Station plans to shut down