Trotting into Black Friday



by Lindsay Nelson
It's Thanksgiving Day in Durango, and from Bayfield to Breen, turkeys are slowly roasting in their pans, cranberry sauce is congealing, and many have found an excuse to open their first beer just a little bit before noon. And why not? It's a day to celebrate those things we love and appreciate the most, such as drinking, watching football and making our womenfolk work in the kitchen.
By the time many of you read this, the athletic and healthy types (who probably won't be having turduckens on their holiday table) will have already been up at Fort Lewis College, trotting their skinny heinies around the Rim. It's time again for the annual Thanksgiving Day Turkey Trot, brought to you by Durango Motorless Transit, which is a truly ingenious name for a running club. The action begins at 10 a.m. for the 5-mile race, and 11 a.m. begins the 1-mile fun run/walk. What better way to work up your calorie deficit before shoving all that food down your gizzard? Don't forget to register prior to start-time at the Education/Business building at FLC.
OK, the rest of us can stop pretending we're even going to move for the rest of the day (unless we're womenfolk and have to wash dishes and pick up beer cans all night). But the day after Thanksgiving is a big day for consuming nonedible goods, as evidenced by the loving moniker it was given by retailers: Black Friday. Believe it or not, Black Friday does not mean a day that is depressing and bleak; no, the black comes in the form of ink on the ledger, as in "we made a crapload of money on Friday." Well, some people don't want that to happen. Those people have created a counter movement called Buy Nothing Day, which conveniently falls on the same Friday after Thanksgiving. So the choice is yours, potential consumer person: You can conform in the conventional way by hitting all the sales and getting an early start on Christmas shopping, or you can be an alterna-conformer and join the Culture Jammers Network in proudly not buying stuff. Or you could just be poor and not have to worry about choosing at all.
There are plenty of fun things one can do without spending money, you know. You can go to the library and read newspapers and magazines without getting dirty looks from salesclerks, surf the Internet and borrow books, CDs and even movies. There's also all that open space around to do stuff in, like running your dogs at the dog park, hanging around in Jacob's Cliffs (you better get some use out of it because that chunk of land cost you about 1.5 million bucks) and sleeping it off down by the river.
Downtown Durango is always eerily quiet on Thanksgiving Day, but not so the weekend after. For the next four days, you can save those dimes for a rainy day because the City of Durango is graciously making all meter parking free from now until Sunday. It's the City's way of saying "thanks for coming downtown, just don't stop by City Hall because we are enjoying a bonus post-Thanksgiving holiday." It seems a fair trade.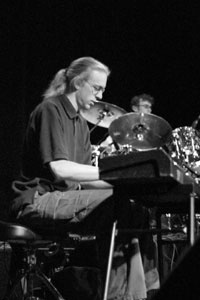 Staboola McPet Quintet

On the music scene, during this week when the college is closed and many people go traveling to places they don't like very much, like Oklahoma, it's often pretty slim pickings. But there are a couple of shows worth taking your belly out to see. This Saturday night is a show by the Staboola McPet Quintet, which, aside from being a really fun name to say, plays a tasty blend of jazz and world music styles. They play at the Summit around 9.
The real standout show of the week happens Monday night, with a performance by Tom Russell, one of America's best songwriters. He takes the stage at 7 p.m. in the Diamond Circle Theater next to the Strater Hotel. Fans of the man will need no further urging to buy their tickets, but for those not in the know, Tom Russell is a formidable figure in the Western, Americana, folk and country scenes. His excellent latest record, "Love and Fear," is a gut-puncher, with songs about the hard, hurting parts of love and life. He has released two dozen records, and wrote the song "Gallo del Cielo," made famous by Joe Ely. His closest peers and friends musically include Dave Alvin, Ian Tyson, Joe Ely, Nanci Griffith, Katy Moffatt, Eliza Gilkyson and Iris Dement. Tickets to see Tom Russell are available at Canyon Music and Southwest Sound for $16 with your Durango Acoustic Music membership or $20 if you're not a joiner.
If you're not ready for the third installment of the Tim Allen "Santa Clause" movie franchise, there is a better film option at the Abbey Theatre this week. In what movie people are calling "this year's film about Truman Capote" (because they know that there was one last year, too, called "Capote," that introduced many people to a character, writer and book that many young folk had never heard of), it's "Infamous." As incredible as was Philip Seymour Hoffman's portrayal of Capote in "Capote," word is that British actor Toby Jones is even better, seeming to embody Truman with eery perfection. In this version of the events surrounding the murders in Kansas and Capote's writing of In Cold Blood, there is more complexity and emotion in Capote's relationships with Harper Lee (Sandra Bullock, who can't be as good as Catherine Keener) and the handsome, damaged killer Perry Smith, played devastatingly by Daniel Craig – yes, the new Bond. "Infamous" opens Friday at the Abbey.
As of deadline time, no one had written in with their answer to last week's Mystery Movie Quote of the Week (MMQW). The answer to which, of course, is "Ghost World," by Seymour, performed by Steve Buscemi. I'm sure some of you knew that. Perhaps many of you wondered "what's in it for me? Do I, like, win something?" You don't get a prize or money, but you do get your name in the newspaper for something other than a DWAI or getting hitched. So pay attention, will ya? This week's MMQW is…"Well, I could be wrong, but I believe, uh, diversity is an old, old wooden ship that was used during the Civil War era."
Answer me and earn your place in history! lindsay_damico@yahoo.com. •
In this week's issue...
July 21, 2022

Land swap approved in Southwest Colorado, but not without detractors
July 21, 2022

The latest strategy to save the San Luis Valley's shrinking aquifer: paying farmers not to farm
July 14, 2022

Despite SCOTUS ruling, San Juan Generating Station plans to shut down