Forms, Figures, Symbols
Shy Rabbit exhibits the work of 43 artists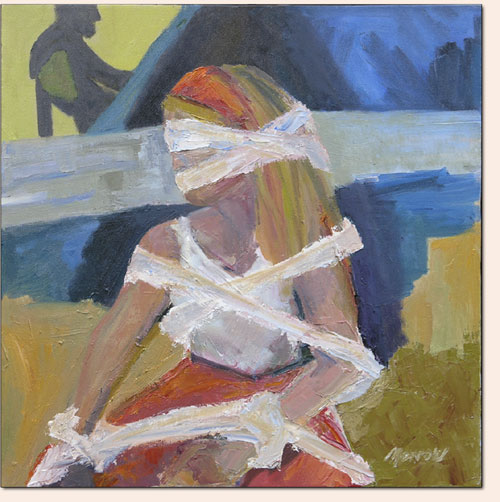 Maryellen Morrow's oil on canvas, "I will Persevere."/Photo by Jules Masterjohn
by Jules Masterjohn
Leave it to the Shy Rabbit in Pagosa Springs to present yet another high-quality, contemporary art exhibit. The privately owned gallery, directed by Denise and Michael Coffee in collaboration with their Creative Development Team, continues to attract a strong following of regional artists as well as those of national reputation.
Their current juried exhibit, "Forms, Figures, Symbols" presents a healthy mixing of emerging local and Colorado artists with those from other states. The show of 60 works by 43 artists displays a broad range of mediums and is a feast of materials, methods and modes of expression not regularly offered in venues across the region.
To accommodate so many artworks into a space that comfortably holds a dozen or fewer pieces, the work is hung salon style on some walls, where images nearly touch one another. On other walls the work is given ample space for viewing.
Though there is a lot of interesting work that deserves to be seen, I was visually distracted by the crowded walls. I found it difficult to relax into any one piece, consistently aware of a visual nudge from an adjacent artwork.
Nonetheless, many artworks in this exhibit merit a long, engaged look. The most notable are the two small, found-object sculptures by nationally known artist Ronald Gonzalez. Gonzalez's recent solo exhibit, "Fated Objects and Strange Progeny," which was hosted by the Corcoran Gallery in Washington, D.C., featured hundreds of his small, human-like figures and several life-sized figures, made from organic materials and found objects.
"I am interested in a figure that is spontaneous, intuitive and direct," Gonzalez states, "one that is time worn and delicate with an elegant sense of disintegration; a figure that comes from the deeper regions of the unconscious where objects and organic things speak to the facts of our existence as mortal beings who create new forms of the human condition."
Gonzalez's work is pure visual metaphor, his use of materials is light-handed and the construction intriguing: each sculpture's personality and power reveals itself slowly. These are not pieces that shine light on our triumphs but rather, illuminate our human frailty.
Images that evoke discomfort seem to dominate the space. Joan Levine-Russell's mixed media on canvas painting, "Coyote Hunting," quietly implies danger. There is a palpable sense that the sweet, paint-by-number puppy located on the left side of the large-scale canvas is not safe from the stylized coyote howling on the right side, with only the slightest hint of painted barbed wire separating the canines. Though, in real life, the artist's dog was terrorized by coyotes, this individualized event turns universal in her painting: we are reminded of the fragile boundary between our wild and domesticated natures.
Inner struggle is the subject of Maryellen Morrow's oil painting "I Will Persevere." The Durango painter, known for her outdoor scenes, here depicts a psychological landscape. A female figure sits, white ties covering her eyes and mouth as well as loosely binding her extremities. A small dark figure looms in the background. Not a portrait of physical constraint – the ties are far too loose – the artist implies, rather, that there is room to maneuver in her sitter's drama.
Though I really wanted to, I couldn't look for very long at Paul F. Morris' clay sculpture, "Stony Articulated Ewer," its oozing, bile-like glazes beautifully dripped over the amorphous ceramic form that feels like it was inspired by the innards of a bovine creature.
Amy K. Wendland's "Object Two" holds a similar repellant energy but paradoxically draw me nearer to study the many human teeth embedded into the sculpture's surface.
A visual and mental respite is found in both of Jean Gumpper's large woodcut prints, the intricately layered soft colors of leaves and grasses calmed my agitated spirit.
Enigmatic and intellectually demanding, a few artworks in the show require careful examination to fully perceive what the artwork has to offer. Illinois artist Marcy Sperry's mixed-media wall piece, "EWOK," is a real child's jumpsuit that has been lavishly embellished with glass beads and hand-embroidered with likenesses of cartoon characters and media-generated images in fabric. The empty clothing suggests a lack of substance in the experience of today's children, their young minds excessively influenced by television and advertising.
Crystal Hartman's conceptual work, "Connotations," is a wall piece made of 6-inch-square pieces of paper with random capital letters printed in a grid pattern on each page. It reminded me of the word puzzles that I liked as a youth, finding the hidden word and, with great satisfaction, drawing a circle around the letters that spelled it. For me, Hartman is commenting on the habituated nature of the mind and its search for meaning through language.
The works in the show were selected by curator and artist Gerry Riggs. Riggs, former longtime curator at the University of Colorado at Colorado Springs' Gallery of Contemporary Art, is well known for his many successes in bringing cutting-edge American artists to venues in Colorado. •
The exhibit runs through Nov. 28. Gallery hours are Tuesday, Thursday and Saturday from 1-4 p.m. Call (970) 731-2766 to schedule an appointment or for directions.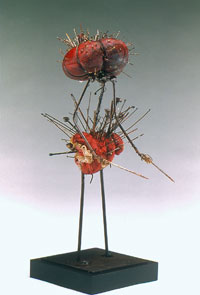 "Pin Cushion Man" by Ronald Gonzalez./Photo by Jules Mastejohn