The drive from inside
Local triathlete exhibits the true spirit of competition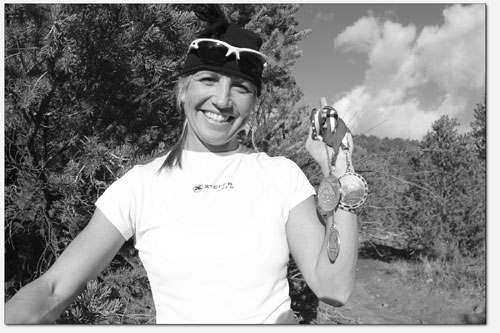 Durango adventure racer Lisa Lieb displays the Xterra Spirit Medal she was awarded last month at the National championships in Lake Tahoe. Lieb was recognized for helping fellow competitor Lisa Usinowicz, who sustained a head injury on the mountain-biking leg of the race despite the fact it would jeopardize her finish./Photo by Dunbar Hardy
by Dunbar Hardy
Life comes at you fast. And in the middle of a grueling multisport race (1-mile swim, 22-mile mountain bike, and 7-mile run), the rush of life comes even faster. While competing at the Xterra National Championships in Lake Tahoe, Calif., in early October, Lisa Lieb, a Durango athlete racing in her rookie season in the Xterra Race Series, reacted without thinking. It was an instinctive reaction that could have helped save the life of a fellow competitor.
Four-year Xterra race veteran, Lara Usinowicz, of Evergreen, Colo., was grinding out a 2,500-foot climb on the mountain bike leg. At the start of the descent, Usinowicz approached a steep and technical rock crossing. She lost her balance and started to go over the handlebars. "I was going over the bars, and then I stopped by hitting my head on a tree," she said.
For several minutes, Usinowicz lay motionless while other riders sped past shouting concerns and promises to notify help. It was a few minutes after the crash that Lieb came upon the scene. She immediately dumped her bike and came to Usinowicz's rescue, albeit forfeiting her chances for
a strong finish and qualifying for the World Championships.
"There really was no thought process. Someone lying on the side of the trail not moving says that something is very wrong. No competition is more important than a human being," explained Lieb as she recalled approaching the scene of the accident.
After holding traction on Usinowicz's head and neck for nearly 30 minutes, Lieb relinquished care as local rescue officials reached the remote crash site and loaded Usinowicz into a helicopter, which transported her to the Washoe Medical Center in nearby Reno.
Switching from rescue mode to race mode, Lieb swallowed her emotions and literally got back on the bike. "It was in a very remote part of the course. I had to get on my bike to return to the transition area anyway, but to actually race was tough." Lieb said. "I reminded myself that this was THE National Championships, and just because I wasn't in first didn't mean that I couldn't finish. I was there to compete and finish. I ultimately said to myself 'You have the physical ability to finish, so finish.'"
After the race, Lieb was awarded the Xterra Spirit Award. The award is given to an athlete that overcomes a challenge during the race or one who exemplifies true spirit by helping a fellow competitor. "It's for those who truly prevail," said Barbara Peterson, six-time U.S. Champion, who presented the award. "Lisa really gained tremendous admiration for her incredibly generous actions she displayed while racing. The Xterra family was touched and very proud of her." As an ultimate show of appreciation, Lieb also was granted an invitation to compete in the Xterra World Championships in Maui, Hawaii.
After being released from the hospital and cleared with only a few bruises, Usinowicz was incredibly appreciative toward Lieb and the entire Xterra community for all of their concerns. Coupled with Usinowicz's positive diagnosis and a personal invitation, Lieb began preparing for the World Championships.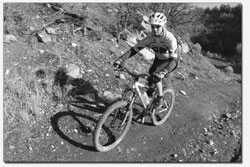 Lisa Lieb takes a training ride in Horse Gulch earlier this week. Fresh off a harrowing finish in the Xterra World Championships in Maui, where she rode her rim for 9 miles during the mountain bike segment, Lieb will be undergoing knee surgery next week. /Photo by Dunbar Hardy
Having set a goal at the beginning of the season to compete in the World Championships, Lieb was thankful for the opportunity. "First of all, it really speaks to the amazing Xterra organization. For them to recognize what I did, can help remind us all that winning isn't everything," Lieb said. "Society today is so 'best' driven, we are losing our ability to be humanitarian and compassionate. It seems one can only get that 'reward' if you are best in the company or best at professional sports."
Lieb's initial contentment upon being invited to the Worlds was pushed aside by her competitive nature, and she felt confident about finishing within the top three in her age group. Moving through the myriad pre-race emotions of nervousness, doubt, anticipation, and excitement, Lieb took off from the start line. She had a good swim, went through the transition area, and started out on the first climb on the bike. The course was mainly double-track, loose, lava rock; not very tire friendly. "I was feeling good and I started catching people that on previous races I don't start catching until mid-way or later. I knew it was going to be a good day."
Life, once again, came at Lieb fast, and the good went toward the bad in an instant. On the very first descent she got a flat rear tire. Hastily, Lieb changed the tube. By the end of the next climb, her rear tire was completely flat once again. A CO2 canister she was given failed to fix the problem. Lieb was forced to walk, and after 10 minutes approached another competitor changing a tire who gave Lieb a tube. Back on her bike, Lieb started down a descent ominously called "The Plunge," where, yes, her tire went completely flat again. She came upon an aid station with her tube and rim tape wrapped in her wheel. Lieb cut it out and was offered another tube and air. Not ready to give up, Lieb took off, and 100 yards away flatted for the fourth time. She had had enough. With 9 miles to go to the transition area, Lieb resorted to drastic measures. "I cut out the tire and tube and decided to go on riding the rim. It amazingly held up for 9 miles on that lava rock," Lieb recalls. She came into transition area close to the cut off time, threw on her running shoes and completed the tough 10-kilometer course of loose lava rock and deep sand beach. She finished in 5½ hours.
Lieb's coach, Rick Crawford, of the Target Training Group, best characterized her competitive spirit, saying, "She is an animal. She had it in her head to finish, and nothing was going to stop her. Her performance embodies the spirit of competition. Despite incredible opposition, she persevered, she suffered, and she smiled all the way through it."
Overcoming adversity will also be a part of Lieb's off-season. On Nov. 21, she will undergo her fourth knee surgery. "I raced all season on a lateral and medial torn left meniscus and a partial tear of my MCL. As the season progressed, the knee pain did as well," she shrugged. "I know what to expect with surgery and am focused on a quick recovery. I am excited to get this issue resolved and heal my body."
The successes of her inaugural race season will give her inspiration as she recovers and looks ahead to the 2007 season. Lieb ended up competing in a total of nine races, winning first place in Austin, Texas, and Showlow, Ariz., and finishing third in the Xterra Mountain Region division.
"She has so much potential, and we have barely started to scratch the surface," said Coach Crawford. "She had an opportunity to build character with her 2006 season. She will definitely be competitive nationally within her age group. 2007 looms brightly ahead for her."
Lieb said she hopes to get back on track with base training (long, slow riding and running) in January. Recovering from surgery and getting in shape during the cold winter months, Lieb will be driven by her visions of a future race. "It is an amazing feeling to cross the finish line, regardless of your time or rank." Lieb recalled. "I push my body for three or four, or even 5½ hours. The world stops, and I am with myself still pushing. All of the gunk I layer upon myself from day to day is slowly stripped away throughout a race and by the time I cross that finish line, I feel pure and alive. It is a beautiful feeling." •
In this week's issue...
July 21, 2022

Land swap approved in Southwest Colorado, but not without detractors
July 21, 2022

The latest strategy to save the San Luis Valley's shrinking aquifer: paying farmers not to farm
July 14, 2022

Despite SCOTUS ruling, San Juan Generating Station plans to shut down