Snowmaking lands at Chapman
City Council breathes life into local ski hill

SideStory: The future of parks and rec: City unveils Durango Community Park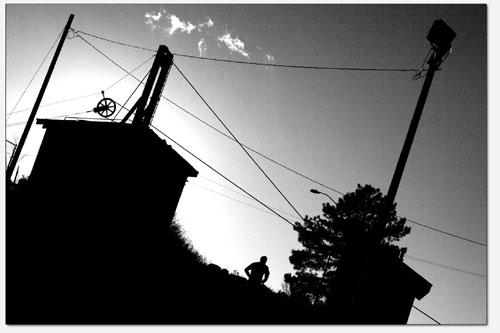 A hiker takes in the view from atop Chapman Hill on Tuesday. After a several-year hiatus, snowmaking will be returning to the local ski hill on a trial basis this winter. If successful, the city is looking to make snowmaking a permanent fixture in the hopes of bringing skiing back to Durango./Photo by Jared Boyd
by Missy Votel
The white stuff has gotten the green light at Chapman Hill.
Last Tuesday during its weekly meeting, the Durango City Council approved $50,000 for a trial run at snowmaking on the city-owned ski hill starting next month. The money will cover the costs of leasing snowmaking equipment, including a gun, water pump, hoses and a generator, and will cover the cost of electricity and consulting services.
"I'm a big fan of it," said City Councilor Doug Lyon, who has been a vocal supporter of recent efforts to revitalize the small skiing operation. "It's important to have activities for the young people of our community, and I'm just really excited about the prospect of bringing skiing back to Durango."
Lyon said the trial run will establish if, in fact, snowmaking is feasible at the 7-acre Durango ski area. He said during the trial period, snowmakers, most of whom will be working on a volunteer basis, will be experimenting with different water pressures, temperatures and aspects to see what method works best. "We're very fortunate to have people this talented to work on this," said Lyon. "It's the dream team of snowmaking."
According to Kirk Rawles, a member of the Chapman Hill Improvement Committee, a donated Lenko snowgun was scheduled to arrive in Durango this week from a dealer in Winter Park. He said the company has donated the machine for 100 hours of use with the option to lease or buy more guns later.
Rawles said the system will be portable, tapping into a nearby fire hydrant. Brian Campbell, snowmaker at Durango Mountain Resort, will be overseeing the Chapman snowmaking operations. In addition, the committee has been in contact with Bob Rule, owner of San Juan Snowcats, and the local snowmobiling club, San Juan Sledders, about grooming the snow once it's made. Ultimately, the committee would like to see some features, such as a small terrain park, made from the snow.
"We're hoping to have operational activities this season, but we're going to hold off on announcing them until we see what happens," Rawles said.
The financial backing of the city marks the culmination of a year's worth of discussions between citizens looking to resurrect the local ski hill and the city. The citizens, who later became known as the Chapman Hill Improvement Committee, first approached the city last January about the idea. Although the idea of making snow was met with some raised eyebrows, it is not entirely new. For several years in the '80s and '90s, Chapman had snowmaking. However, there were complaints from neighbors over the noise of the snow guns and misdirected snow, which ended up on Florida Road.
Sven Brunso, director of sales at DMR and a member of the committee, said today's portable fan guns are more precise and much quieter, emitting 25 decibels at 150 feet. "Cars driving on Riverview would make more noise," he said.
Even without the benefit of snowmaking in recent years, the ski hill has managed to open every season since 2000, with the exception of last year. Nevertheless, members of the committee and the City Council are confident that the idea, and snow, will soon fly.
"With the guns these days, you can make snow at 28 degrees," said Rawles, who expects snowmaking to begin in early December.
If all goes well, Lyon said the city has earmarked $300,000 in the 2007 budget to devote to making snowmaking a more permanent feature at Chapman, with three new snow guns and a wench cat for grooming.
"I'm hoping to have $300,000 in next year's budget for more complete snowmaking," he said. "I'm keen to work with my friends on the City Council to make this a reality."
In addition to fostering the local skiing tradition, Lyon said he supports the idea of making Chapman operational because it would offer a positive, economical outlet for local kids.
"Chapman Hill provides an opportunity for young people in our community to have a skiing experience that is convenient, supervised and reasonably priced," he said. "Not all kids are able to ski at DMR as much as they would like because of the cost and time involved. This solves some of those problems."
Rawles, who is the head freestyle coach and program coordinator for the newly formed Durango Winter Sports Foundation, said he envisions a local ski program at Chapman not unlike those of other mountain towns, such as Steamboat Springs and Jackson Hole. With facilities ranging from a halfpipe to bumps, jumps and gates, Chapman could provide ample training for young athletes. Furthermore, it could also serve as a teaching area for beginners.
"I can see Chapman Hill serving as a hub for a lot of things," he said. "It would be so cool to have a program for kids where they can ski for an hour after school."
Rawles points out that from 1967-82, Durango took home nine state skiing championships, and that with a little help, it can reclaim some of that glory.
"I think we can grow it back to that level," he said. "We have a lot of talent. I think we can build a tradition here in Durango."
Indeed, he said even with the recent small steps taken, the outlook is encouraging.
"It's neat to see City Council and the town embracing the idea, and that skiing is alive and well in Durango." •
In this week's issue...
July 21, 2022

Land swap approved in Southwest Colorado, but not without detractors
July 21, 2022

The latest strategy to save the San Luis Valley's shrinking aquifer: paying farmers not to farm
July 14, 2022

Despite SCOTUS ruling, San Juan Generating Station plans to shut down