Skating into a new season
Nordic Center and development coexist at Purgatory

SideStory: A Nordic Hall of Famer: Dolph Kuss honored by Winter Sports Foundation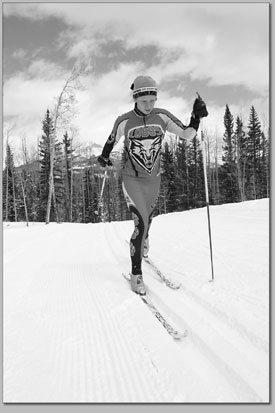 A Nordic skier from the University of New Mexico trains at the Durango Nordic Center. Despite encroaching development and rumors to the contrary, the small but mighty center will open this year and is looking to a long future at its current location across from the ski area./File photo
by Will Sands
Forget the rumors. Skinny skiing is still alive and well in Durango. The Durango Nordic Center, Durango's "other" ski area, has tapped a new director and is looking toward a long future at its location across from Durango Mountain Resort.
Relative to other cross-country ski areas in the state, the Durango Nordic Center has developed a reputation for being small but mighty. Challenging ups and downs make the area seem much longer than its actual 14 kilometers and have turned it into an appealing spot for recreational skiers as well as racers in training.
The area's appeal also extends beyond skate and classic skiers, however. Though it is financially independent of Durango Mountain Resort, the Nordic Center operates on acreage owned by the resort. And that acreage, located directly across U.S. Hwy. 550 from the DMR base area, is a vital component of the resort's master development plan. That plan includes a total of 1,649 new housing units. To further complicate the picture, Ineke Boyce stepped down last season after 22 years as the Nordic Center's director. With DMR breaking ground in the vicinity of several loops and the Nordic Center minus a leader, many questioned the future of the popular system.
However, development and retirements aside, the Nordic Center is forging ahead into this season and many more to follow. "Once again, the Durango Nordic Ski Club is going to operate the Nordic Center," said Mike Elliot, president of the club. "We've hired a new director, and we're ready for the coming season."
Helen Low, long-time Nordic Center employee and instructor, will be stepping into Boyce's boots this winter, and she will be shepherding the track through some interesting times. Two separate construction phases – Twilight Village and Boyce Lake Village – are proposed for the property that stair-steps down into the Lime Creek drainage. A mix of estate homesites, standard homesites and townhomes, along with a community park, are envisioned for the area that Nordic skiers now call home.
Nonetheless, DMR has also committed to the Nordic Center's future. "The Nordic Center is an integral part of this resort, and we're looking to enhance the system as we move into the future," Matt Skinner, former DMR spokesman, commented late last winter. "We will incorporate as much of the existing trails into the development as we can. We have also proposed three new spurs for the trail system, and any trails affected by development will be offset."
Last winter, DMR's master plan was amended to address and enhance recreational trail use on the east side of the highway. One of the biggest components of that amendment involved the future of the Nordic Center, and DMR proposed safeguarding an existing 13.6 kilometers of trail and adding another 1.7 kilometers on the benches stepping down into the Lime Creek drainage. In that spirit, the ski area's commitment is showing this season.
"There was some development up there this summer," Elliot said. "But in working closely with DMR and General Manager Hank Thiess, we're finding ways around the construction areas. The resort has been incredibly cooperative and worked with us to keep the system open."
This season skiers can expect slight detours on the Lake Loop and Wolverton trails. But by way of compensation, there will also be a new leg connecting the Aspen and Bench loops. Elliot said he expects this type of trade-off and collaboration to continue beyond the construction phase and into final build-out.
"I think we're going to be able to work it out this year, and as DMR continues to build, we should be able to keep operating up there," Elliot said.
Elliot concluded that like most years, the Durango Nordic Center's biggest hurdle has nothing to do with building or master plans. "We had a work day not long ago, removed a lot of the downed trees and did some trail maintenance," Elliot said. "Now, all we need is some snow." •