Memories of youth & old age
'Grease' and 'Three Tall Women' make an unusual November stage pair

SideStory: Just the facts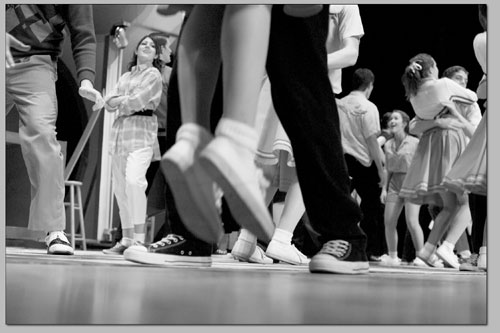 Durango High School students morph into 1950 bobby sockers for a dance scene from the musical "Grease," which will be performed this weekend and next at the high school. The play is directed by Mona Wood Patterson adn teh dance scenes were choreogrpahed by Patricia Ratliff and Denise Hagemeister./Photo by Jared Boyd
by Judith Reynolds
Two stage visions of American life are running side-by-side in Durango, and they are as different as tight jeans and support hose.
Durango High School is presenting "Grease," a comic fable about American teen-agers in the 1950s. Fort Lewis College offers "Three Tall Women," Edward Albee's pitiless examination of old age. You will have guessed which is family entertainment and which appeals to serious drama buffs. Both productions are worth seeing. "Grease" runs through Nov. 18. "Three Tall Women" runs through Nov. 12.
Bottled energy
"Grease," an evergreen American musical, spins through teen-age conundrums like an old-time, 45 RPM record on a fast turntable. In the hands of the Durango High Thespians, it's a joyous ride.
Fitting in and being cool are the twin tropes in this nostalgic view of the '50s. No sooner do we meet Danny Zuko (Adam Fontana) and his gang on the first day of senior year, than we realize he's already fallen for an unlikely girl. Prim Sandy Dumbrowski (a role shared by Angelica Pozo-DesPortes and Jessica Hagemeister on alternating nights) is new to fictional Rydell High. In one of several dramatic conceits that you simply must accept, Sandy is swiftly embraced by the Pink Ladies, the counterparts to Danny's empire. As a testimony to the talent bubbling over at Durango High, Director Mona Wood-Patterson has alternated her female leads in the other major role, Betty Rizzo, the savvy, street-wise leader of the Ladies.
After an intriguing prologue with an unexpected homage to another pop classic, "Love is a Many Splendored Thing," an alumni reunion, complete with robed choir, sings Rydell's alma mater. Then the bumpy ride of love, disconnection, reconnection and reconciliation drives the plot.
What happens along the way is what makes "Grease" such a joy to perform and see: Comic numbers, lyrical songs and plenty of infectious rock'n'roll dances.
Wood-Patterson and her team of illusionists have once again maximized the sparkle factor. Here's one example: When jalopy-proud Kenickie (Austin Hohnke) leaps out of his junker, he peels off his mechanic's coverall and bursts into song. Underneath he's wearing a silver lamé jumpsuit. His buddies spin the rusty hulk around, and voila, on the other side a red hotrod simmers with enough polished chrome to gild the gym bleachers. "Greased Lightnin,'" their song of worship, pays homage to the mother of all high-school status symbols – a nifty convertible.
Another inspired moment arrives when Music Director Tom Kyser morphs into '50s crooner Frankie Avalon, the movie's version of Teen Angel. Singing "Beauty School Dropout" with a chorus of student beauticians, Kyser wows the crowd in a campy version of that stock musical element, a dream sequence.
There are many more moments that capture the spirit of "Grease." The big dance numbers must be seen to be believed. Credit choreographers Patricia Ratliff and Denise Hagemeister for inventing ways to charge and balance line, pair and solo dancing. "Shakin' at the High School Hop," in which Danny and ChaCha DiGregoria (Natasha Farley) win the contest, is pure bottled energy. All the scene locations are wonderfully realized, from the lively painted curtain and back wall to the Burger Palace and high school cafeteria
Everyone involved in "Grease" deserves a bow, not just the enormous cast that lines up for curtain call.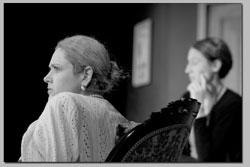 Kelly Aragon, as wealthy widow "A," left, and Desiree Henderson, as her caretaker, "B," rehearse a scene on the opening night of "Three Tall Women". The Pulitzer Prize-winning play by Edward Albee will be at the Fort Lewis College Gallery Theater from Nov. 9-11./Photo by Jared Boyd
The dark side of aging
Edward Albee is as far from "Grease" as a glower is from a smile. But for anyone interested in contemporary American drama, "Three Tall Women" ought to be in your repertoire.
In Act I, the 1994 Pulitzer Prize-winning play appears to be conventional in form. In Act II, Albee turns the tables with a coup-de-theatre that is brilliant, especially if no one has revealed its secret.
The play opens in an elegant but claustrophobic bedroom of a wealthy widow, 91, known only as A. There we meet B, her caretaker and companion, and C, a young female lawyer sent to sort out finances. A series of rambling monologues, interrupted by explosive outbursts, partially answer the question: Who is this cantankerous old woman? Piece by piece we learn about a life of feminine calculation and class privilege.
It helps to know that Albee himself said this play was the most autobiographical of all his works. Orphaned at birth, Albee was adopted into a wealthy New England family where status was always on display. Servants, a stable full of horses, expensive jewelry, and cheating on one's spouse all came with the wallpaper. So did bigotry,
anti- Semitism, pettiness and self deception. Albee grew up hating his parents so much that when he walked away, he never really came back. He never spoke to or saw his father again. Twenty years after his flight, he visited his mother (a subtext in the play), but there was no reconciliation.
Given all that, "Three Tall" is a remarkable piece of dramaturgy. Credit Director Ginny Davis and her college ensemble for taking Albee's astringent challenge. From lighting to line readings, subtlety is key in staging the work. In barely perceptible degrees, Technical Designer Nathan Lee shifts the visual temperature on stage from warm to cool. It's especially effective when C (Ashli Ann Hemstreet) recalls her first love followed by B (Desiree Henderson) and her darker insights into the mysteries of sex. A downstage confrontation between A (Kelly Aragon) and The Boy (Dawson Cole) takes place in a cold, blue-white spot, perfect for the intensity of the moment,
then it imperceptibly changes as the scene shifts focus and continues.
Although in concept this is a highly abstract play, the dialogue is natural. The FLC actors, young as they are, breathe lines as easily as conversation. It's harder than it looks. Pay attention and you'll hear Aragon's matriarch return again and again to her central theme: What was it like being a woman of her generation? Among other motifs, finding a husband and living with a philanderer constitute twin, almost musical themes that return again and again.
This work revived Albee's career. America's perpetually angry young man had blistered Broadway 30 years earlier with "The Zoo Story" and "Who's Afraid of Virginia Woolf." After these, he won two Pulitzers: "A Delicate Balance" 1967 and "Seascape" 1975. Then a string of problem plays and outright flops followed. At age 63 he wrote "Three Tall Women" and bounced back as the heir to Eugene O'Neill and Tennessee Williams.
"Three Tall Women" is for mature playgoers, especially those who are patient with Albee's detailed style of exposition. If you want to see a work that explores aging, memory, class values and the tangle of self deception, don't miss it. •