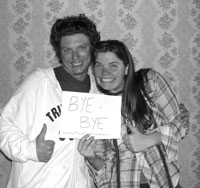 Divers:Justin from Diorio's, Steph from Nature's O
Facts:Justin and Steph are giving their final pieces of advice before heading to the land of the Mormons
Got a dirty little secret?
Looking for guidance to remedy a sticky situation?
Seek help from the master of the kitchen! The Dish Diver has solutions to life's little messes. Send your problems to "Ask the Diver." - By mail to Durango Telegraph - Attn Diver -534 Main Ave., Durango, CO 81301; by email at telegraph@durangotelegraph.com, or by fax at 259-0448.
Dear Diver,
An older girl in my son's high school (she's a senior) is writing him very obscene love letters. He's a freshman. Now I know his friends may think this is cool, but I think it's kind of sick. Should I interfere? I know how promiscuous kids can be these days … what to do?
– Concerned Mom
Dear Concerned Mom,
Scare her away by writing back to her and suggesting a ménage-a-trois. She will find this so disturbing she will never want to go near your son again. If this doesn't work, we saw a guy on Saturday night with a black mini skirt and red corset who may be able to help teach your son how to cross-dress. He looked like he was having a really good time.
– Divers
Hey Diver,
My mom thinks I'm going to lose my hearing if I continue to play in my rock band without earplugs. Ear plugs are for sissies. I ain't doing it.
– Jimmy
Dear Jimmy,
If you do lose your hearing, at least you won't have to listen to your mom nagging you about not wearing earplugs anymore. Then once you can't hear, you can join our buddy Jake's band; they are so loud their neighbors are deaf, but they all rock out and raise hell wherever they go. Once you're done with your music career, might we suggest politics? Then you can accept bribes and have an excellent excuse as to why you never listen to the public.
– Divers
Diver,
I'm about to get myself involved in an interracial relationship. I'm white, she's not. I don't care what people think, I dig this girl. My parents are going to flip. Seriously dude, flip. How can I make them not, you know, flip out?
– A random guy in Durango with a crush on someone whose skin is darker than his
Dear David (since we know it is you),
Interspecies relationships are not quite the same thing as interracial relationships. We understand that Poet is an amazing dog, and we know you have formed a very tight bond over the years, but face it, you gave him to us for a slice of pizza. Creating a relationship at the last minute is not going to bail you out of your drunken mistake, and we are in fact doing you a favor because your parents won't flip out since you're dating your black lab.
– Divers