On the road map
Town steps into road-racing spotlight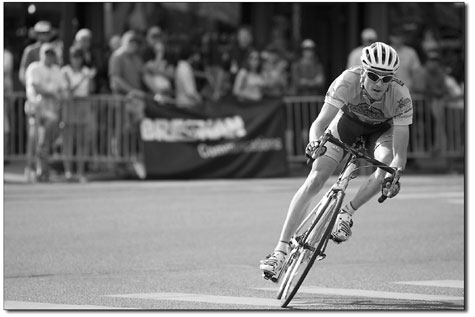 A Rocky Mountain Chocolate Factory rider takes a corner during the 2005 criterium. Rocky Mountain Chocolate Factory became the first Durango-based road team last year./Photo by Todd Newcomer.
by Amy Maestas
Contemplate this: Tour de Durango.Road cyclists nationwide would show up to compete in an event that takes them over mountain passes and through the dips and rises of the mesas. Lycra-clad men and women would stand on the podiums at the end of the day, hoisting mold-caste trophies overhead with one hand and clutching wrapped bunches of columbine and lupine in the other. Throngs of people would line the roads, spiritedly cheering on the paceline while overzealously shaking ear-numbing cowbells.
OK, so the possibility of such a grand stage tour in Durango is slim, but the very thought of it isn't so radical. After all, Durango – once known nationally as "God's velodrome" because of its inimitable mountain biking trails – is making a sudden and dramatic shift toward a reputation as a skinny-tire paradise.
Proof is on the asphalt, so to speak, where in the past few years you'll find more and more professional and elite cyclists training in this town they now call home. Some of them have been career-long road cyclists, while others have made the inevitable cross-over from the mountain biking scene. Either way, the number of these types of riders is on an indisputable upswing and is predicted to keep rising.
The reason for the magnetism of road cycling is the proverbial trifecta applicable to all things Durango: climate, terrain and community.
"It's the obvious," says Steve Owens, owner of Colorado Premier Training and co-manager and co-director of CPT-Colnago professional women's cycling team.
Two of the team's 10 professional riders – Marisa Asplund and Molly Hummel – call Durango home, while the others live in Boulder. Owens moved to Durango just four months ago to oversee the local team members and to take advantage of the ever-growing cycling scene.
Owens joins another relatively recent professional transplant. Chris Wherry, current USPRO Road Champion, moved here just more than a year ago, leaving behind his hometown Boulder in hopes of expanding his training regimen in a town that has fewer cars and more high-altitude routes.
"You can't beat the opportunity to ride to Silverton and back in the same day," Wherry says. "I can see myself being down here for a long time."
Of course, Wherry and others don't have dibs on propelling the cycling scene to national fame. Those who came before them set the stage. Whether it's the work of mega-athlete and Specialized rider Ned Overend or the current success of Discovery Team rider Tom Danielson, the shift to skinny tires has been a long time coming.
"The road scene in Durango has always been strong. Even in the early and mid '90s when mountain biking was at its peak, the top athletes were still doing a good portion of training on the road, and racing on the road as well," says Grant Berry, a racer and co-organizer of Team Rocky Mountain Chocolate Factory, which last year became the first Durango-based road team.
"Durango was put on the 'cycling map' because of the mountain biking mostly, but the variety of available training, the group rides and the overall environment provided by the community have always been an integral part of what made this town the place to be for any cyclist, road or mountain."
Today, professional cyclists are Durango's ambassadors, says Kendra Holmes, event director for the Iron Horse Bicycle Classic, NORBA races and publicity coordinator for Durango Wheel Club. Whenever hometown racers like Danielson, his wife, Kristin, Todd Wells, Anthony Colby or numerous other professionals compete on a national or international level, they help shine the spotlight on Durango. Little by little, this small town in the Four Corners has become synonymous with cycling of all types.
Wherry also points that out. He says Durango gets invaluable exposure when people like Danielson, Wells and Colby rank high in prestigious competitions like the Tour de Georgia or the U.S. Cyclocross Nationals. Last year, Wherry recalls, a few of his former HealthNet-Maxxis team members joined him for training rides in Durango. Coming from low-lying and congested places, his teammates experienced first-hand why Durango is getting recognition.

That recognition has impacts beyond the cycling scene. The local economy benefits peripherally. Holmes reports that early in the week the registration for this weekend's Iron Horse event equaled 1,700 people. That's an increase of about 270 from last year, she says. Each year the IHBC registration numbers grow, and Holmes can't help but make the connection between Durango's growing reputation and the level of riders on competitive circuits.
Berry adds that Durango is soaking in the recent years' rise in road cycling popularity across the nation. Road bike sales have been steadily rising, and the sport is more apt to be the topic of casual conversations or outright obsession. He believes that the exposure is cause as much as the engineering improvements.
"Since road bikes have become more comfortable, and new technologies have been introduced, road bike sales have increased dramatically. Now you have shops like Mountain Bike Specialists doing very in-depth fits for recreational riders and racers both, to not only increase performance but comfort as well."
The mention of recreational riders is vital, because among the draws for pros and elites is Durango's tightly knit cycling community. Holmes points out that the Durango Wheel Club is one of the largest active clubs in Colorado and has recently expanded its efforts beyond organized rides and social events. Over the past couple of years, the club has brought criteriums and time trial series back to life. It also is increasingly involved in advocacy efforts related to road and route advocacy. This weekend it is part of the first-ever Iron Horse VeloSwap to raise money for such support.
Berry, having started out as a BMX and a mountain bike racer, has been part of the community for more than a decade and drills in on what sets it apart from other cycling-oriented locales.
"I think Durango has done a fantastic job of welcoming athletes and making them feel right at home from the get-go. I feel like this town has avoided the cliquey feeling that some other cycling hotspots give off," he says. "I think we all realize that we live in a great place, and share an interest, so people are very open to helping each other out."
Owens concurs.
"A cyclist is a cyclist is a cyclist," he adds. "Here, people are supportive not only of an elite-level athlete, but also those who are on the recreational level."
Wherry says he sees the stark difference in Durango having come from Boulder, where the support and camaraderie is weaker. He laments, though, that his training and race schedule don't permit him the time or presence to participate locally as much as he wants.
Whether Wherry or any of his other local equals gets to jump on famed rides like DWC's Tuesday Night Worlds or the upcoming IHBC, they are as much a part of Durango's face as the slick marketing logos or slogans put forth in the commerce sector. Tour de Durango, or not, the nation, if not the world, is watching – and expecting.
"Durango has a history of pumping out serious talent," Berry says. "Durango riders have always been respected on and off road, so I think people know what is coming." •