Exploring new dimensions
Seattle artist brings her digital art to Durango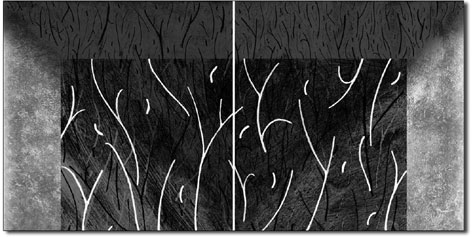 "Valley: View 2 Blue," a mixed-media digital print by artist Karin Schminke, is now on display at Karyn Gabaldon Fine Art Gallery.
by Jules Masterjohn
Most of us think of the computer, graphics software and large-format digital printers as the primary tools used by commercial artists. However, over the last 20 years, experience with this technology has been growing among fine artists. The result of the intermarriage of "paint and pixel" is a hybrid art form allowing artists to create and manipulate images as never before. One artist who has helped to develop these technologies for use by other artists is Karin Schminke, who refers to the digital realm and all its aspects as a "mega tool that hovers over all the traditional media."
Excellent examples of the aesthetic possibilities that computers offer to fine artists can be seen in the unusual artwork by Schminke currently on display at Karyn Gabaldon Fine Art Gallery in Durango. A Seattle-based artist, Schminke was interested in computer graphics even before the Apple computer was available to consumers. Retired professor, workshop leader, author and professional artist, she is one of the few artists working with digital technology that continues to push the boundaries of that medium.
The works on display at the downtown Durango gallery represent a sampling of Schminke's differing works, a mini retrospective from the last 10 years. Looking at the mixed-media digital prints, it might be difficult to identify that these distinctly different artworks were made by the same artist. And it might be equally hard to see that a computer was used in their creation. Schminke merges art and technology in a way that is intriguing, admirable and beautiful.
In her mixed-media digital piece, "Valley: View 2 Blue," the computer's presence is hardly noticed. From a distance the diptych – a pair of images side by side that are one artwork – appears to be a painting, yet on closer inspection, the nuances of her processes are revealed. Each 24-by-24-inch aluminum panel is bordered on the top and outside by barely perceptible textures reminiscent of those found in nature. These exterior boundaries add a geometric presence to the work while the inside makes reference to iconic natural elements – white marks that remind of plant forms sprouting or perhaps twigs falling. Rice paper and a transparent gloss medium have been applied over areas on each panel. The gentle brush strokes from the application of the medium add to the composition's interplay of light and dark values, creating different sheens on the surface.
The traditional art processes described above are as important to Schminke's creative process as her time spent on the computer using graphic and photographic software to compile images layered with colors, shapes and textures. The resulting digital files are printed onto archival art paper and other substrate materials, which become the surfaces onto which Schminke adds the papers, surface textures and sheens, ever deepening the sense of visual space in her work.
For Schminke, the layering of images and surface textures are used in the service of creating depth in her work. "I love the complex spatial relationships to be experienced in nature," she told me in a recent telephone interview. Depth, or the illusion of it, is a key attribute in all Schminke's series but is most realized in her lenticular, three-dimensional prints, three of which are hanging in the gallery. One can't help but notice when viewing "Magical Sea" that the image changes as the viewer's vantage point moves, something like a holographic image. Schminke calls these works, "audience-activated animation."
Her ideas for "Magical Sea" and the other pieces in the Natural Harmonics series were inspired by watching plant life growing over a 10-day period on the San Juan Islands off the coast of Washington. Though the work began with photographs, sketches and drawings, these lenticular prints were completely designed using complicated digital imaging software, a powerful computer and a state-of-the-art printer.
'Lenticular' refers to a lens shaped like a lentil bean that is aligned over the digitized image to create the three-dimensional effect. In order for the dimensionality to be effective, the image and the lenticular lens material – a clear plastic sheet with convex channels – must line up within a hundredth of an inch onto the printed image. "The process is painstaking. I use three different types of software and build an average 20 files for every piece of work. I can spend 40 hours building the files, and then the software which assembles them can take another five hours to complete that task. After printing the resultant file, the lenses are set on top and aligned with the image. It isn't until this point that I find out if the image is right, if it works three-dimensionally, as well as aesthetically and compositionally. If not, I am back at the computer reworking the image."
Though difficult, Schminke accepts this aspect of creating the lenticular prints because she is able to create the illusion of approximately 16 inches of depth in her prints. She is interested in creating a new kind of visual space for the viewer, a contemplative space. "I go to nature to find a calm and spiritual retreat. I am trying to recreate that locus of spirituality in my work."
Power, force, energy, promise. These are words that Schminke uses to describe the essential qualities of the place a viewer finds herself … and I am there. •
Karin Schminke's work is on display locally at Karyn Gabaldon Fine Art Gallery located at 680 Main Ave. Gallery hours are 10 a.m. to 8 p.m. seven days a week. Visit her online gallery at www.schminke.com.