Attaining Critical Mass
Movement hopes to spread the love of cycling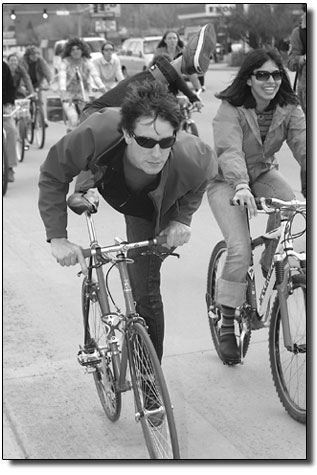 A cyclist gets a leg up on last year's inaugural Critical Mass ride. After taking a hiatus over the winter, Critical Mass has returned, with a renewed emphasis on nonconfrontational activism./Photo by Todd Newcomer.
by Will Sands
Cruisers, clunkers, and road and mountain bikes are planning another friendly takeover of Durango's Main Avenue this Friday. After spending the winter in hibernation, Critical Mass, the bicycle-based movement that mixes celebration and advocacy, will be revived May 26.
Basically, Critical Mass rides are bicyclists forming a group and doing slow, easy rides on city streets. The rides began in San Francisco in 1992 and currently take place worldwide on the last Friday of each month. The roots of the movement are a love for all forms of bicycling and an interest in raising awareness. Critical Mass rides gather not merely to celebrate human power, but alert motorists about the rights of cyclists on public roads.
However, Critical Mass also has been known to take a hard edge in many cities, where the rides have taken on political overtones and gotten confrontational. The movement came into the media spotlight in August 2004, when more than 5,000 bikes descended on the Republican National Convention in New York City. One of the largest Critical Mass rides in history, cyclists, skaters and pedestrians filled 45 city blocks and over the course of two hours, rolled past the convention at Madison Square Garden. The celebratory mood ended when police moved in and arrested more than 250 Critical Mass participants.
Former Durango resident Thomas Schiefer had no interest in seeing that flavor of Critical Mass land locally. He looked to the movement's roots when he organized Durango's first Critical Mass ride on April 29 of last year. The happening was a celebration of the bicycle, and he hoped that celebratory flavor would be contagious.
"Critical Mass rides started as celebrations," Schiefer said at the time. "What I want to do here is make it a ride with friends and a celebration about bikes. I want to create a situation where, when people see us on bikes, they want to be with us, not just get angry."
The recipe worked for that first ride. Dozens of cyclists turned out for the mellow 22-block journey up and back along Main Avenue. In a letter in the following week's Durango Telegraph, Josh Ginsberg wrote, "And so, though like San Francisco or New York City, we were surrounded by cars blowing their horns, in Durango those horns sounded in support of our ride. Friendly faces would lean out the window and wave as they drove past, often yelling in support of seeing so many enjoying a leisurely stroll down Main Avenue on a beautiful spring evening."
However, following the October 2005 installment of Critical Mass, another participant told a different story in the letters section. Janae Hunderman described a scene in sharp contrast to the goal of sharing a love for cycling.
"Bicyclists deliberately blocked traffic by circling around in intersections while cars were made to wait at green lights," she wrote. "They surrounded a vehicle so that it couldn't move until the angry driver had to exit his car to confront them. Sadly, the bike ride ended with the police getting involved so that traffic could continue."
Following that incident, Critical Mass virtually vanished in Durango. Schiefer packed his bags for Jamaica, and rides during the winter months were either slimly attended or non-existent. However, just more than a year after Durango's first Critical Mass, a revival is taking place, and compassion. not confrontation. is once again the goal.
Last year, Julie Frendreis moved to Durango from the Chicago area, where she was a regular Critical Mass participant. Prior to setting off for the Caribbean, Schiefer started shopping for someone to keep Critical Mass alive in Durango and found Frendreis.
"When I first moved here from Chicago, I was wondering why Durango wasn't doing Critical Mass," she said. "I started looking around and realized that it was happening, and that Thomas was looking for someone to keep it alive."
While Frendreis' experience is grounded in nearly 1,000 riders turning out for Critical Mass rides, her hope for Durango's Critical Mass is in line with Schiefer's original vision.
"It's a fine line when it comes to Critical Mass," she said. "I don't agree with taking up the entire street or circling in intersections. Having bicycles take up one of four lanes is perfectly reasonable."
Critical Mass can also be a way of addressing America's obsession with the automobile, Frendreis said. She noted that Americans make up 5 percent of the world's population and consume 74 percent of its oil. Riding a bike instead of driving can have global as well as local benefits.
"There are way too many cars and there are a lot of problems cars are causing: pollution, aggravation, congestion, road rage and wars for oil," she said. "If you look at other countries, the bicycle is a much bigger part of day-to-day life."
But Durango is also well ahead of the curve, according to Frendreis, particularly compared with large urban centers. "Most of the motorists I've seen during Critical Mass rides in Durango are actually really supportive and cheer us on as we go," she said. "I hope the message can continue to be a positive one."
The president of Durango's biggest cycling advocacy group, the Durango Wheel Club, shares this hope.
Michael Carroll said that while he has been unable to attend any of the rides, he has heard good reports from riders and drivers.
"The buzz on the street was that the rides were great," he said. "I was really happy that they were a celebration and about getting people out and not about being combative and confrontational like the rides in other places."
In spite of past hiccups, Frendreis and Carroll expect Friday's ride to be charged with camaraderie and fun. "It should be yet another reflection of the good situation we have in La Plata County," Carroll said. "On the whole, motorists are respectful of cyclists and cyclists are respectful of motorists. For the most part, we have very little conflict locally." •