Ride a bull Saturday, eat it Sunday



by Ted Holteen
Who doesn't love a rodeo? I mean, other than the animals, PETA, most of the people I know and me … but I mean, really – the rodeo is as American as Taco Bell and wars of aggression. I made the mistake once of taking a date to our Durango Pro Rodeo, and she was actually crying by intermission after watching as a steady parade of sheep got hogtied by cowpokes and broncs got busted or some such related stream of mixed metaphors. If memory serves, I spent the remainder of the evening attempting to revive her cheer by watching "Beaches" or "Beloved" or some such crap, but it may as well have been "Home Alone," if you get my drift. My job, however, is to report on the goings-on around here, not to editorialize (just let it go), and so it falls to me to let you know that the first rodeo of the season is upon us. This isn't the ongoing Pro Rodeo that happens all summer long, but rather a stop on the Great American Tour Pro Rodeo, and it's for two days only. Yes, this Friday and Saturday at the La Plata County Fairgrounds, come one come all to "Bares, Broncs & Bulls," beginning at 7:30 p.m. and going 'til the cows come home or fall over, whichever comes first. Apparently this is a first class outfit, so if you've ever been curious, this is probably a good time to see your first rodeo. With plenty of beer and barbecue, it makes for a fun night out for human types, albeit not so much for the bovines on either side of the corral. But it's not about them, and besides, they can't read this anyway. They're cows, after all.
So, is it hypocritical of me to pass judgment on our rural brethren for their alleged mistreatment of animals while I salivate waiting to eat tasty grilled morsels of their kin? The short answer is yes, but I don't have the space or motivation to defend myself further, so point your fingers and say "shame," and don't be surprised if I hand you my discarded short ribs for disposal. Those ribs are just one of hundreds of good eats that will be available up and down Main Avenue on Sunday when townsfolk come together for the annual Taste of Durango, starting at 11 a.m. It's yet another opportunity for me to suggest that once they close down Main from College to 12th on Sunday morning that they never reopen it to cars again. Beating a dead horse, yes, but it seems like a good weekend for it, you know? There's food for every taste, but also music. The Hounds of Purgatory kick it off at 11 a.m. (young & loud), then the Steel Can Band from the Excel Charter School (young, smart & loud), The Badly Bent comes on at 1 p.m. (old & not so loud, but very nice), and then the Hotmops close the day down starting around 2 p.m. (not as young as the first two, but younger than the third and louder. Also very nice.) While I'm on the subject, Hotmops will play a semi-rare Steamworks show on Friday night, in direct competition with the rodeo, the bastards.) Last year it rained, and may again this year. In the event of rain, the entire event will be moved inside to Skinny's.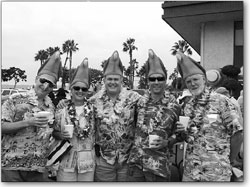 Gotta back up for a moment to Friday again. As our cultural icons continue to age and die, or at least retire or play other cities or do iPod commercials, often we in Durango have to settle for authentic cover or tribute bands. Some of them have been quite good (Count Basie, Glenn Miller), others never had a chance (Phix & that Skynrd cover band at the Iron Horse last year come to mind). This week's offering at the FLC Community Concert Hall falls somewhere
in between, unless you like Jimmy Buffett, and then you'll probably think it's great. A gentleman by the name of Johnny Rio, who is said to resemble Buffett both physically and vocally, has a tribute to the margarita man called Son of a Sailor, and Parrotheads everywhere seem to love it. Non-parrotheads should just be glad he doesn't resemble Carrot-top. The Concert Hall and the show's sponsors are going all out for this one to recreate a Buffett show, from the booze to the cheeseburgers in paradise, with some key lime pie and gumbo thrown in for good measure. The food will be prepared by Steamworks, so have no fear that the burgers have been sitting on a tour bus for the previous week. The pre-party starts out in the parking lot at 5 p.m., with the show starting at 7 p.m. Attendees are encouraged to treat this just like a real Buffett show, with the tropical wear and booze and open-toed shoes, just like Miami Beach. Think I'll check out the rodeo.
Am I missing something? egholteen@hotmail.com. This week's prediction: It's gotta be the Sabres. •