A faux chef, for sure ...



by Chef Boy Ari
s a food writer, who goes by the name Chef Boy Ari, I'm aware that someday the world will discover I'm a fraud. Chefs go to culinary school. Chefs cook at restaurants. Chefs know the difference between mirepoix, brunoise, bouquet garni and egg fu young.
So when Chef Tom Siegel called for "Chef Ari" the other day, it made me nervous. With more than 25 years in the business and numerous culinary awards under his belt, Siegel doesn't toss the term "chef" around casually.
Siegel was calling about a cooking contest in which I had agreed to compete. The competition was part of a celebration of the school's Farm to College program, which has spent more than $1 million on local food in the last three years. I love the Farm to College program and what it does for local farms, the economy and student bellies, and for the educational opportunities it creates. I was honored to be invited to participate.
I saw it as an opportunity to demonstrate that in early May, when spring has barely sprung and the fresh pickings are slim, it's still possible to make some spectacular local eats. My goal was to demonstrate the flavorful abundance that's possible year-round in the Rockies.
My opponent, I was told, would be Larry Evans. Did I know him?
Yes, of course. I know him as Black Dog, after the fabulous local-foods restaurant he used to own. As a black belt in judo, a trafficker of wild mushrooms and a possessor of real-world food-service experience, I knew he was a force to be reckoned with – and I've reckoned with him plenty already. In the jungles of Brazil, I slept with one eye open. On the tundra of Alaska, sleep was not an option. In the watering holes of Missoula, I drink with one hand gripping the bar while I brace against the wall. On the morning of the competition, I pulled choice young garlic shoots from my garden. I washed and trimmed them alongside the lettuce, kale, totsoi, bok choy, arugula and mizuna leaves that little Sophie had picked for me from her mother's greenhouse. I gathered home-grown shallots and selected my most beautiful jar of pickled peppers from the pantry. Morels were rehydrating in a bowl next to some chunks of marinating deer – all harvested from the wild by me. In the oven, local carrots roasted alongside cloves of last year's garlic. I looked forward to showing the audience these wonderful things while I spanked Black Dog once and for all.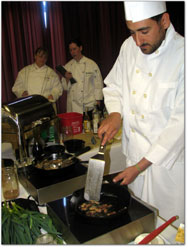 Chef Boy Ari hard at work
Dressed in matching chef outfits and standing at side-by-side cooking stations, we began slicing and dicing. Four judges scrutinized our every move, scribbling on their clipboards.
Soon, my morels in sherry cream sauce were ready, the salad dressed, the roast carrot puree complete, the venison chunks frying, and I was busily preparing my masterstroke: caviar mayonnaise – with whitefish caviar.
I was up 'til midnight the night before perfecting this delicate emulsification. But somehow, in the heat of battle, my mayonnaise failed to thicken beyond the consistency of skim milk.
Then my plates were so hot coming out of the plate warmer that I didn't dare to wilt Sophie's greens upon them. So instead of serving everything atop a bed of greens, as planned, I put everything else on the plate first, and then put a little mountain of salad on the side, whence it proceeded to spill over everything. Since I had forgotten a fork, I had to serve the deer with the tip of my knife – improperly using that utensil. I drizzled my spineless mayonnaise on top.
It wasn't the most delicate presentation, but it was the flavorful bounty I wanted to present. Black Dog, meanwhile, presented a solitary stuffed morel next to a few sprigs of asparagus. The judges praised the way the many flavors of my dish worked together and my use of local foods. One judge, unfortunately, found a rock in the morels. Another found a hair. I also lost points in the category of "proper seasonal theme" (yes, really). But the most common criticism directed my way was that there was too much food on my plates.
Black Dog's scores didn't suffer from too much food, although one judge took issue with his seasonings, and another felt the rice in his stuffing was undercooked. Still, he took the gold.
Well, at least now the world knows the truth about faux Chef Boy Ari, and the pressure is off. And while too much food on my plate may cost me points in competitive culinary circles, if you eat your food straight out of the pan, straight out of the garden, every day of the year, and consider leftovers to be a bonus, then I'm your faux chef for sure.
And by the way, that alleged hair they found in my morels? I bet Black Dog put it there. •