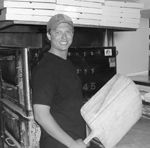 Diver: Justin from Diorio's
Facts:Justin is evidence that conspiracy theory and pizza go hand-in-hand.
Got a dirty little secret?
Looking for guidance to remedy a sticky situation?
Seek help from the master of the kitchen! The Dish Diver has solutions to life's little messes. Send your problems to "Ask the Diver." - By mail to Durango Telegraph - Attn Diver -534 Main Ave., Durango, CO 81301; by email at telegraph@durangotelegraph.com, or by fax at 259-0448.
Diver,
I don't own a television, and I like to catch up on the news by listening to public radio and often checking out CNN.com. But why does CNN report on reality television and Nicole Richie's eating (or lack thereof) problems? Is this news? Better yet, why is America concerned with this crap?
– Jim
Jim,
First off, I would like to compliment you on your choice of public radio for your news. As for the stuff that passes for news in the mainstream media, it is all crap. I can only speculate that Rupert Murdoch is somehow the one behind the scenes determining what passes for news in all of mainstream media, and he believes his decision to have people reporting on reality television shows and people's eating disorders will somehow get him laid. For the next part of your question, no, that is not news, and I have no clue why anyone would care about reality television, and television for the most part really sucks.
– Democracy now, The Diver
Diver,
My elderly aunt just came to live with us, and it's driving us nuts! She's the kind of woman who likes to complain (about things like the line at City Market, etc) and then tries to get people around her to rally to her complaints. "Jeez, you think they'd open another checkout with this line, why don't we go ask them to?" and things like that. It's not only ridiculous, it's embarrassing! How can we politely get her to stop this?
– Skip
Skip,
Duct tape. Let me know how that works out for you.
– Diver
Dear Diver,
I work at a local concert venue in town. Recently, one of my former employees (a hippie) called up wanting to get a free ticket into a show that sold out in about 20 minutes. So, here's this former employee, who quit on the fly, screwed over the staff and then disappears. Now she has the nerve to call, saying "It's been a long time … Good to talk to you … You got a free ticket?" Now why would I have a free ticket for this freeloader?
– Mac
Mac,
Clearly this free-loading hippie thought she was doing you a favor by quitting so that you would not have to fire her later and that entitled her to a free ticket to the show of her choice. The least she could have done is offered you some weed. However, in the future if you are having a problem with free-loading hippies, send them to DSP. We love free-loaders and know exactly what to do with them, and I guarantee they will never bother you again.
– Diver