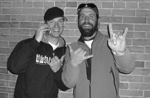 Diver: Dan and George from Aspen Café
Facts:Drunks, whippits and Dio are what these guys know.
Got a dirty little secret?
Looking for guidance to remedy a sticky situation?
Seek help from the master of the kitchen! The Dish Diver has solutions to life's little messes. Send your problems to "Ask the Diver." - By mail to Durango Telegraph - Attn Diver -534 Main Ave., Durango, CO 81301; by email at telegraph@durangotelegraph.com, or by fax at 259-0448.
Hey Diver,
I'm tired of people making the devil sign with their fingers to signify something that is cool, or something that rocks, or whatever. It's pretty damned lame. It was cool when Ronnie James Dio did it in like '84, but now it's pretty freaking silly. As far as I'm concerned, the devil sign has as much to do with rock and roll as the New Kids on the Block. What do you think?
– Jack
Jack,
You are right, people who do the devil hand sign are lame. Just kidding, jackass, you are the one that's lame. Hand signals are very important, gangsters need them, as do dirty hippies, deaf rockers, surfers and, most importantly, me, who often uses the one-fingered version.
– Divers
Dear Diver,
Are whippits, you know, nitrous oxide, REALLY dangerous? The dentist gives it to you, what is wrong with ingesting it recreationally? I hear they call it hippie crack but why?
–Thanks, Walt
Walt,
Nitrous oxide is not dangerous, how can anything that deprives the brain of oxygen be harmful? I recommend you do it often, have fun! Waaa Waaa Waaa Waaa!
– Divers.
Diver,
I'm trying to keep my husband from drinking and driving. He goes out, has about six beers and drives home. Sure he can drive safely (I think) on six beers if he's lucky not to get into an accident. However, if someone hits him, and someone in that other car gets hurt, guess what? He's gonna get nailed for drunk driving. Not to mention if he gets a DUI just by getting pulled over, we'll be out a few thousand bucks. Yet he doesn't listen. How can I make him listen?
– Marge
Marge,
If your husband's name is Homer and he drinks Duff Beer, then what I've seen of him, he's too far gone and there is nothing you can do. If this is a different Marge, then what you need to do is fight for this town to get better public transportation to cart all of us drunks around.
– Divers