The landscape of American music
Fort Lewis College celebrates Mesa Verde in song


illustration by judith Reynolds
by Judith Reynolds
If a rough-hewn rehearsal leaves you elated, imagine what a concert will do.
In the last few months, rehearsals for the Fort Lewis College Mesa Verde Celebration Concert have gone well beyond learning new music. Three FLC ensembles have packed an already-busy schedule with an extra performance. The Chamber and Concert Choirs plus the Concert Band will present the world premiere of a new work, commissioned by the college, in the larger context of American music.
Conductors Linda Mack and Mark Walters will bring roughly 150 student musicians together for this special concert at 7 p.m. Fri., March 24, in the Community Concert Hall.
American music has a wide range, and in this concert you can expect to hear beloved songs and as well as challenging new work. The choirs will sing a medley of Western songs and familiar spirituals. The concert band will play a striking new arrangement of the famous Shaker hymn, "Simple Gifts," and works inspired by Native American music. Most prominent is David Gillingham's spectacular five-movement work: "Council Oak." Composed in 2001, the 11-minute piece derives from authentic Seminole tunes recorded by Frances Densmore and stored at the Smithsonian Institution. "Oak" employs the full, colorful compliment of a symphonic band: light winds, tart trumpets, mellow mid-range instruments, grand lower brass (a splendid company of French horns,
baritones, trombones and euphonium), not to mention a field of percussion instruments. Gillingham's piece is full of atmospheric effects: a quiet clarinet evokes dawn, thunderous percussion and trombones suggest storms, and a majestic brass choir marshals a towering sky.
Because the college has commissioned a new work for Mesa Verde's centennial, a world premiere carries a certain cache. FLC President Brad Bartel rightfully deserves credit for inspiring a campuswide celebration.
"When I realized that our federal government was not financially supporting the Mesa Verde Centennial as it should have," Bartel said in a recent interview, "I decided to assist the park with funds allocated for a series of artistic and lecture endeavors spread throughout the year. The musical contribution is one of those supported works."
The first commissioned work, Gwyneth Walker's "Ladders to the Sky," was performed by The Red Shoe Piano Trio in February. The second musical commission is "The Proud Light Shines on the Mountains." Composed by Michael Mauldin, 58, the work may be just five minutes long, but it's been a year in the making.
Mauldin is a distinguished American composer known for a large body of orchestral works, many based on Southwestern themes. Born in Texas,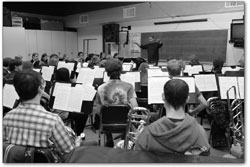 Fort Lewis College Concert Band Conductor Mark Walters leads a practice earlier this week for Friday night's Mesa Verde celebration. The concert will feature American music as well as the world-premiere of a piece specially commissioned for the Mesa Verde Centennial./Photo by Todd Newcomer.
Mauldin admits to being transformed by the light and space of New Mexico's Ghost Ranch as a teen-ager. After completing degrees in music and music composition, he moved to New Mexico in 1971. Since then he has continued to compose, teach, conduct and garner any number of awards. Music lovers in Durango will remember Mauldin's "Three Jemez Landscapes," performed by the San Juan Symphony in 2003, a brilliant orchestral evocation of the land based on a Native American (Huron) carol.
"Proud Light" is a one-movement work, Mauldin said in a recent telephone interview. "It's quite amorphous, but with a repetition scheme."
The opening and closing sections are about the light of the Southwest. "And in the middle, mountain section, it is more than the light," Mauldin said. "Probably it was even more to the Puebloans, something divine."
On the practical side – instrumentation – the work stands alone in Mauldin's career. It has been scored for chorus and concert band.
"It's a bit more of a challenge," Mauldin said. "I feel confident, but I'm nervous about the counterpoint – the question of balance. Of course, that's what conductors are for – to achieve the right balance. And the folks at the college know what they're doing."
The piece opens quietly with timpani and light winds, then the chorus enters in a seemingly straight-forward, if highly chromatic chordal progression. The choral sections have light accompaniment and alternate with sections for full band, expanding emotionally what the chorus has just sung.
In the middle section, a chant-like canon engages the vocal parts and then the band. "One choir comes in, and before it completes its line, another choir enters, then another," Mauldin said.
"The words are mostly mine," he added, "with one exception. I paraphrased, with permission, one small thing from an unpublished poem by Peggy Pond Church: 'The gods stare back from the rock.'"
Mauldin will come to Durango for final rehearsals and will be in the audience for the premiere.
After rehearsals earlier this week, conductor Walters seemed pleased about the way the students have risen to the occasion. "The students have been wonderful," he said. "We're excited about all the music," not just the world premiere. Mack, who will conduct the combined ensembles for the premiere, reflected on the college commission. "It's a great piece of music," she said, "very majestic and stirring – appropriate for the Mesa Verde celebration." •