Team Durango takes off
Town-sponsored adventure racing team readies for debut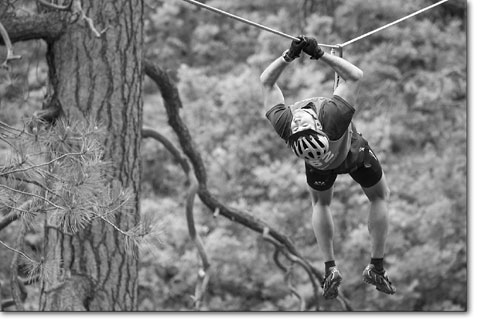 Team Durango member Kiviok Hight pulls himself across the Tyrolean traverse during last year's Adventure Xstream race in Durango. Hight, along with Rick Callies, Scott Key, Mike Freeburn, Brett Sublett and Ashlie Angel will make up the newly formed Team Durango, which is being sponsored by the Durango Area Tourism Office./Photo by Todd Newcomer.
by Missy Votel
Long a breeding ground for extreme athletes, Durango is about to enter the battle for top adventure racing team.
In the spirit of other well-known Colorado town-sponsored teams, such as Team Crested Butte and Team Boulder, Team Durango will be making its adventure racing debut this weekend. Made up of six local athletes, four of whom will race at any one time, the team will focus specifically on the Adventure Xstream series, organized by Durangoan Will Newcomer. The series kicks off this weekend with a 12-hour race in Moab followed by 12- and 24-hour races in Durango, Breckenridge and Vail. The series culminates in a three-day expedition race back in Moab in October.
Currently, the team is made up of adventure racing veterans Rick Callies, Mike Freeburn, Scott Key and Brett Sublett, all of Durango, as well as Kiviok Hight, of Cortez. Durango runner and mountain bike racer Ashlie Angel will be the team's sole female racer. The team will be sponsored, in part, by the Durango Area Tourism Office, which has earmarked about $2,500 for team expenses.
According to team organizer Callies, the partnership with the Adventure Xstream series and DATO was a perfect fit. In exchange for sponsorship dollars, the team will help spread the word about Durango's excellent recreation opportunities to a prime target market: the adventure crowd.
"It was a natural thing," said Callies. "The tourism office will help us out while we help promote Will's races and the town."
Callies said he came up with the idea for the team last winter after noting the success of the Crested Butte and Boulder teams.
"I thought, 'If Crested Butte and Boulder have teams, then why not Durango?'" he said. "We think Durango is even a better place to train, race and live. Where else can you leave your office and bike, run or kayak?"
Callies, recreation supervisor for the City of Durango, then connected with Anne Barney, a Rec Center regular and public relations specialist for DATO, about teaming up. She, in turn, approached DATO executive director John Cohen, and by February the wheels were in motion.
Barney said the team is a great vehicle for promoting Durango and goes hand in hand with DATO's newest marketing campaign, "Get Real."
For starters, Barney noted that all of the athletes are "real people" in the sense that they hold down regular, full-time jobs and are not professional athletes.
"They just get out there and do it," she said. "We're a real town, and so many people come here for real adventures. We're trying to get the word out that their training ground is our playground."
To that effect, Cohen said the team jerseys will bear the www.durango.org web site, encouraging people to further explore the opportunities that the area offers.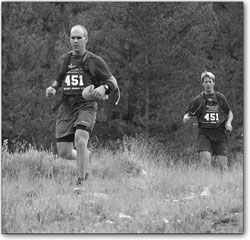 Kiviok Hight, left, and Rick Callies, right, approach a checkpoint during the Adventure Xstream Race in Breckenridge last year. The two have been racing together for the past few years./Photo by Todd Newcomer.
"We're hoping that other teams will be watching their backs, of course because Team Durango will be leading, and sometime they might check out our website," he said.
Like Callies, Cohen said the partnership was a good fit. "We're really excited," he said. "It's a natural partnership with a lot of opportunities for positive press for Durango. The races have kayaking, cycling and climbing, so we'll be appealing to the perfect sports demographic."
In addition, DATO will be distributing literature on Durango and awarding prizes, such as free weekend stays in Durango, at each race.
Callies said the team decided to focus on the Adventure Xstream series because of its proximity to Durango and the racers' familiarity with it.
"Most of us have done Will's series for a couple of years," he said. "It's familiar, but you don't have to travel far, and the course is world class and the competition is world class."
Callies added that his two former teammates, Hight and Key, will be sitting this weekend's race out. As such, the Moab race will mark the first time Callies, Freeburn, Sublett and Angel have officially raced together as a team. Although he said Freeburn is the undisputed heavyweight of the team, Callies, who admits to being a "fairly successful old man of mountain biking," said each member has strengths that should be an asset.
"Mike's definitely the star, but Brett is a real superstar in triathlon and has done the Hard Rock 100, the Vail 100 mountain bike race and the Hawaiian Iron Man," he said. "Ashlie is new to adventure racing, but ran in college and was a pro mountain biker. She's real tough and experienced," he said, adding that her resume boasts a two-week mountain bike trip of the entire Colorado Trail.
Despite the physical attributes, Callies noted that the real test of the team will be how well the members work together.
"It really is a team sport, and how you do depends on how you all get along," he said.
In the sport of adventure racing, teams must stay together, usually within a couple hundred feet of each other, or risk a penalty. Furthermore, if one member drops out, then the whole team is disqualified.
"You really have to get along and have the same goals," he said. "You have to focus on the race, and not be worried about getting injured for the triathlon three weeks from now."
And a little team rivalry doesn't hurt, either.
Earlier this week, Callies said he got word that Team Nike, considered to be the best adventure racing team in the world, will be participating in this weekend's race.
"We're always chasing Nike, they just don't make mistakes. But we're competitive with them," he said. "It's fun to chase them. All of us have 40-, 50- or 60-hour-a-week jobs, and they're pros. They get mad when we beat them." •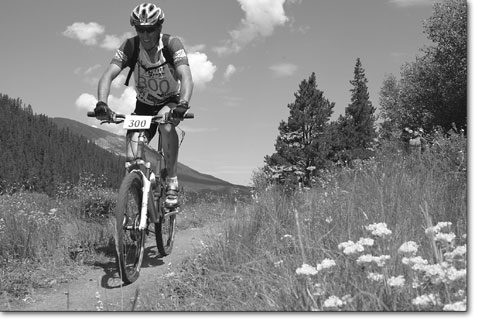 Mike Freeburn begins the mountain biking leg of the Adventure Xstream race just outside Breckenridge last summer. The local adventure racer will be joining Team Durango for its debut this weekend in Moab./Photo by Todd Newcomer.