Music for the masses
Local man spreads his love of instruments

SideStory: Discovering Freenotes: Instruments find home at Durango Discovery Museum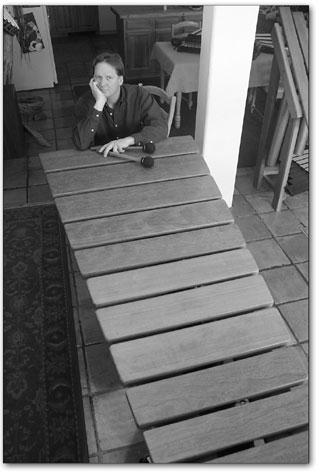 The Animas River flows through the 122-acre Animas Meanders Ranch, dedicated open sapce, north of 32nd Street. The city is proposing a pipeline through three properties that would drain stormwater to a holding pond on the ranch, where it would settle out before entering the Animas. So far, the city has yet to reach a compromise with landowners./Photo by Todd Newcomer.
by Amy Maestas
In Durangoan Richard Cooke's musical world, every note is literally in harmony. There isn't room for the bitter sound of a wrongly combined G bass note and an F-sharp treble note.
But it's not because Cooke is a perfectionist and stickler for concordant music. Rather, it's because on Cooke's unique instruments, it is impossible to hit a wrong note or create an objectionable sound. To boot, players don't have to be Julliard-trained musicians.
"What I've created is all about allowing anyone freedom of musical expression," Cooke says while tapping his instruments in his west Durango home.
As he takes rubber mallet to metal bar, Cooke, with his eyes closed, goes up and down the instrument and endlessly creates a honeyed sound. The resonance of his instruments – called Freenotes – is the main allure of this concept born partly of boredom some 20 years ago on a Connecticut farm.
Cooke was then taking care of musician Paul Winter's vast farmland. He was also a member of the Winter Consort, an instrumental band led by the award-winning composer of world music. A flute player, and already accustomed to a mellifluous sound that was especially pleasant in natural outdoor settings, Cooke began an unlikely experiment of instrument-building by creating a xylophone footbridge. It was made of wood and aluminum, nestled in a grove of beech trees. When played, the notes on the footbridge made musical sense – in spite of what note was played when or in what combination.
"Most people don't like the sound of dissonant harmonies, so I learned to create an instrument where people wouldn't dread hitting the wrong notes," explains Cooke.
Freenotes are instruments built without the restriction of the chromatic scale – a musical range of half tones that demands the right combination. The nonlinear fashion doesn't have a pitch in ascending order from bass to treble. Cooke can place the notes anywhere in any order and the music always makes sense, always reverberates as though the player spent painstaking hours to compose.
"It's all just about fun with sound. These instruments help people get past the thought process of deciding what notes to play. That's the real joy of them."
Cooke's idea coupled well with his love of nature and open, undeveloped spaces. Through various iterations of the aptly named Freenotes, Cooke ultimately learned that the notes – long bars made of aluminum or wood (occasionally fiberglass) – sounded best when resting parallel to a tuned air cavity, which creates the resonance. Ultimately, Freenotes produce a range of sound spanning eight octaves.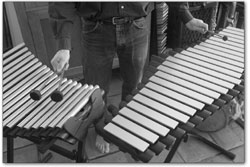 Cook plays a pair of his instruments, "Moonlight Cyls," on the left, and "Pegasus," on the right, at his home. A flute player, Cook came up with the idea for Freenotes while working on a Connecticutt farm some 20 years ago./Photo by Todd Newcomer.
The construction allows Cooke a range of artistic expression. Because each note is independent of all others, he can place them anywhere and still achieve the sound. Some instruments are fashioned from colorful PVC pipe; others rest naturally on tree-trunk bases, while others lay in appealing angles on wooden bases.
Cooke regards his instruments as an extension of art, because they are visually creative and audibly enjoyable.
"Art is an enormous challenge to appeal to all senses. When you can create a piece of art that does, it may be the highest form of art."
Though the Freenotes designs are Cooke's innovations, he explains that the basic concept is rooted in ancient designs of African and Indonesian instruments. Particularly, says Cooke, Freenotes and their musical intention are similar to the Balinese gamelan – an ensemble of percussion played by Bali's residents as a means to create and celebrate community music.
Cooke says the usefulness of Freenotes extends beyond allowing nonmusicians to create a marriage of sounds. His instruments also enable someone of any age to play them. That is because, he explains, they take advantage of hand-eye coordination that people develop at an early age. Kids, he says, become experts quickly.
"There is an enormous connection between the central nervous system and the ear," says Cooke. "And there is also a connection between Freenotes and using the body as a source of rhythm. Anyone can become an expert at playing."
Over the years, Cooke has worked to make his Freenotes accessible to wide audience. His instruments are placed in public places such as outdoor parks and schoolyards. It follows his initial wish long ago to create a forest full of instruments for people to walk around and play.
"We are surrounded by such a noisy world," Cooke says. "We need something that creates a better sound no matter who is doing it." •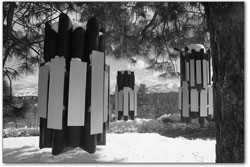 Three instruments called "Spinners" hang from a tree at the home of Richard Cook on Monday afternoon. It is impossible to hit a "wrong" note on Cook's outdoor instruments, which have been placed in several public places, including a park in Moab./Photo by Todd Newcomer.