Mapping Mexico's Silver Trail
Durangoan works to establish Copper Canyon mountain bike trail

SideStory: A look at the Copper Canyon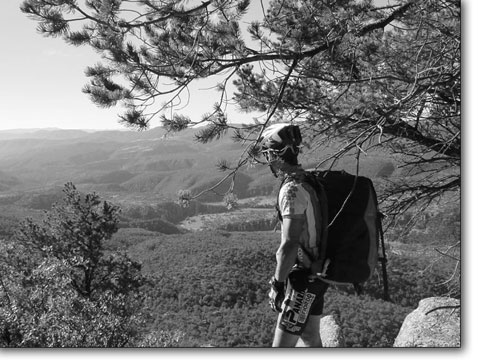 Arturo Guitierrez, leader of the Mexico Silver Trail Expedition and one of two Mexicans who took part, surveys the trail ahead as the group embarks on its 100-mile plus journey in November 2004. /Photo by Jerry Brown
by Missy Votel
Even in Durango, the cycling Mecca that it is, the sight of Lycra can be unsettling. But in the depths of Mexico's Copper Canyon, where the native Tarahumara people see very few gringos, and even fewer on mountain bikes, it can be downright scary.
"Some women would take their children inside and lock the doors," said Durangoan Jerry Brown of a 2004 expedition into the canyon. "We came upon one elderly lady washing her clothes in a river, and she covered up her eyes."
Brown, an adventure guide and guide book author, is part of a ground-breaking mission into the canyon to map what is known as the Mexico Silver Trail – a 140-mile backcountry trek through the heart of Mexico's rugged Sierra Madres. It is the wish of Brown's group, as well as the Mexico government, that the trail, once used to haul silver out of the canyon, can be restored to transporting treasure of another sort: adventure tourists.
"It is the Mexican government's hope to create an environmentally friendly, world class mountain biking and hiking destination to increase tourism and help alleviate poverty in the region," said Brown, who likened the project to a Mexican version of the Colorado Trail.
After the initial route-finding mission in November 2004, in which Brown served as GPS coordinator, the group will be returning next month with financial support from the Mexican government. This time around, they will make a comprehensive evaluation of where work needs to be done, mark critical intersections and collect oral histories from residents for a guide book.
"The trail's really in bad shape now – it's been used locally only by the Tarahumarans since about 1920," said Brown, who will be writing the guidebook. A member of the Colorado Trail Foundation's Board of Directors, he also recently penned a guidebook for the Colorado Trail. However, he notes his current undertaking has proved to be much harder than anything he's ever done before.
"Nobody knew how hard it would be," he said of the trail, which was used by mule trains from the mid-1600s to about 1920 when, thanks to a railroad, it fell into disuse. "In its heyday, it would have been world class. A lot of the difficult sections were literally cobbled. But since then, a lot of the cobbles have washed out."
Brown, who became familiar with the area through guiding mountain biking trips, said the idea for the trip was hatched a several years back by a group of guides. The leader of the trip, Arturo Guitierrez, a native of Chihuahua, then spent the next few years compiling information on the trail's route. The group of five – three Americans, two Mexicans – then rallied the support of fellow biker, Ricky Creel, whose family founded the town of Creel, a gateway into the canyon. Creel also happened to be the director of bicycling for Chihuahua, and soon the group had the backing of Chihuahuan Gov. Jose Reyes Baeza. Also an avid biker, Baeza fully endorsed the trip, considering it a pet project.
"He is a potential presidential candidate after his term expires, so he wants to leave behind a legacy," said Brown.
However, even with the backing of the governor and months of research, finding, let alone following the rough trail was an uphill battle.
For starters, there was the chosen mode of transportation. In the name of covering the most ground in the least amount of pain and time – they completed the trail at a blistering pace of eight days – they opted for full-suspension mountain bikes. They also carried their own gear, seeing as how opportunities to resupply were few and far between. As the men would soon learn, only about 100 of the 140 miles were bikeable, resulting in brutal hike-a-bikes with 25-pound packs.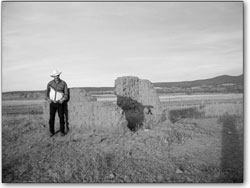 A rancher stands beside what is left of the former Batopilas Mining Co. way station outside of the trail's original terminus at Carichi, Mexico. /Photo by Jerry Brown
"I don't think anybody thought it would be as difficult as it was," said Brown. "In spots, the trail was washed out, and it is such big relief, we were going up and down several thousand feet a day."
Then there was the issue of route-finding which proved somewhat difficult, with the men often back-tracking and bush-whacking. In the villages they encountered along the way, they often would have to seek out the elders, the only ones with any recognition of the old route. And while some were suspicious of the men in the funny tight pants with the strange machines, Brown said all of the people, who live simple, subsistence lifestyles, were more than willing to help. Many offered up food, such as tortillas and pinole (a traditional sweetened drink made from ground corn), shelter and directions. One man, a teacher in the village of Siquerichi, even stopped what he was doing to seek out an elder who knew the trail and then escorted the men to a campsite with a stream and hot spring.
In fact, after meeting such people, Brown said he had misgivings about the project, wondering if it would ultimately destroy the Tarahumara's way of life.
"I was nervous, wondering, 'Is this a good thing or not?'" he said. "These people are poor and live in pretty primitive conditions. It's a place where people still actively live in cliff dwellings, but they seem to do really well."
However, after talking with many of them he said his fears were allayed.
"They all indicated they would like to have the opportunity to sell food or provide shelter to people," he said. "Their ideas were really small, but that it would be really big to sell a few tortillas and make a few dollars."
But before that can happen, Brown said there are many miles to go. After this April's trip, the group will present a list of trail sections that need to be improved or rebuilt to the Mexican government. Although Brown said his group will likely have the trail marked by the end of the summer, it could be a few years before the trail is ready for the riding public. However, with one of the project's biggest proponents, Gov. Baeza, leaving office in four years, he is hopeful that the trail will be fast-tracked.
"He really wants it to happen," said Brown.
As for trail workers, Brown said he has a dozens of volunteers through the Colorado Trail Foundation who are more than willing and able. "I already have a list of people that would really like to do it," he said.
In the meantime, he said he is looking forward to returning to the Mexico Silver Trail, where it all began – for him as well as the centuries of mule trains that went before him. In fact, upon finishing the first trip, Brown remarked that "another 100 miles or so" would have been OK by him.
"I think it will be easier this time," he said. •
For more on the Mexico Silver Trail expedition, visit: www.bearcreeksurvey.com/mexico _silver_trail.htm