Performing arts take center stage
Virtual winter arts festival arrives in Durango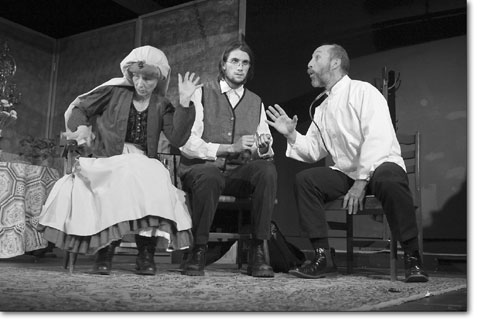 From left, Judy Hook, Matt McDonald and Freddy McDaniel in a scene from Neil Simon's 1981 comedy "Fools" last weekend at the Durango Arts Center. The Durango Lively Arts Co. production, about a fictional village and an ancient curse, runs through this weekend./Photo by Todd Newcomer
by Judith Reynolds
Following Snowdown, local entertainment hasn't exactly been in hibernation. Quite the opposite. Look closely at the February-to-March handoff – it looks like a full-blown, winter performing arts festival. And we didn't even know it.
Drama students at Fort Lewis College just wrapped up a Shakespeare spoof. Students at Durango High School are in the middle of a sparkling show. The Durango Lively Arts Co. has yet another weekend to play a Neil Simon comedy. Starting March 1, the Durango Independent Film Festival screens a battery of some 60 independent films. Here's a collection of short reviews of what's on tap right now.
"Into the Night" – Durango High School
Far more than a "dance" show, the annual winter production at Durango High School weaves together rousing numbers from Broadway musicals, one scene from a controversial Broadway play, and a send-up of coffeehouse conversation. Night is the theme, and the DHS creative team plus a cast of thousands have done themselves proud.
The program begins with ordinary teen-agers on a Durango deck looking at the stars and wondering about night and, of course, life. Sounds ho hum, but this little prologue sets up the whole show and plays before a beautifully painted backdrop of Van Gogh's "Starry Night." A galaxy of musical numbers follows, pulled out of the darkness from great shows like "Grease," "How to Succeed in Business," "Lion King," "Phantom," "Kiss Me Kate" and others.
This is DHS Dance Director Patricia Myres' last dance show. She's outdone herself, choreographing a stylized opening that morphs into a jazzy faux-Fosse sequence. Myres has been joined by a passel of other choreographers and her estimable colleagues in the drama department, Mona Wood-Patterson and Charles Ford. Together, the ensemble has staged a splendid finale, "Nightmare." Black light illuminates a universe of monsters, skeletons and staring eyes. The piece eventually shifts into Michael Jackson's "Thriller." With special effects, the entire cast gyrates energetically on stage. You can count how many students are in this remarkable company. Not to be missed.
"Fools" – Durango Lively Arts Co.
"Quiet everyone, I have a sponge cake in the oven," the mother of the bride says as the wedding ceremony begins. Sounds like a New Yorker cartoon – or a Neil Simon comedy.
"Fools," Simon's comic fable about a village smote with stupidity, is full of quirky pronounce
ments, ill-timed remarks and non sequiturs. Appearing on Broadway in 1981 with none other than Mike Nichols as director, Simon's new-old folk tale possesses a new twist on how to lift a curse.
The danger for any company, pro or am, is to avoid exaggeration. Durango Lively Arts manages the challenge nicely. Director Judy Hook has found the right tone and tempo with Tara Ivy Sheehan's excellent casting. Running about 90 minutes, "Fools" is definitely family entertainment. On opening night, the kids in the audience immediately understood Simon's conceit about stupidity.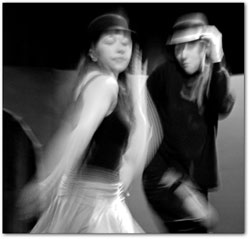 The Durango High School ensemble strikes a pose in the school's winter dance production, "Into the Night."/Photo by Harry Boyd
Leon (Matt McDonald), a young and idealistic schoolteacher, arrives in Kulyenchikov only to discover an ancient curse. He has 24 hours to lift it or succumb himself. In swift succession, Leon encounters a vacant sheepherder (Aaron Stevenson), a confused magistrate (George Maxted), a butcher (Athena Gundlach), the postmistress (Maddie Meigs), a merchant (Lisa Zwisler), the town doctor (Freddy McDaniel), his wife (Judy Hook), and daughter Sophia (Chelsea Winslow). As per folk convention, Leon falls in love instantly, vowing to lift the curse. To do this he must overcome the villain (Bernard Wolsieffer) and his sidekick (Katherine Pecor).
One of the pleasures of small-town theater is seeing people you know on stage. And since this reviewer knows many of the participants, a disclaimer is in order: If I were in another village and saw this community theater production, I'd think the inhabitants quite smart to mount Neil Simon's "Fools."
"Cowboys, Indians & Lawyers" – film festival
Julia Dengel's clear examination of the infamous Animas-La Plata Project rushes along like the river itself. What better place to premiere this documentary of a decades-long controversy than in the project's home town?
Dengel took seven years to make the film, and she has carefully winnowed Biblical complexities to key issues: Indian rights, resource development and the ethic of preservation. She's also narrowed a cast of hundreds, pro and con, to half a dozen people who tell the tale in private offices and public meetings, on the ranch and the river, and in the nation's legislative chambers. Each side speaks for itself and does so through six voices: the late Southern Ute Tribal Chairman Leonard Burch, the late Sam Maynes, rancher Pat Greer, tribal members Arlene Millich and Sage Remington, and environmental activist Michael Black. Dengel's own voice enters early as the narrator who sparingly sets the frame for why she cares.
Dengel's eastern urban background propelled her to seek wilderness and live in the West. Her splendid photography reminds us that the landscape surrounds us and we have the power to destroy it bit by bit. The piecemeal taming and destruction of the wilderness is the subtext that runs under the specifics of the A-LP story. The larger Western fight over water is illuminated in searing detail. The controversy reminds us that we're living through a classic struggle. This is an intelligent documentary, well told, and clear as a mountain lake. Running time: one hour.
Film Festival – "Far Side of the Moon"
French-Canadian director-actor Robert Lepage's fifth film has been adapted from his stage play of the same title. That's often a red flag, but here Lepage has made a fluid transition. "Moon" is far from static and is an example of the latest in high-definition digital video technique.
At the center is a tale of estranged brothers. Philippe and André (both played by Lepage) cope with the death of their last parent in different ways. Their shared childhood, marked by the Cold War and its space race, haunts Philippe particularly. He's a failed academic consumed by man's narcissism as evidenced by the competitive race to the moon. Ironically, André is a successful TV weatherman who deals daily with planetary matters.
The brothers' earth-bound dilemmas are seen against political and ultimately cosmic matters. Echoes of all three (personal, political and natural) reverberate throughout the film. Contrasts, transitions and metaphors are particularly well handled – zooming from a pedestrian day at the laundromat to a stunning space shot. The musical score, created by Benoit Jutras, of Cirque du Soleil, rides on the winds of suspension and supports the film's larger themes.
Lepage brilliantly intertwines past, present and dream time. He and cinematographer Ronald Plante fill in the back-story with a collage of techniques: overlapping, quick cuts; double-screen imagery; newsreel footage; stills; and surreal sequences. News footage of space flights ground the coming-of-age part in gritty black-and-white. Film footage of modern-day Quebec sets the tale in the present. It's easy to see why "Moon" was one of the Top 10 Canadian films in 2005. In French with English subtitles. Running time: 105 minutes." •