On screen and 'lazer' beams



by Ted Holteen
If you were turning to this page expecting a one-stop clearinghouse for everything you need to know about the Durango Independent Film Festival, keeping turning. Why you would think I had anything intelligent to write about movies not featuring Anthony Michael Hall in his teens is just ignorant, and no one knows that better than the organizers of the festival. They have gone out of their way to keep me in the dark about everything from organizational meetings to film schedules and filmmaker forums, and for that I say "thank you." With the addition of Judith Reynolds to the Telegraph family, we now have a bona fide critic to deal with these kinds of cultural events that I find so unfathomable and … and … cultural. In fact, since they started doing a Durango Film Festival (the precursor to this one), I have yet to see even one film, and I ain't about to start now. Here's what I do know about the festival:
• It started last night and runs through Sunday.
• There are 61 films involved showing at the Abbey & the Gaslight.
• Liggett, for some reason, is a juror, opening up the possibility that "Zapped" could win the whole thing.
For everything else DIFF, including tickets, schedules and profiles of the filmmakers and their affectations, visit their website at www.durangofilm.org.
Well, thank God that's done for another year. I've just never gotten used to these Talkies. I prefer the live theater myself, and if they have lasers and dancing girls, so much the better. In fact, in a perfect world, I would take my special someone to an old-time Vaudeville show with lasers. Alas, my betrothed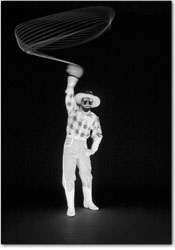 is half a continent away, but lo and behold, there's a show at the Community Concert Hall at Fort Lewis College on Friday night called "Lazer Vaudeville!" Sure, they can't spell "laser," but they didn't even have the word the last time Vaudeville was the rage, back when yellow fever and polio were still viable methods of population control. This show was founded by a former Ringling Brothers Circus clown, Carter Brown the clown, and includes juggling, magic, comedy and something called box manipulation, which I was chagrined to find is not nearly as titillating as it sounds. All of these traditional vaudeville components are set against a backdrop of lasers and lights, making for a perfect marriage of the modern and the classical, like Mozart with shotguns. Showtime is 7 p.m. with very reasonable ticket prices.
Regular readers of this page should know by now that one of my pet organizations here in Durango is Big Brothers/Big Sisters, and I applaud the ongoing efforts of these wonderful people. On Saturday, you can show that you still care about today's youth and have a hell of a good time doing it, as BB/BS puts on its annual Bowl for Kids' Sake fund-raiser at the La Plata County Fairgrounds. It ain't Dunlap's, but it ain't bad, either. Somehow they're going to set up actual bowling lanes at the Fairgrounds, where teams of four will compete in a competition in which no one actually keeps score as far as I can tell. It's a bit late for teams to register, but man does not live by bowling alone. There's plenty for the public (that's you) to do besides bowl, which includes music by the fabulous Lawn Chair Kings, a chili cook-off from 11 a.m. to 2 p.m. with chili all day, and a really kick-ass silent auction with stuff you really do want, trust me. The bowling starts at 9 a.m., music and chili at 11 a.m., and it goes 'til 3 p.m. Please show up or children will die.
If you've seen either the Snowdown Follies or the Gong Show over the past few years you know Danny Jaques, whether you know it or not. He's the guy that looks like a biker and has a penchant for wearing inappropriately tight tights, among other accoutrements. He also happens to be a dedicated teacher in Ignacio who in the past 10 years has taken more than 350 area students to Huntsville, Ala., for Space Camp and is doing so again this year. Danny's got about 30 kids lined up for this year's trip, and he'll be adding another at his own expense today (Thursday) at the Fairgrounds, when he awards the trip to the best space project at the Southwest Colorado Science Fair. If you've got a kid who likes science – and by "science" I do not mean the explanations provided by the Judeo-Christian Bible like our chief executive uses – you ought to stop by the fair and talk to Danny. Even if you don't have a kid or if your kid is not very bright and therefore not worthy of Space Camp, the ones who are going could really use your help. It costs about $1,300 for each one to go, which isn't much more than it would cost to send them to Disneyworld where they would actually get even less smart in the course of a week. And these kids already have a big head start on expenses through their own fund-raising efforts. Someone should be proud of these people – why not me? Kudos to Danny and his wunderkinds.
Ticket watch: The DAM Tim O'Brien show on March 16 will probably sell out by the time next week's column comes out, so get your tickets soon at Canyon Music or Southwest Sound. As if you were waiting for me to write about that, too. And Telluride Blues & Brews tickets went on sale yesterday – September's closer than you think. www.tellurideblues.com.
Who wants to be my Big Sister? egholteen@hotmail.com. You know where "Big Momma's House" was first seen? Cannes. •