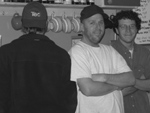 Diver: Denny, Scott and somebody else at Mill St. Brews in Bayfield.
Facts: "The greatest, I mean the greatest, diver responses ever." – Ted Holteen
Got a dirty little secret?
Looking for guidance to remedy a sticky situation?
Seek help from the master of the kitchen! The Dish Diver has solutions to life's little messes. Send your problems to "Ask the Diver." - By mail to Durango Telegraph - Attn Diver -534 Main Ave., Durango, CO 81301; by email at telegraph@durangotelegraph.com, or by fax at 259-0448.
Diver-
I'm almost 16 years old, and my Dad won't let me go on any dates! All the other girls in my class do. When I ask, his reason is "you can date when you can drive," and then he makes a crack about ugly boys in this town. Well, I'm sick of it. I just don't think he trusts me. How can I make him trust me?
– Jenny via e-mail
Hey, J,
Of course he doesn't trust you, but more importantly, he doesn't trust the pool of 16-year-olds in this or any town, as they have only two things on their minds: getting your dad's money and sleeping with your mom. It's one of life's conundrums that young boys are obsessed with older women and older men are obsessed with young girls. Tell your dad to worry more about his sick-minded football buddies ogling you, start drinking to excess and threaten to become a militant lesbian if he doesn't let you date boys your own age. Or steal his car some night when he's asleep thereby proving that you can drive. Stop by the coffee shop when you're 18!
– Diver #3
Diver,
My son is turning into a "hippie." Great, live your life, be good to the Earth and all of that stuff, I've always encouraged it. What I haven't encouraged is the change in hygiene. He's disgusting! He'll go for days without showering, and even after he showers, his lack of deodorant makes him smell. I don't want him in my house, yet want to respect his choices. What should I do?
– Mom
Yo mama,
As with all questions spiritual, you need look no further than television for your answer. When Steven and Elise Keaton gave birth to young Alex, they never expected that he would grow up to idolize Dick Nixon and Ronald Reagan, but like you, they loved him and respected his choices. Extrapolating your family situation, I can only then assume that you are a Neo-con with an obsession for hand washing and expensive colognes. Your cold, black heart should allow you to throw the dirt bag out of your house without a second thought, maternal instincts notwithstanding. Failing that, I suggest borrowing a page from the Boss Richard M. Daley book of hippie suppression: A few moments in front of a fire hose will not only put the boy on the fast track to Wharton, but he'll be clean as a whistle to boot.
– Making the world safe for fascism, Diver #2
Diver,
I recently broke my arm skiing. Answering the question "what happened" was OK the first hundred times, now it's flat-out annoying. So, I pinned a sign to my cast that said "I broke my arm skiing, dipshit. What happened to your face?" Some people laugh at it, some don't get it, but all in all it makes me, and my arm, feel better. I guess I like making people feel stupid. Is that OK?
– Gary
Dear poor little Gary,
First off, not only is it OK to make stupid people feel stupid, but it's a responsibility. However, you're playing into their hands and inviting more of the same inane comments. I applaud your attempt at a proactive response, but you need to be more creative and really make people feel uncomfortable. Here are two suggestions for a really stupid answer to a really stupid question: 1) " My meth lab blew up – I think I came out of it pretty well. You want to buy some?" 2) Just say, "I twisted my ankle" and then walk away.
Oh, yeah, one more thing – learn how to ski.
– Diver #1