Discovering the Open Sky
Open Sky Wilderness Therapy takes new approach to troubled teens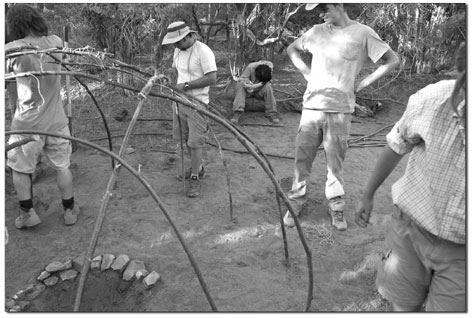 Two teens work together to plant a piece of willow into the ground while helping to build a primitive sweat lodge. Throughout the course of their stay with Open Sky, many students have the opportunity to participate in a "sweat" ceremony./Photo by Jared Boyd.
by Shawna Bethell
The concept of wilderness therapy is not new. Troubled teens venturing into the wilderness to learn self-actualization and team effort is considered relatively commonplace these days. But after years of working in the industry, Aaron Fernandes discovered there were better ways to reach kids and guide them to a healthier, more sustainable state of being. In response to his vision, he created Open Sky Wilderness Therapy and decided to base his new program here in Durango.
"We take a holistic approach," said Fernandes. "And Durango is the type of community that supports our philosophy of body, heart, mind and soul, which emphasizes overall well-being as opposed to the Band-aid approach of some programs."
Body, heart, mind and soul are literal at Open Sky. Starting from day one when students arrive, they meet with a naturopathic physician who assesses their physical needs and well being. If a student needs an individualized diet or herbal supplements, these are made available. Only organic, whole foods are utilized in the program from snacks to meals prepared in the field, and once Open Sky gets settled onto its recently purchased land, it will be growing their own organic foods on site.
"There is plenty of scientific research to substantiate the idea that the foods we eat directly affect our behaviors," explains Fernandes. "We teach kids how to eat, how to cook, how to take care of themselves, so that they can go back to their families and continue what they have learned at Open Sky."
Other unique additions to the program are yoga, meditation, reading and journaling. Whereas some programs believe reading is a distraction from students' wilderness therapy, Open Sky hopes to cultivate the imagination and critical thinking. Siddhartha by Herman Hesse and Mutant Message Down Under by Marlo Morgan are two reading options available. Students also study a curriculum that incorporates astronomy, archeology, geology and myth. Studies focus on the use of metaphor to help students find a place in the world where they fit.
"I like the approach Open Sky uses better than other programs where I have worked," says Kindra Landram, who guides students in the field. "It is gentler and a much slower pace. With the yoga, the meditation, you really get the chance to talk to the kids."
But the slower pace doesn't mean an easy ride for the kids involved with Open Sky. Landram emphasizes that the program is difficult for a lot of the kids.
"They are out in the middle of the desert, and these kids, most of them, are definitely not from the middle of the Utah desert. They look at the program they have to work in and they think there is no way they can do it. We definitely have some 'freak-out' moments," she says.
To alleviate their fears, Landram tells them not to look too far ahead, that they will understand more and be ready for more challenges as time passes. It's like eating an apple, she tells them, one bite at a time.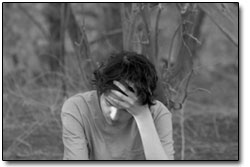 An Open Sky student sits alone after arriving for his first day in the field. New students entering a team are given a mentor but asked not to communicate with other students. They are expected to begin the program by only observing./Photo by Jared Boyd
"It's great to see them progress from week to week," says the guide, whose schedule runs one week out in the field and one week off. "When you see them the next time you're out, the shy kids especially, you can see their eyes. They look up at you, and their hair is out of their eyes. You can tell there has been a complete energy shift for them."
In the few short months Open Sky has been in business, Fernandes and his hand-picked team have already experienced more success than they had imagined. They have twice the number of kids enrolled than they had initially projected and have had to hire additional staff to accommodate demand."We have had tremendous support from the Durango community," said Fernandes, who partly credits Region 9 for their openness and economic support of Open Sky. "Sometimes I think they are as excited about the program as we are."
Fernandes also credits the community for being a great resource for talented staff and for providing hotels and dining for visiting families and professionals.
However, Open Sky's vision is still only partially complete. On the 60 acres that Open Sky purchased, Fernandes plans to build a field complex and an educational retreat center that is off the grid and based on sustainability. Buildings will be straw bale or adobe. Solar and wind will be used for power, and Open Sky will incorporate the use of gray water for gardening. The complex will be built by the students.
"We will use the resources around us to build shelter, and it is also a metaphor for the kids to use what resources they have to build a shelter for their lives," Fernandes says. "We do not want our building practices to be incongruent with the values we teach at Open Sky."
Once the field station is complete, students will have the opportunity to plant, work and harvest the organic garden, and what is not used for food in the program, Fernandes plans to have the students bring to market in town. He says they are bucking many trends of the traditional wilderness therapy model, because few programs would bring students into town since they considered it to be a distraction.
As students progress through the weeks – the program lasts between five and 12 weeks – they learn to govern themselves, and the staff becomes less authoritarian and more facilitative in nature. This is where the goal of complete well-being comes to fruition. Kids, who may have come in shy and lost or with drug or alcohol problems, graduate to being mentors to new kids or taking responsibility in the gardening project.
"Overall," Landram says, "these are good kids. Just regular teen-agers who may have taken a wrong turn somewhere."
Open Sky just helps them get back on the right path.