What if ...



by Ted Holteen
In 1775, about 1,100 troops under Continental General Benedict Arnold invaded Quebec in the hopes of wresting the city from the British. At the time, Arnold was still a loyal patriot and one of General Washington's most trusted officers. Unfortunately for Arnold and his troops, they attempted their assault via birch-bark canoes up the St. Lawrence River, and long story short, it didn't work. Many of the soldiers were forced to eat their shoes, belts and even a camp dog to stay alive, and most historians agree that it was the beginning of the end for Arnold's service to the cause of independence. I bring this up because had the Americans taken an overland route, the battle itself would have been easily won and today the entire nation of Canada would be part of the U.S.A. Think about that – it's one of countless instances throughout history where one decision, one occurrence, would have changed history forever and not insignificantly so. Imagine if Bismarck had simply told Hitler, "Thanks for your interest, but we've decided on a more qualified candidate." Or if Honest Abe for once in his life was honest to his nutcase wife and said, "Mary, that play sucks, and you're a public embarrassment. I'm staying home tonight." Four years of Lincoln's "let 'em up easy" policy would have been a stark contrast to the radical reconstruction which sowed the seeds of the KKK, Jim Crow laws and led to the impeachment of the ineffective but well-meaning Andrew Johnson. Which brings us to the curious case of Helen Gahagan Douglas.
Helen was a Broadway star of the 1920s and was quite the looker. In fact, one smitten observer called her "ten of the 12 most beautiful women in America." A Californian, Helen got involved in New Deal politics during and after the Depression, crusading for all kinds of environmental and farming issues after witnessing the plight of families displaced a la The Grapes of Wrath. Incidentally, she became close friends with Steinbeck, although I've had no luck in ascertaining whether or not he was just trying to get in her pantaloons. My guess is he was. Regardless, Helen served three consecutive terms as a U.S. Representative before making a run for the Senate in 1950. Enter the cruel fates. Her opponent? A young bright-eyed Congressman by the name of Richard Nixon. Nixon was a pug nurtured by a balding dickhead from Wisconsin who spent the early 1950s accusing everyone from his sister to the Pope of being a communist. A great time to be alive unless you happened to be a writer, a filmmaker, a journalist, black, or a political opponent of one of McCarthy's hand-picked Stormtroopers. Once Nixon accused Helen of being a pinko (his exact words were "pink right down to her underwear"), she never had a chance. We'll never know what might have been, but I know what wouldn't have. Dick would not have become Ike's vice president, wouldn't have run against JFK in 1960, and probably would've become a forgotten player in Republican politics and in 1968 would be serving on the Yorba Linda Chamber of Commerce instead of winning the Oval Office in a landslide. At least he'd still be dead.
All of this leads us to tonight's free reading in the Amphitheatre at Fort Lewis College. "Don't Blame Me, I Voted for Helen Gahagan Douglas" is the product of playwrights Wendy Kout and Michele Willens, two ladies who obviously share my enthusiasm for situational history. Following the play, the authors and cast will discuss both the play and the fascinating lady who inspired it (Michele actually interviewed Helen in 1973, seven years before her death. Helen's, not Michele's. Michele is contractually obligated to be alive, at least through this evening.) It all happens at 8 p.m. tonight, June 22, and did I mention that it's free?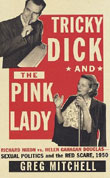 Sticking with things that are free and historical in nature, make a point to stop by the fairgrounds/baseball complex place on Saturday. The city (Durango) is putting on a family picnic from 11 a.m. in the morning 'til 5 p.m. in the afternoon. That's kind of all day. The highlight of the day (for me, anyway) is a vintage baseball game pitting the Durango Nine against the Colorado Territorial All-Stars played with rules, uniforms and equipment from the 1880s. They've done this before, and I even did play-by-play for it a few years ago, which I still think is weird because they didn't have play-by-play or even loudspeakers back then. So no play-by-play this year, but it's a great spectator event nonetheless. No gloves, a strange softish ball, and Duane Smith in his element doing his best Cap Anson impression. Game time is 1 p.m. Also on the bill is live music by the fiendishly handsome Terry Rickard and the country stylings of The High Rollers. Of course there's lots of food and a beer garden (it is Durango, after all), with free root beer floats and hot dogs for the kids. It should be fun, except for all the damn kids.
Remember when the Abbey Theatre was just a beer-soaked runoff room for A.J's Sports Bar? If not, take my word for it, it was bad. Then Tom Bartels took over, did some renovations, and started showing his slide show, "Spirit of the Southwest." It spurred a rebirth for the theater, and reportedly netted Tom a cool $30 million when he sold it to Paul Fidanque following a weekend of mescaline and peyote on the San Juan River. Timing is everything. After losing most of that windfall on carnival ring toss games attempting to win an eight-foot giraffe for his better half, who is hooked on the things, Tom sold his castle in Bavaria, returned to Durango and will once again make "Spirit" available to the general public, even you. It's quite impressive, really. Tom drove all over the Colorado Plateau taking pictures and recording natural sound, then put it all into a multi-tiered slide show that teaches people stuff about the Four Corners area. Residents and visitors alike should enjoy it, and if nothing else it's a great place to ditch out-of-town visitors for an hour or so. Spirit of the Southwest is now in the Abbey's regular rotation, showing every night this week at 5: 30 and 6:30 p.m., then like on Sunday and Thursday for the rest of the summer or something. This is a good thing, so please go see it.
Have you heard? Ted Koppel has made his debut on NPR, and we're all better off for it. Tune in during "All Things Considered" on KSUT in the afternoon and see what a real journalist sounds like when he doesn't have to work for Disney anymore. It's nice.
The human knee is further proof that there is no God. Get well soon, MMS. egholteen@-hotmail.com. •