Divided and conquered
Red Bull pulls the plug on local extreme race

SideStory: Adventure Xstream race returns for 6th installment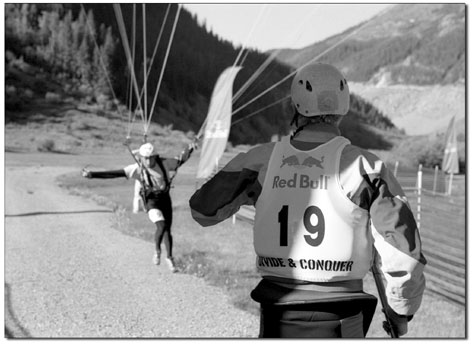 A kayaker, right, awaits the hand-off as his teammate completes the paragliding segment of the first Red Bull Divide and Conquer Adventure race, held the summer of 2004 in the San JUan Mountains. Despite rave reviews from competitors, the race is on hiatus this year./Photo by Jared Boyd.
by Will Sands
High water, serious winds, altitude and exhaustion never posed the biggest problem to the Red Bull's Divide & Conquer race. The extreme race, which should be taking place this weekend, faced a different kind of challenge – participation.
As mountain biker Chris Davenport said after last year's race, "It's just a cruel course, man. It's absolutely so painful, and you feel like you're never going to make it. You feel like, how could you possibly go on because you're just pushing and suffering."
During its two-year tenure in the San Juan Mountains north of Durango, Divide & Conquer earned the distinction of being one of the most extreme races anywhere and drew some of the world's top athletes. However, those athletes are looking elsewhere this year. Red Bull has decided to drop Divide & Conquer.
The race was modeled on the Red Bull Dolomitenmann, which has run for the last 18 years in Austria. In 2004 and 2005, Red Bull overcame skepticism and concerns about safety and staged the Divide & Conquer just north of Durango with four-person relay teams competing in trail running, paragliding, kayaking and mountain biking. The race began in Silverton with 8 miles of trail running up Kendall Mountain. Next, paragliders took the baton and launched from 13,300 feet, flying down to the base of the peak. From there, a kayaker took over and ran the Upper Animas and its 27 miles of Class IV and V whitewater to below the Rockwood Box. The fourth and final leg of the competition featured 27 miles of mountain biking covering more than 7,000 feet of elevation gain, including a rough, steep climb up Mitchell Lakes.
While many athletes shared Davenport's brutal assessment of the race, they also believed Divide & Conquer was unmatched in greatness. Local paddler and adventure racer Mike Freeburn competed in the paddling legs of both the 2004 and 2005 events. His quick Upper Animas time the first year helped vault his team, Nike ACG, into first place. Last year, Freeburn paddled for Team Adventure Sports Magazine, which eventually took second place.
"It's really sad that it's no longer happening because it was such a unique and remarkable event," he said. "But it was also a very intense event. The preparation for racing the Upper Animas was not something I took lightly."
This intensity may have been the event's downfall,as well as strength. During both years, big press, prize money and lack of an entry fee were not enough to draw a large pool of competitors. In its first year, only 13 teams entered the race, and last year, 16 four-member crews braved Divide & Conquer, well under the race's 50-team cap. At the time, Patrick Harper, course designer, commented, "Because of the nature of the event, it's hard to get people in each of those disciplines and get a lot of teams."
Freeburn agreed, adding that even though there was $17,500 in prize money, the purse was not large enough to draw big international talent.
"It's hard to put together a team of people who are competitive at those levels," he said. "To be honest with you, it also wasn't enough prize money to attract a strong international field. That barely covers travel expenses for European teams."
Divide & Conquer's remote nature may have also presented a problem for Red Bull, both from the perspective of logistics and the company's desire for slick television coverage of the race. An official with Manning, Selvage & Lee, Red Bull's public relations manager, indicated that the isolated stretches of the race made for a challenging set-up. Freeburn shared that assessment.
"I know it was a challenge for the organizers," he said. "It wasn't an easy event to pull together, especially last year with the snowpack and high-water on the Animas. There was some talk that they were going to move the race up to Idaho but that never happened."
There has also been talk of Red Bull hosting a different kind of event close to Durango. Matt Skinner, marketing director for Durango Mountain Resort, which partnered with Red Bull for the first two races, said the resort would be interested in teaming with Red Bull again.
"Red Bull has been out scouting the La Platas and the San Juans for another kind of event, but that's all I know right now," Skinner said. "If Red Bull's interested, we'd love to work with them again. The first two years were great. They put on a quality event, and we'd love to be part of it in the future."
Freeburn shared this sentiment, saying he looks back on his two Divide & Conquers with fond memories. "I'm really, really glad I participated in the event the last two years," he said. "I was also proud to be part of a team that took first one year and second the other. Those two races definitely go down in my memory bank for life as two of the coolest things I've ever done." •