One horse at a time
Event benefits three equine organizations

SideStory: A Horse Lover's Affair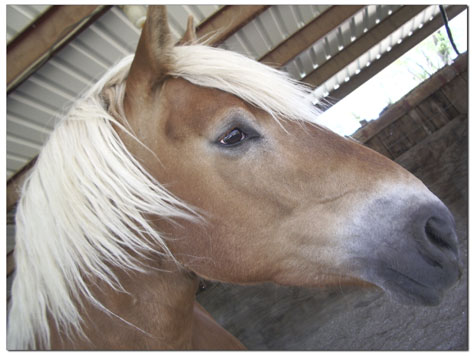 "Big Beautiful Betty" is a Belgian draft mare rescued by Spring Creek Horse Rescue. A benefit for Spring Creek, as well as the Windflyers Mustang Sanctuary and Medicine Horse Center will be held this weekend./Photo by Jaimie Becktel
by Jaime Becktel
Imagine the problem-solving potential if each one of us 6.5 billion humans devoted our lives entirely to the betterment of one thing. Durango harbors an abundance of such people; those who passionately champion causes ranging from wolves to wetlands. We can also add horses to that list, thanks to the diehard passion of a handful of folks dedicating their lives to the safety and well being of our four-legged equine friends. Members of three local nonprofit organizations are working to foster awareness toward the plight of emotionally and physically abused horses, and their amazing capacity to heal the human heart.
Durangoans can learn more about the work of these equine programs this weekend at "A Horse Lover's Affair," at Wind Walk Ranch, located on County Road 250. The event includes numerous presentations ranging from dressage demonstrations and gentle horse training to equine massage and horse nutrition. Numerous vendors and breeders will be on hand, along with food, refreshments and kids activities.
For mother/daughter team Debra Gates and Alicia Gardner, it's all about the Mustangs. In 2003, they started Windflyers Mustang Sanctuary in an effort to provide a permanent home for wild horses deemed unsuitable for domestication or adoption. At the 15-acre facility, resident mustangs enjoy the freedom to roam the hills, but many are physically and emotionally scarred upon arrival and require extensive rehabilitation. Gates and Gardner hope to expand the size of the sanctuary in the future to rescue more mustangs from unnecessary slaughter. In the meantime, their main objective is to raise awareness of existing laws that threaten the safety of wild herds living free on public lands and to offer care to their current mustang residents. As Gates says, "If we can save one horse, it's worth it."
At Spring Creek Horse Rescue in Ignacio, abused and neglected horses are given a second chance at life and love. Since starting Spring Creek five years ago, director Diane McCracken has successfully rehabilitated and adopted out more than 100 horses to loving homes. The horses come from a wide variety of circumstances and are often injured, malnourished, neglected and traumatized when they arrive at the ranch. Spring Creek's ultimate goal is to help heal the horses' emotional and physical scars, rehabilitating them for adoption to loving homes. According to McCracken, "These horses deserve love every single day. With enough love, you really see them blossom."
Based in Mancos with a satellite program in Durango, the Medicine Horse Center offers equine-assisted therapeutic services to people with physical, cognitive, emotional or age-related challenges. The center aims to facilitate positive change and growth in people by combining the knowledge of certified mental health therapists and the intuitive and healing nature of horses. Besides offering elder socialization programs and women's empowerment groups, Medicine Horse also works directly with at-risk youth in the community with the hopes of improving emotional and behavioral issues and instilling a sense of respect and responsibility. According to program developer and instructor, Trish Lemke, "Teachers say that their students act completely different around the horses. The kids develop empathy toward them, and we hope that they will carry that back out into the world." •
In this week's issue...
December 12, 2019

I spot a few cars parked along the road near the Purple Cliffs. I pull over, messing with my purse and worrying about locking the doors
December 5, 2019

La Plata Electric Association has been trying to increase local renewable energy production for the past several years.
November 27, 2019

I haven't any family close by to celebrate Thanksgiving with this year (except my darling husband), but I still have my friends, and I greet the day with an attitude of gratitude.