Hit hard by the holistic harvest
Native herbs in danger of being overharvested

SideStory: The ethical harvest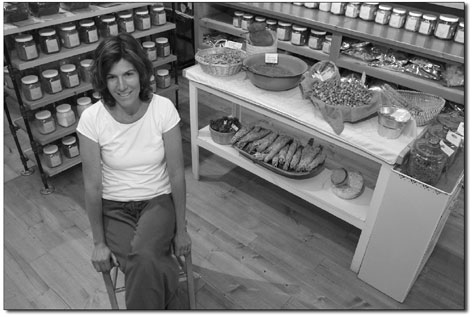 Clinical herbalist Deb Swanson sits inside her downtown Durango store, Dancing Willow Herbs, on Tuesday. Swanson opened the store, which specializes in ethically wildharvested products, in 1991. Since then, she said she has become increasingly concerned over overharvesting and improper harvesting techniques in the San Juan Mountains. Many of the herbs Swanson and other herbalists use are listed as "at-risk" or "endangered."/Photo by Todd Newcomer.
by Will Sands
Alternative healing is having some unexpected impacts on the local landscape. The widespread harvest of native plants with medicinal properties is beginning to take its toll on the San Juan Mountains. Several local plant species have landed on the "at-risk" list and without change could vanish altogether.
The practice of alternative, naturopathic and holistic medicines has been growing throughout La Plata County and the nation since the late 1980s. In recent years, it has taken even greater strides as many people have chosen to supplement existing treatment with nontraditional medicine or use it exclusively. The use of native herbs and traditional medicinals is often at the core of these practices, but the growth in popularity is beginning to carry repercussions.
Deb Swanson first opened Dancing Willow Herbs in Durango in 1991. Since then, the local business specializing in ethically wildcrafted and organically grown herbs has been riding the alternative medicine wave.
"I started my herb company close to the very beginning," Swanson said. "The holistic health movement has expanded exponentially in the last 12 years."
That expansion has come at a relatively unknown price. Tinctures of goldenseal, echinacea and ginseng are all derived from plants that have been listed as endangered. Reckless picking has even led to legislation in Montana and North Dakota banning illegal harvest of native plants with medicinal properties.
"The industry has expanded so much that what seemed to be a viable natural resource has now become very scarce," Swanson said.
The boom in herb cultivation is also beginning to shake the wild places surrounding Durango. Osha, taken to boost the immune system, and arnica, applied as a salve to sprains and bruises, are both native to the San Juan Mountains, and both plants are being overharvested. Swanson is particularly concerned about osha, since it cannot be cultivated domestically like arnica. The San Juan National Forest shares that concern and has undertaken a study on human impacts on the native plant.
"The largest stand of osha in the entire world is in the San Juan Mountains and northern New Mexico," she said. "When you see that much of the supply for the entire country is coming from local forests, you start to have concerns. National needs are leading to local scarcity."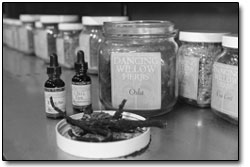 Osha root, seen here, is a popular natural remedy for the immune system. Found naturally in the San Juan Mountains, it is on United Plant Savers "at-risk" list./Photo by Todd Newcomer.
While arnica can be grown agriculturally, the wild plants growing in Southwest Colorado also have been taking a harder hit, according to local herbalist Rachel Turiel. She noted that the combination of dry years like this one and 2002 and increased harvest is particularly hard on the plants.
"In some years, some plants get a really hard hit," Turiel said. "In 2002, the driest year on record, arnica seemed really overpicked to me."
Looking into the coming months, Turiel added, "These plants are incredibly resistant and genetically designed to withstand drought. But the blooms will be less vigorous and once you dig up a plant, you've killed it."
Local cultivation is going well beyond Durango residents harvesting for their own purposes, according to Swanson. More and more commercial pickers are discovering the San Juans, and large herb companies are also hoping to tap the local resource.
"This time of the year I get a lot of people calling and saying they can go and get me this or that," Swanson said. "But I've got serious concerns about people's experience, given that there's a big price to be paid. I also recently had a big herbal company call and ask me for 200 pounds of osha root. I told them those kinds of quantities aren't within my scope, and I don't really feel comfortable doing that."
There are ways to get around harvesting endangered herbs, according to Swanson. Numerous other natives have similar properties to plants that have landed on the "at-risk" list. In the case of the long-endangered goldenseal, a combination of Oregon grape and yerba mansa, both plants once found in abundance in the San Juans, generates similar anti-viral properties. However, both Oregon grape and yerba mansa are now sitting on the "to-watch" list, a precursor to endangered status.
"There's an emergence of more ethnobotanical knowledge about medicinal plants," she said. "Some local plants are analogous to other endangered plants. When I started my business, I was using Oregon grape and yerba mansa in place of goldenseal. But now yerba mansa is becoming endangered. Where I've gone in all of this is that I'm really trying to rely more on organically grown herbs."
With respect to osha and arnica, the San Juan Mountains are still in better shape than the neighboring Front Range, according to Swanson and Turiel. However, that doesn't mean that bigger impacts and a wider harvest aren't coming.
"My personal feeling is I have seen so many huge untouched stands of osha in the San Juans," Turiel said. "At this point I'm not overly concerned, but in coming decades, we might have some serious problems."
Swanson agreed that the resource is still largely intact in the San Juans. However, keeping populations of native plants strong will require the watchful eye of local residents.
"I think it's a very liberating and beautiful thing to know about wild plants and to be able to collect them for your family," she said. "But every plant plays a role in the ecosystem, and if we're not careful, we could get into serious trouble." •