HD Mountains drilling imminent
Forest Service approves wells and roads for roadless area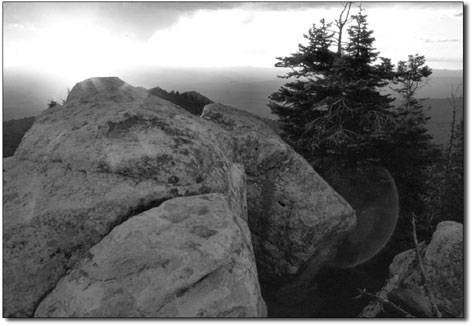 The sun rises over a rock outcropping atop a peak in the HD Mountains. The Forest Service recently released its final EIS that calls for drilling on 20,000 acres of the 28,000-acre mostly roadless area./Photo courtesy San Juan Citizens Alliance
by Missy Votel
About 130 new gas wells and 70 miles of roads could be coming to public lands in southeastern La Plata County, including 20,000 acres of the HD Mountains, east of Bayfield.
The scenario is the alternative preferred by the San Juan Public Lands Center, which recently released details of a final environmental impact study for gas drilling on 125,000 acres of private and public lands in La Plata and Archuleta counties. Nearly half of that acreage is national forest and Bureau of Land Management land, including the 28,000-acre HD Mountains Roadless Area.
The final EIS will be ready for public viewing in the next few weeks, with a record of decision expected in September.
Since it was introduced in 2001, the plan has raised the ire of local environmentalists and residents, who say drilling in the pristine HDs could have adverse impacts on old-growth ponderosa stands, water quality and wildlife. Opponents of the plan also have taken issue with the proposal to drill in the Fruitland Outcrop, a controversial practice linked with coal-seam fires and methane seepage.
"We're not happy," said Mark Pearson, director of the San Juan Citizens Alliance. "We'll scrutinize the EIS and see if we want to challenge it or not it or not."
A draft EIS on the Northern San Juan Basin Coalbed Methane Development was released in 2005, with more than 68,000 comments registered by the San Juan Public Lands Center. The project was introduced in 2001, calling for 200 new wells on federal lands and 100 new wells on private lands as well as nearly 100 miles of new roads.
"It's been several years since we first considered this project," San Juan National Forest Supervisor Mark Stiles told La Plata County commissioners on Tuesday. "There has been a great deal of public input, and we spent some time going through the comments."
Stiles said he was making the rounds among local environmental and industry groups, as well as governments, to reacquaint the public with the project. "It's been pretty quiet," he said. "It's time to reintroduce the public to the project."
The final EIS contains two new alternatives. New Alternative 7 is the one preferred by the Forest Service because it strikes the most even balance between existing leaseholders and social and environmental concerns, said Howard Sargent, San Juan Forest deputy forest supervisor.
"We believe it does the best job of balancing the concerns we heard with reasonable enjoyment of the leases," he said.
While allowing for development in the HDs, Alternative 7 would not allow for development in "unstable areas" of the roadless area, as well as approximately 8,000 acres that include the Ignacio Creek ecological research area. Alternative 7 also calls for test wells prior to drilling in the 1½-mile Fruitland Outcrop buffer zone as well as mitigation measures to address potential impacts to water, vegetation and private property.
Another option, New Alternative 6, would allow no new development in the roadless area, no drilling within 1½ miles of the outcrop, and recommends the use of more environmentally sound technologies, such as horizontal drilling. In all, Alternative 6 entailed 78 wells and 47 miles of roads on federal lands, nearly half of that initially requested by industry.
Although public lands officials say the preferred Alternative 7 is the best they could do given the complexity of the situation, environmental groups say they would have preferred Alternative 6.
"It's a mixed bag," said Pearson. "They've listened to people and made the heart of the roadless area off limits to drilling. But, they're still willing to gamble with people's property and livelihood by drilling right on the outcrop of the Fruitland. We know that's catastrophic. To do that is an incredibly risky gamble."
Both county commissioners present Tuesday, Wally White and Sheryl Ayers, also questioned the wisdom of such a practice.
"I definitely have concerns over drilling in the outcrop," said Ayers.
But Sargent said he did not feel comfortable recommending the no-roadless-drilling option. "Alternative 6 could preclude development of some leases, constituting a taking without rationale or legal right to do so," he said.
Nevertheless, White made it clear that he did not approve of the preferred alternative, echoing a resolution the county passed asking for a drilling ban within the HD Mountains Roadless Area and the outcrop. He also questioned whether the benefits of the drilling, projected to supply enough gas to meet national needs for two days, outweighed the negative impacts.
"It seems to me to be a small percentage of gas available compared to national usage," he said. "Yet here we have an area that is unique in terms of the roadless area, old growth and wildlife habitat. Once drilling occurs, those things are gone forever, and I personally find that unfortunate."
On the other hand, Pearson said he was pleased to see provisions made for more mitigation as well as a talk of bonds to cover the cost of reclamation and a requirement that industry negotiate directly with landowners. However, he said the preferred alternative leaves a loophole, whereby the Forest Service could sell more leases within the roadless area in the future. "There are some leases, and the Forest Service is going to throw those open to development, which is unfortunate, and something we'll continue to object to." •