The state of local open space
La Plata Open Space Conservancy enjoys active year

SideStory: City looks at open space options: Dalla Mountain Park dedication set for July 13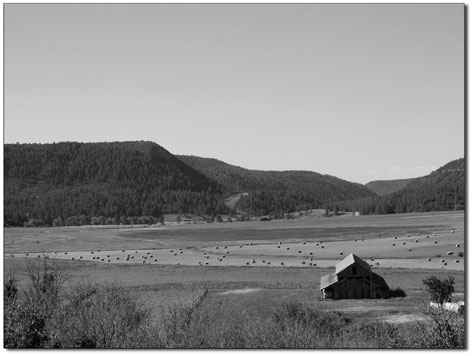 Eighty acres of the Bartel Ranch, west of Durango in the Cherry Creek Valley, were put under conservation easement in 2005 by the La Plata Open Space Conservancy. The landowners are working to put another 120 acres under easement in coming months../Photo courtesy La PLata Open Space
by Missy Votel
Mark one up for the cows. In 2005, 1,375 acres of land in La Plata County were saved from seeing a single condo or cul de sac thanks to the dedication of local landowners and the La Plata Open Space Conservancy. In fact, the last five years have been quite busy for the private, nonprofit organization, which was founded in 1992 to help protect the area's quickly dwindling reserves of agricultural, scenic and wild lands.
"We've seen steady growth since 1992 and major growth since 2000," said La Plata Open Space Executive Director Kathy Roser, who has been with the group since its fledgling days as an offshoot of the county's now-defunct Open Space Committee. "Last year was a busy year."
In its 14 years, La Plata Open Space has helped preserve 17,375 acres, more than 12,000 of those in La Plata County. And while that is only a fraction of the county's more than 630,000 acres of private land, Roser said coordinating such an effort is no small feat.
"When you consider all you have to do to pull these deals together, it's incredible," she said.
Perhaps the crowning achievement of 2005 was the City of Durango's acquisition of the 177-acre parcel on the southwest flanks of Animas Mountain. Now known as the Dalla Mountain Park, the open space will be managed by the city as a public park, with the conservation easement held by the conservancy. In addition, the conservancy brokered some 20 deals throughout the county in 2005, protecting everything from riparian corridors in the north Animas Valley to ranchlands near Red Mesa and wildlife habitat north of Bayfield.
And 2006 is shaping up to be even better, Roser said. "We have a lot of properties coming in – fairly large riparian properties, archaeological easements and several scenic properties along the San Juan Skyway," she said.
But perhaps the most exciting development so far in 2006 was being contacted by a landowner in the Horse Gulch area interested in a conservation easement. "We are talking with landowners in Horse Gulch," she said, adding that the conservancy has a confidentiality clause that prohibits her from divulging details.
Roser admits that having landowners call her is a welcome change from the past. The first several years of the group's existence were spent trying to dispel misconceptions, namely that a conservation easement meant a government "taking" of private property.
"A lot of people have always felt that somehow or another, this is going to give their land to the government," she said. "We spent the first several years talking to schools, rotary clubs, boards of Realtors, etc., trying to explain to people why this is a good thing."
In reality, she said, the land trust acts as an independent, third-party that is legally bound to hold the conservation easement in perpetuity. It is the landowner who decides what restrictions to place on the land, and La Plata Open Space's role to tell him or her whether it falls under current guidelines. "Basically, we try to come up with a win-win situation that works for the landowner and fits the conservation ideals," she said.
In addition to the intrinsic value of permanent open space, the conservancy also tries to educate landowners on the financial value of easements. They can be an attractive alternative to cash-strapped landowners, who earn tax credits or can turn around and sell the easements. However, Roser notes that even the cash incentive is not enough for some.
"It's been a really tough sell because when people give a conservation easement, they don't come out with as much money as they would if they sold their property out right," she said. "The flip side is, if they sell, they won't have anywhere to live or land to pass down to family."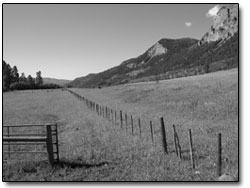 This ponderosa-covered parcel northeast of Bayfield, owned by Cynthia and Bill Bell, was put under conservation easement in 2005. The land is prime wildlife habitat for birds, elk and deer./Photo courtesy La PLata Open Space
Nevertheless, Roser said the current tide of thinking is beginning to turn.
"We have, over time, come up with some converts," she said. "People are beginning to understand there isn't another way to do this right now."
She credited part of the group's increasing success to the fact there is no formal, government-funded open space program in La Plata County. "The private land trust movement has really grown in areas where there have not been government programs," she said. "The county is trying to put some standards in place, but until they come up with a bonafide open space program, I think we'll continue to grow."
One idea the county has discussed is transferable development rights, or TDRs. In brief, TDRs are the process by which property rights are purchased in "sending area," places earmarked as open space, and bought by developers in urban "receiving areas," where there is the opportunity to develop in excess of density regulations.
Director of planning services for La Plata County, Nancy Lauro, said TDRs were initially studied in relation to the Three Springs project in Grandview, which was later annexed by the city. However, she said TDR's are "still an idea on the table," and that a chapter in the county's revised land-use code has been reserved to address the topic. She also noted that the Fort Lewis Mesa Planning Group has expressed interest in the idea.
"They are excited about the concept and are working hard to put together a plan," she said.
In the meantime, though, Roser notes that the rural landscape is changing rapidly, and so, too, is the role land trusts play. Even as skeptical landowners have warmed up to the idea of easements, there are new challenges on the horizon, from changes in tax laws to increasingly complex regulations and the fact that there is only so much undeveloped land left to protect.
"That's one thing all land trusts have to prepare for," she said. "Eventually, pristine land will drop off and we will have to shift our roles from conservation to stewardship."
Not only does Roser see a shift in the focus of land trusts, but also in the quantity.
"The '90s were a time of growth for land trusts. Now a lot have realized it's not easy to stay in business," she said. "I think we're going to see fewer and fewer land trusts doing more and more work."
As far as the La Plata Open Space Conservancy goes, Roser sees no slowing down in the near future. In fact, one of the biggest barriers right now is not lack of projects, but lack of funds. The conservancy only counts 1½ staffers – Roser and a part-time resource specialist.
"We're hoping to raise money to bring two more people on board," she said.
Despite a small group of loyal members, the conservancy must rely on grant money and fund-raising, a difficult task with dozens of local nonprofits competing for funds.
"It can be a hard sell, a lot of people don't see the direct benefits," she said. "It's not like giving to an organization like Trails 2000, where people get to hike or ride on the trails."
However, as more and more of La Plata County's land gives way to development, she said people are beginning to appreciate the legacy of looking but not touching.
"There was this one landowner on the Pine River that I had talked to on and off for several years, and his answer was always, 'No way, I'm not going to give up my property rights,'" she said. However, a few years down the road, the man discovered he was dying and had a dramatic change of heart. "He wanted to make sure his land wasn't broken up." He signed a conservation easement and a few days later, passed away, she said. "I like to think he was at peace knowing that his land would remain the way he wanted it." •